Alyson Dixon on Glasgow 2014, her career and Flamingo Land
By Stuart Dick
BBC Sport Kick Off Reporter
Last updated on .From the section Commonwealth Games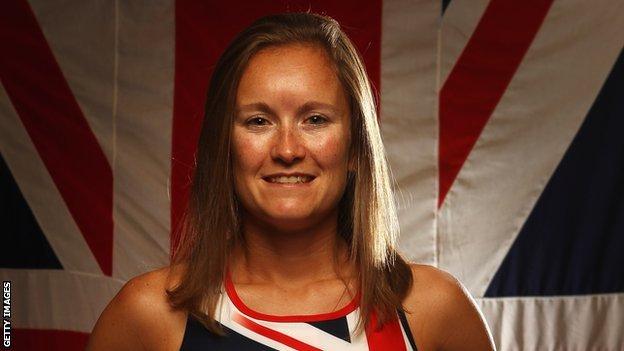 Some dreams start on the track. Others begin on the road. But for long-distance runner Alyson Dixon, it all started at Flamingo Land.
The 35-year-old from Sunderland will take on some of the world's best marathon runners at the Commonwealth Games in Glasgow on Sunday.
However, had it not been for her local running club's trip to the Yorkshire-based theme park and zoo, she may never have found herself in that position.
"One of my friends from school was a member of the local athletics club and they had mentioned they were going to Flamingo Land that summer," Dixon told BBC Sport.
"So I went along and joined the club so I could go, and then it all escalated from there really."
Dixon spent 18 years in club athletics before getting an international call-up in 2008, three years before her "big breakthrough" at the Brighton marathon.
"I won the race in a big personal best, and got selected for the World Championships."
Dixon headed to the French Pyrenees for a training camp in preparation for that year's World Championships in Daegu, and it was there things took a turn for the worse.
"About three or four weeks before the World Championships, I started to feel a bit of an ache in my foot. I spoke to the physios; they watched me run, and they said I wasn't limping but said they would monitor the situation.
"That was my big race; I was running it."
Dixon still travelled to South Korea, and completed the marathon in two hours 50.51 seconds, a full 16 minutes slower than the personal best she recorded just four months earlier.
The full extent of her injury was then discovered; Dixon had run in Daegu with three broken bones in her foot.
She faced four months of intensive rehabilitation in an attempt to be fit for London 2012.
Unfortunately, the Sunderland Stroller was unable to achieve the qualifying standard for the Olympics, and was forced to watch from the sidelines.
"It was a gutting experience, I tried my best in the trials race but it just wasn't to be," she said.
"It was quite a dark few weeks, I stepped back and thought 'Is there much more left in this sport?'. Thankfully, we had Glasgow 2014 two years down the line and I decided I wanted to give it one final chance."
Since becoming self-coached in 2013, Dixon has gone from strength to strength and believes she is now in the form of her life.
"I've got into the gym and done some proper lifting, and strength and conditioning has become a lot more robust.
"It's all showed in my performances, I've smashed my personal bests in every distance from 5,000m up to the marathon. I'm 35, nearly 36 and I'm in the shape of my life running the best time of my life."
The women's marathon takes place on Sunday, 27 July at 09:30 BST, and the only thing on Dixon's mind is running a great race.
"I want to go out there, give it my absolute best; I want to crawl away from Glasgow Green knowing I've left absolutely everything out there on the road."