Glasgow 2014: Where was the poster boy at Scotland pool party?
By Aimee Lewis
BBC Sport in Glasgow
Last updated on .From the section Commonwealth Games
It was supposed to be his party.
For two nights the guests had gathered at Tollcross Swimming Centre, giving their boy the kind of reception only reserved for athletes who are truly loved.
But the poster boy has laboured under the limelight while his team-mates have thrived in the pool he calls home.
Michael Jamieson, the Glaswegian whose talent was spotted and honed in these waters in the East End of the city, was supposed to turn Olympic silver into Commonwealth gold.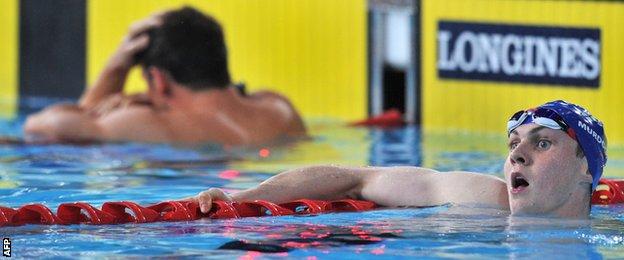 Posters and billboards of the sculpted swimmer were dotted around the city and on the front cover of the official magazine.
All Scottish fans had to do was RSVP to their invites; turn up, switch on, a Glaswegian knees-up was guaranteed.
Scotland has celebrated without him.
Roars loud enough to uproot trees as the host nation collected three gold medals in the opening two nights, their second most successful haul after Melbourne 2006 when they won six.
But, for Jamieson, the Games that were supposed to be his have ended in disappointed.
He described his silver in the 200m breaststroke as not good enough and, despite the deafening support which greeted him on Friday evening for the 100m breaststroke semi-final, the 25-year-old could not reach the final.
Still suffering from the previous night's heartache of losing out to his compatriot Ross Murdoch, Jamieson finished 11th fastest. Murdoch? Scotland's new hero powered into the final as the second fastest in a world-class event. Jamieson upstaged once more.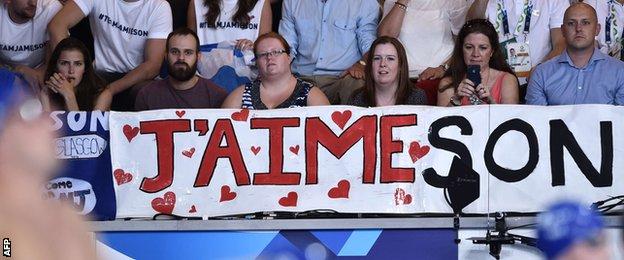 While Jessica Ennis-Hill, London 2012's poster girl, made it look simple, gloriously winning gold on the track, satisfying national expectation isn't always straightforward.
Just ask Liu Xiang. China's big hope for the 2008 Olympic Games in Beijing hobbled off the track with injury and pulled out of the 110m hurdles, leaving the crowd in silence and in tears.
Greek sprinter Kostas Kenteris could also testify that being the face of a major sporting event isn't what it is cracked up to be. A motorcycle accident. A missed drugs test. It was controversy for him rather than celebration at the 2004 Olympics in Athens.
"When you're teed up to be the man, the fall is even greater than your own personal expectation because you have to deal with other people's expectations as well," says Steve Parry, Olympic bronze medallist for Great Britain in the 200m butterfly at Athens 2004.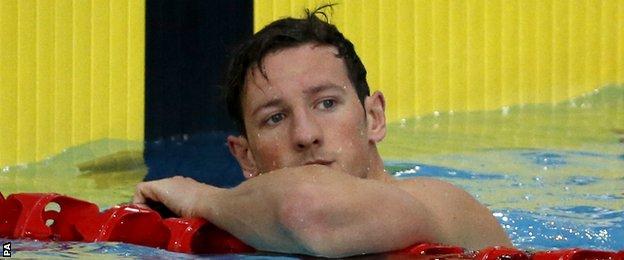 "It must have been so tough for him over the last year, even more so in the last three months.
"Driving around, seeing posters of himself, endless media requests. He's a good lad, good looking, great body. He's a great Scotsman who had a fantastic story and that was either going to work from him or not.
"He still had a great swim but nothing other than winning a gold medal was going to do."
Jamieson sought help from a psychologist to deal with the pressure of being a favourite.
He upped the ante on himself by saying he was going to break the world record in his home city, but failed to deliver in the biggest race of his life.
How will the last two days affect him?
This is an Olympic silver medallist who followed his then coach, Fred Vergnoux, to Paris just after his 19th birthday.
He lived in such cramped conditions that his father cried when he first set eyes on the attic flat his penniless son called home for a year.
But coming back from such a low can be difficult, even for a stoic Glaswegian. Parry suggests Jamieson has a "long, dark summer" ahead of him.
"He probably would have won if not for his team-mate producing one of the greatest performances I have ever seen," says Parry. "Everything would have been right in the world, but sport is all about confidence.
"You see boxers that are unbeaten and, once they're beaten once, they're beaten over and over again. Michael Phelps was unbeaten for years, then he's beaten and the aura goes away.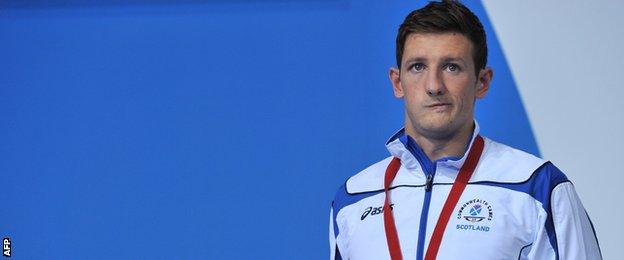 "He did look broken on Thursday on the podium so it's not a surprise he didn't make the 100m breaststroke final.
"I spoke to him on Friday morning. He looked dejected; he looked like a man who had his dreams robbed from him. I really felt for him.
"I hope he doesn't dwell on this one too much. He's a wonderful fella and very humble and has this steely determination.
"He considers himself one of the best breaststrokers in the world and he'll bounce back, but I can't overemphasise how painful it's going to be."
While Jamieson will need time for his wounds to heal, Scotland has not really felt his pain because there have been other success stories to tell.
First, there was Hannah and Patrick Miley, the daughter and father/coach who did it their own way and won Scotland's first swimming gold.
Then came Murdoch, the student from Stirling, the underdog who beat the favourite and announced himself as one of swimming's most exciting talents.
Making it a hat-trick was Daniel Wallace, who was once arrested and almost thrown out of the Scotland team for "living like a rock star". He received a standing ovation that would be the envy of such performers.
By then, Jamieson was nowhere to be seen.