Glasgow 2014: Gold medallist Sarah Clark retires from judo
Last updated on .From the section Commonwealth Games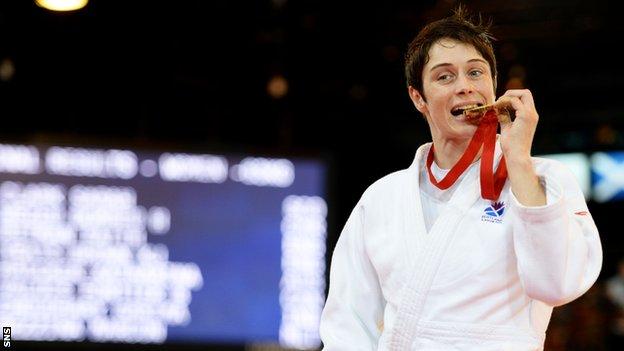 Scottish gold medallist Sarah Clark has announced her retirement from international judo because her body is "telling her to call it a day".
"I'll stop competing in competitive judo and focus my attention on other things," said Edinburgh-based Clark.
She quickly delivered victory over Dombeu with an armlock submission in the competition at the SECC venue.
It helped Scotland take their gold medal tally to seven after day two of Glasgow 2014.
Clark, who was born in South Shields in the north-east of England, previously won silver at the Manchester Commonwealth Games in 2002.
And despite her retirement from competing internationally, she insists judo will still play a huge part of her life.
"People use the word retirement and ultimately I guess that is what it is," said Clark.
"But for me, retirement sounds like you're walking away from it all, and I'm not going to walk away from judo. I do it every day and it's what I do."