Glasgow 2014: Usain Bolt says he will run in 4x100m relay heats

By Tom Fordyce
Chief sports writer
Last updated on .From the section Commonwealth Games
Six-time Olympic champion Usain Bolt says he will run in the heats of the 4x100m relay at the Commonwealth Games.
Bolt is yet to run competitively this season and has never before competed at a Commonwealth Games, but ended weeks of doubt about his plans after flying into host city Glasgow on Saturday.
The 27-year-old Jamaican said: "I will be running in the heats. I need the runs really. I need to get it going."
The relay heats get under way at Hampden Park on Friday, 1 August.
Bolt, who has had a foot injury, said: "I am here to run. I don't see why else I would travel to Glasgow. The injury has completely gone.
Usain Bolt's golden collection
100m:
2008, 2012 Olympics; 2009, 2013 World Championships
200m:
2008, 2012 Olympics; 2009, 2011, 2013 World Championships
4x100m:
2008, 2012 Olympics; 2009, 2011, 2013 World Championships
"I have done a lot of training over this past month. I have been really pushing myself and I am in pretty good shape, but I am not yet in running shape hence why I am running the heats, just to get a few runs in."
The arrival of Bolt, the preeminent athlete of his generation, is a perfect tonic for the organisers after the late withdrawal of his friend Mo Farah, England's double Olympic champion.
The rush of early medals for Scotland in their home Games has relegated Farah's absence to a footnote, but Bolt is a huge draw even to those who care little for sport.
His presence here adds a glamour that no other competitor could match.
Bolt and Farah share a major sponsor with the Glasgow organisers, so there were suggestions the Jamaican superstar was under pressure to compete for commercial reasons as much as a desire to add another medal to his stash.
But he insisted on Saturday that he had always intend to compete and had held discussions with his coach.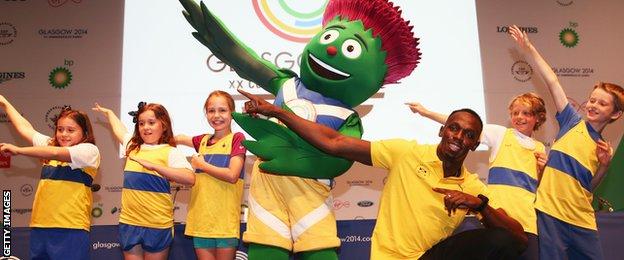 "I got injured and, at the end, we said we couldn't make it for the trials but let's make it for the 4x100m," said Bolt. "I was allowed to get into the team so that was good.
"I don't think anybody pulled out on purpose. It's about injuries. It happens in the Olympics and World Championships, things just go wrong at the last moment. It's just one of those things. There are lot more athletes here and I am sure it'll be a good Games.
"For me it's a big thing and people will be watching in Jamaica.
"Everyone talks about the Commonwealth Games; people look forward to it, I wanted to come before this but I am just happy to compete."
Bolt, who will, as he always does at big events, stay in the athletes' village, is looking forward to watching Jamaica's netball team in action, as well as entertaining the Glasgow crowd.
He said: "I live for the fans. When I go on the track I want my fans to enjoy my performances, I want to feed on their energy always."
The final of the 4x100m is the last event in the athletics programme, at 21:15 BST on Saturday, 2 August.