Glasgow 2014: Welsh dope test fails worry Jamie Baulch
Last updated on .From the section Commonwealth Games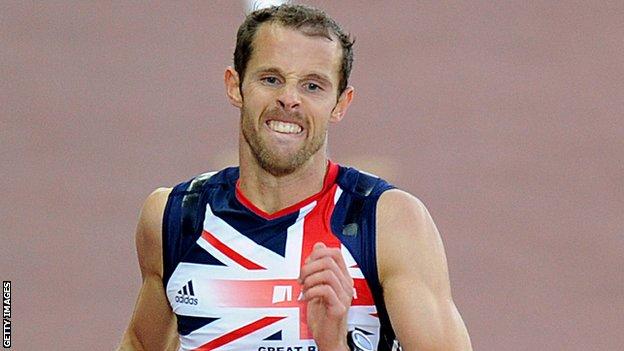 Glasgow 2014 Commonwealth Games
Dates: 23 July - 3 AugustCoverage: Live on BBC TV, HD, BBC Radio 5 live, Red Button, Connected TVs, online, tablets and mobiles
Jamie Baulch says he is surprised by Welsh athletes Rhys Williams and Gareth Warburton both failing doping tests.
Williams, the 400m hurdler, and 800m runner Warburton were withdrawn from the Commonwealth Games this week because of doping irregularities.
Both athletes say that they have never knowingly taken a banned substance.
"I'm shocked... it's a second bad result in a couple of days with Gareth Warburton being in the same position," said former 400m runner Baulch.
Williams and Warburton issued statements expressing their shock at their test results, with both saying they had "not knowingly taken any banned substance".
"I've know Rhys for a long time and I can't imagine him knowingly doing something like that with his reputation and obviously his father's [former Wales rugby union wing JJ Williams] reputation," Baulch said.
"They're both hard-working athletes, they've both been in the system a long time and it's not like they were performing okay and then suddenly they performed extraordinarily.
"They've been around a long time and grafted ever since, so I'd like to think it's something that's been overlooked."
Williams tested positive at the Glasgow Grand Prix on 11 July and the 2012 European champion has been banned from all competition by UK Anti-Doping pending a hearing.
Statement from nutrition supplement suppliers Mountain Fuel:
"Mountain Fuel are confident that their tamper-proof sachets are not connected to the issue but as part of the due process we are having batch tests carried out."
Warburton has been charged with anti-doping rule violations and can have the charges determined at a full hearing before an Anti-Doping Panel.
The manufacturer of 'Mountain Fuel', a sport supplement used by Williams, is co-operating with the athlete to see whether any of its products are responsible for his failed drugs test.
The company issued a statement on the situation: "We... are hugely disappointed that Rhys Williams and his stable-mate Gareth Warburton have failed anti-doping tests and are unable to compete in the Commonwealth Games.
"In the run up to the Games both athletes were tested while using Mountain Fuel and results were clear, so it was a great shock when news broke about the failed tests.
"Mountain Fuel are confident that their tamper-proof sachets are not connected to the issue but as part of the due process we are having batch tests carried out with 'Informed Sport' on the sachets.
"It is however reassuring that our ingredients supplier is one of the few, if not only supplier in the country that has achieved 'Informed Sport' status.
"This means our athletes / customers can be safe in the knowledge that purchasing ingredients from our supplier means that they have passed rigorous warehouse and clean-room swabbing, auditing of their already established ISO 9001:2001 approved supply chain, and comprehensive testing of their ingredients."
Baulch believes there could be a possibility that Williams and Warburton might have taken the same substance or foodstuff that was either unknowingly contaminated or contained a banned ingredient.
"I'd like to think it's a coincidence... it looks like those two athletes have been taking some sort of products or some sort of foods which have got certain things on the banned list," added Baulch, the 1999 World Indoor Champion and silver medallist at the 1996 Atlanta Olympic Games.
"If they're in the same environment, if they're warm-weather training together and you're eating that same foods or whatever they've been doing... it looks like that.
"But as everyone knows, you've got to be careful what you put into your body. If the substance is there, you've obviously administered it in some shape or form.
"If you're in a situation like that you've got to fight. I've read his [Williams'] statement and he's said he's utterly shocked, the same goes for Gareth Warburton and I'd like to think that they will try and clear their names.
"Unfortunately - and that's the real terrible part of it - if they clear their names or not it's always going to be over their heads... there'll always be that element of doubt."