Glasgow 2014: Burton strikes gold to banish London blues

By Tom Fordyce
Chief sports writer
Last updated on .From the section Commonwealth Games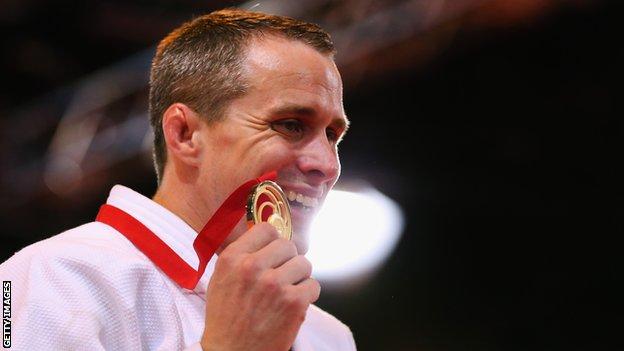 It was one of the most emotionally raw quotes of the London Olympics: "I feel like I have let myself down, I have let my coaches down, I've let my mum and dad and my brother down.
"I've been working for this for over quarter of a century. I feel like I've let down everybody I've ever trained with."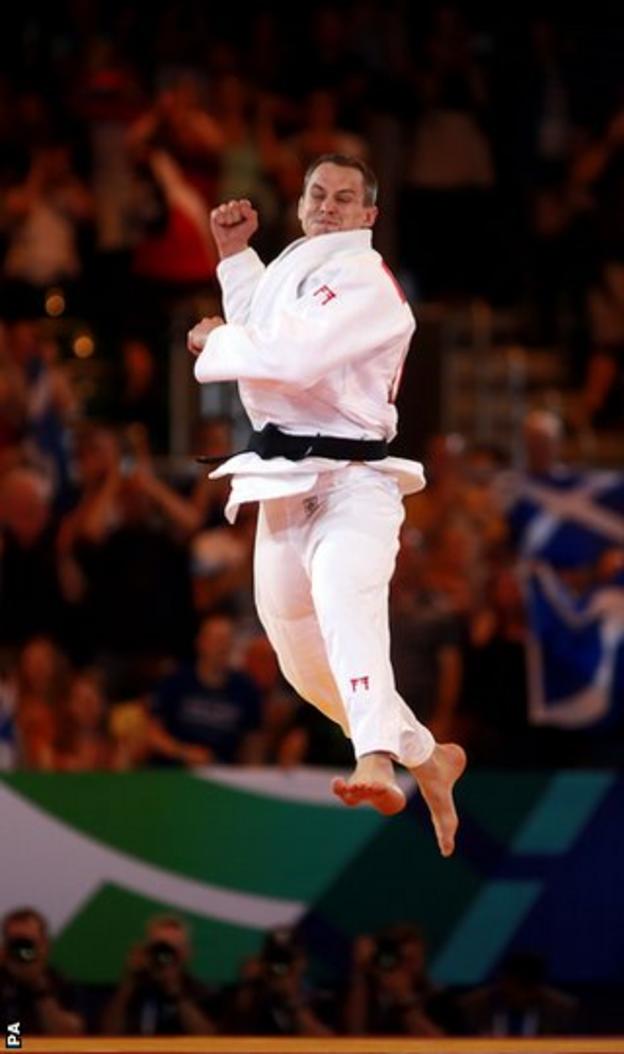 So it's entirely fitting that Euan Burton, eliminated 100 seconds into his quest for judo glory in 2012, should not only come back to win gold in front of his home crowd in Scotland in his final competitive fight but find a way to describe it that would satisfy the scriptwriter of a wobbly-lipped biopic.
"This is the last one," he said afterwards. "That's what I was saying to myself on the way out. You've got one more. Just give it everything you've got, everything in the tank.
"Everything down the years, all the training you've ever put in, all the disappointments you've had, all the victories you've had, all the times you've run up and down that horrible tower out the back of Ratho. Just put it all into this fight."
With eight days of competition at these Commonwealths still to come, it's hard to imagine a more popular victory than Burton's.
This is a redemptive story with so many elements that the scriptwriter might almost consider it a little too unreal: 35 years old, out of retirement to compete; chosen to carry his country's flag at the opening ceremony; watched on by a tearful wife just after she had seen gold slip away in her own final.
Burton thought he was pretty much finished by his failure in London. Going into the competition believing he could win it, he was ambushed by unfancied Canadian Antoine Valois-Fortier less than two minutes into his quest.
All about the taking part? Not when it's your life. Not when it's your home Olympics, your last Olympics.
Knowing Rio was too far away, he turned to coaching Scotland's judo team at the national centre just outside the capital. The Commonwealths seemed impossible. Not only were his attentions directed at steering others to Glasgow, but his own weight category was full of talent.
So was the one above it - and Burton the coach was not about to select himself in place of someone he was supposed to be responsible for.
The only opening was in the -100kg class, 19kg above his London fighting weight. Which was when he decided to test the body one more time: stick on some extra slabs of muscle, slog up those stairs at the Edinburgh International Climbing Arena in Ratho and see what might happen.
What happened was a final against a bloke 14 years his junior, in front of a packed house deep in the guts of Glasgow's SEEC. A final that, with a submission a minute and a half in, would be won by the competitor with the greying hair and aching body.
In the partisan crowd, there was righteous bedlam. Over the PA, appropriately, blasted Simian Mobile Disco's 'We Are Your Friends'. Off to one side, sat in the stands, Burton's wife, fellow judoka Gemma Gibbons, once again watched it play out in tears.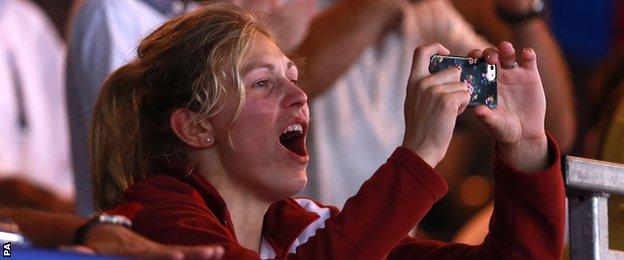 Her own displays in the judo hall at London had resonated as much as her then-fiancé's, not just her performance in beating the reigning world champion to win silver despite a broken thumb but her reaction in the instant aftermath: on her knees, face and fingers pointed upwards, mouthing "I love you, Mum" in tribute to the parent she had lost to cancer as a teenager.
Little since then has gone smoothly. While she moved to Edinburgh after she and Burton married, a shoulder reconstruction and then an ankle injury hindered her journey west along the M8 to Glasgow.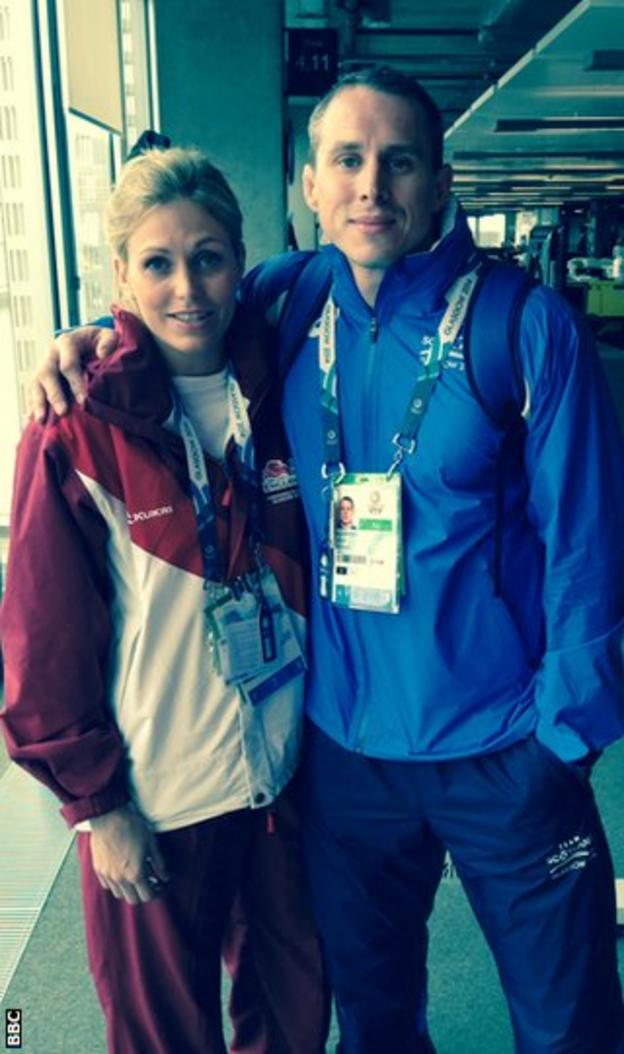 Her -78kg final against Natalie Powell from Wales was supposed to be her own redemptive moment. Perhaps because of all that expectation, it was Powell who prevailed, a waza-ari early in contest allowing her to defend with ease and draw two warnings that effectively sealed her opponent's fate.
Burton could not watch his wife's final, the proximity of his own denouement ensuring that he was away in the warm-up area as she strode onto the mat.
Gibbons could watch his. Maybe the tears came again for both of them: for her own loss, having spent two years training and rehabbing and training again for those five minutes; and for her husband, having helped him through the aftermath of London and lived every moment of his preparation for this.
"Silver is no consolation," she would say of her own display later.
"I came here for the gold and I didn't do enough to get it. I'm not 100 per cent, but I knew that coming into the Games. There were no specific injuries holding me back."
Burton celebrated with abandon afterwards, leaping around the hall like a man at the start of his career rather than the culmination.
Even three days ago he had feared he might not make it, injuring his back in his final training session on Tuesday and requiring intensive treatment from the team physiotherapist until Saturday morning.
The rendition of Flower of Scotland while stood atop the podium brought the widest of grins; his 29 years of judo experience supplied the context.
"I have said before and will do again now... this doesn't make up for London," he stressed afterwards.
"I worked my whole life to try to be Olympic champion and I fell short at both Games I made it to. But I am so proud to have been able to do this for Judo Scotland and for all the guys who are here watching it all."
Less redemption, then, than the happiest of endings. And a little nudge, should you be of the opinion that the Commonwealth Games don't really matter, that, to those who win and lose in them, they really do.