Glasgow 2014: Jersey shooting medal lost on 'poor choices'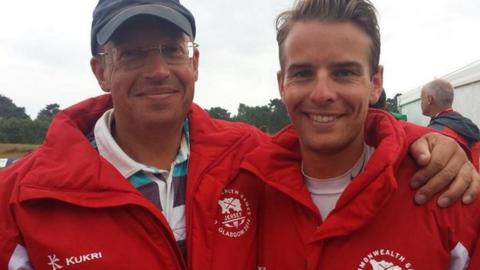 Jersey's Daniel Richardson says decision-making cost his team a shooting medal in Glasgow.
Richardson and Barry Le Cheminant were third in the fullbore pairs going into the 900 and 1000-yard shoots but a poor set at 900 saw them drop to 10th place.
The pair eventually finished in fifth, with England taking the gold.
"This sport is all about decision-making at crucial moments and we got the decisions wrong," Richardson told BBC Radio Jersey.
"It was a mixture of bad shooting and bad luck."
Jersey have not won a medal since 1990, when Colin Mallett took fullbore gold and pairs bronze with his father Cliff.
England won the title in Glasgow with a Commonwealth Games record of 595 points, with Canada second on 592 and Scotland third on 590.
Jersey secured 585 points, one behind Australia, as fog and wind caused the shooters problems.
"There were two or three times when we should have just waited, it was so benign and then the wind came up and we were two bold and went and lost them both times," Richardson said of the 900 yard shoot.
"Then we had a couple of shots that went high one or two went low."