Glasgow 2014: Do the 'Rumgay', Usain? Scot wants celebration duel
By Saj Chowdhury
BBC Sport
Last updated on .From the section Commonwealth Games
Scotland table tennis player Gavin Rumgay has challenged Usain Bolt to a celebration face-off after his "wedgie" created a stir at Glasgow 2014.
The act, performed during the team event, caused a buzz on social media and led to the writing and recording of the song 'Do The Rumgay'.
"Arranging something like that with Bolt would be brilliant," said Rumgay.
"Maybe we could do it in front of a crowd or at the food hall in the athletes' village."
The 'Lightning Bolt' has become an iconic celebration in sport ever since the Jamaican sprinter used it during the 2008 Beijing Olympics, where he won gold in the 100m, 200m and 4x100m relay.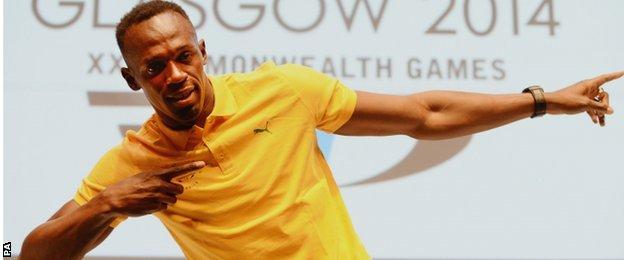 Rumgay's "wedgie" is not as well recognised, although the 29-year-old from Perth is looking to make it a fixture whenever he competes.
"People are expecting it," added the nine-time national champion.
"We've been signing autographs and people have been coming up and doing the 'Rumgay'. I don't want to let the crowd down."
It made its debut in his win over Canada's Pierre-Luc Theriault.
Now Keith Meisner, a singer-songwriter who recorded a track to mark Andy Murray's journey to the 2013 Wimbledon men's singles title, has done likewise for Rumgay.
"It's had hundreds of likes on Facebook and is popular on Twitter," said Rumgay, who played tennis before switching to table tennis.
In fact, he was Murray's doubles partner when they were younger and claims he never lost to the world number 10 in junior competition.
"My team-mates have pulled their shorts up and Scotland rugby sevens star Richie Vernon was singing 'Do The Rumgay' when we were queuing to go through security at the athletes' village," said Rumgay.
Asked if it was a painful celebration, he added: "No it wasn't, because of the adrenalin. I just lifted my shorts up to the sky."
Rumgay's next match is in the singles competition on Wednesday.