Glasgow 2014: Bowled over by the young and old at Kelvingrove
By Ben Dirs
BBC Sport in Glasgow
Last updated on .From the section Commonwealth Games
This is not another ironic feature about bowls. That would be too easy. And untruthful. Because I watched some bowls at Kelvingrove and it was a treat. On a hot day in Glasgow, where else would you rather be?
It wasn't fast and frazzling, it was slow and soothing. It didn't get the heart pumping, but it was cerebral. Except for that racket from the stereo.
"To be honest," said Duncan Piggott, a bowls fan from the small Scottish town of Bonnybridge, struggling to be heard over some weapons-grade AC/DC, "I feel like going down there and pulling the plug out." He was smiling, but he meant it.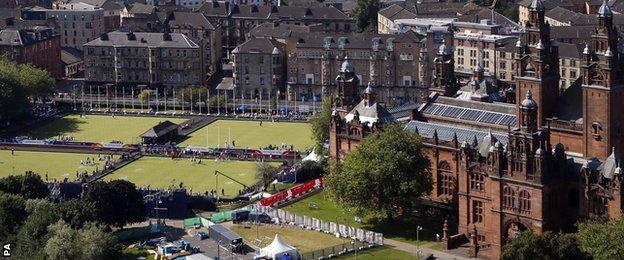 Over on one of the many show rinks, a small stand full of grey heads topped by white hats failed to be moved by Iggy Pop's Lust For Life. It's not that they don't have a lust for life, it's just that it doesn't involve Iggy Pop. It involves bowls.
We live in a world where being slow, soothing and cerebral can be perceived as a problem. At least where sport is concerned. Even the organisers of 'sexy' sports such as track cycling feel compelled to make them sexier still. The Sir Chris Hoy Velodrome resembled a surrealist rave at times during this Commonwealth Games.
It says something about the attitude towards the elderly in the United Kingdom that bowls is the target of so much ridicule. According to charity Age UK, there are 14.5 million people in the UK over 60, which is more than there are under 18. So why is it still funny that old people do what they do?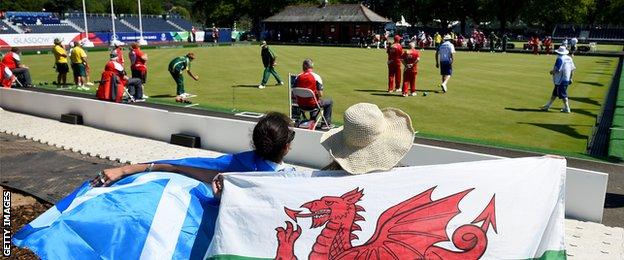 "We can't get rid of this old man's image, which isn't helped by certain journalists who come to the main competitions," said England head coach John Bell, a legend of the sport and incoming president of World Bowls.
"Instead of concentrating on the competition, they concentrate on the crowd. And the average age is old - that's the nature of the beast. But the ironic pieces have been done to death. Bowls is what it is and we're extremely proud of it.
"Even the journalists who take the mickey out of bowls can't help but acknowledge the decency that's involved in the game, the behaviour and etiquette. It's understated and under-promoted and under-appreciated."
On the rink, the stereotype of bowls as a game for elderly gentlemen dressed in white is hopelessly out of date. Alistair Hollis, development officer for Bowls England, described it as "a sport for young people that old people can play, too".
The winner of this year's World Indoor Bowls women's singles title was 18-year-old Katherine Rednall. Natalie Melmore, who was defending her women's singles title in Glasgow, triumphed in Delhi four years ago as a 21-year-old. The average age of England's women's team in Glasgow is 25.
The youngest member is Melmore's fellow Devonian Sophie Tolchard, who is competing in the triples and fours at the age of 22. Lunching together at Kelvingrove, decked out in Team England tracksuits, they look every inch like athletes.
"Lawn bowls isn't what people think it is - it's not just an old people's game," said Tolchard, whose hopes in Glasgow hinge on the triples after England's women's fours team were beaten by South Africa.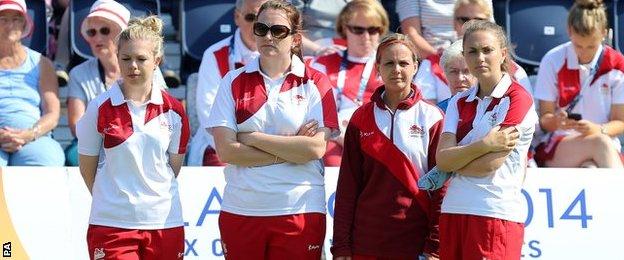 "It's a difficult game, requiring lots of skill, and not as easy as it looks. We have a psychologist and did fitness testing at Loughborough before the Games. You can't compare us to swimmers or runners, but we all want to be as fit as we can."
Tolchard admitted to being exasperated by media coverage of her sport, as well as its inability to shake off its fusty image. It doesn't help, she conceded, that the World Indoors is sponsored by Just Retirement.
"The World Indoors is the only bowls most people might see and it doesn't represent it in the most accurate light," said Tolchard. "It can be a bit slow - the crowd are all quite old. It would be great if our international series, involving England, Ireland, Scotland and Wales, was televised.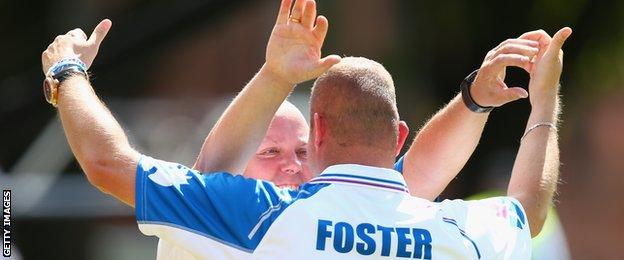 "There's a great atmosphere, games are close, there are people running up the rinks high-fiving each other. It's a shame people don't get to see that side of it."
Most of the older fans I spoke to at Kelvingrove had happily embraced the coloured kit, shortened formats and customised bowls. Norman Thomson of Stamperland Bowling Club said it would be nigh on impossible to attract young people to the sport without such innovations.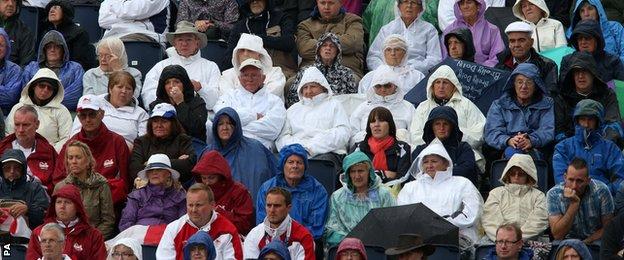 "We have a junior section with 23 members, running from the ages of 11 to 17," said Thomson. "But we have to work at it. We advertise and we leaflet. That needs to be done everywhere. Unfortunately, it's not."
But Thomson and the rest of them balked at the idea of aping darts, which, under Barry Hearn's stewardship, has boomed in recent years, while morphing into an excuse for a colossal, combined stag and hen do.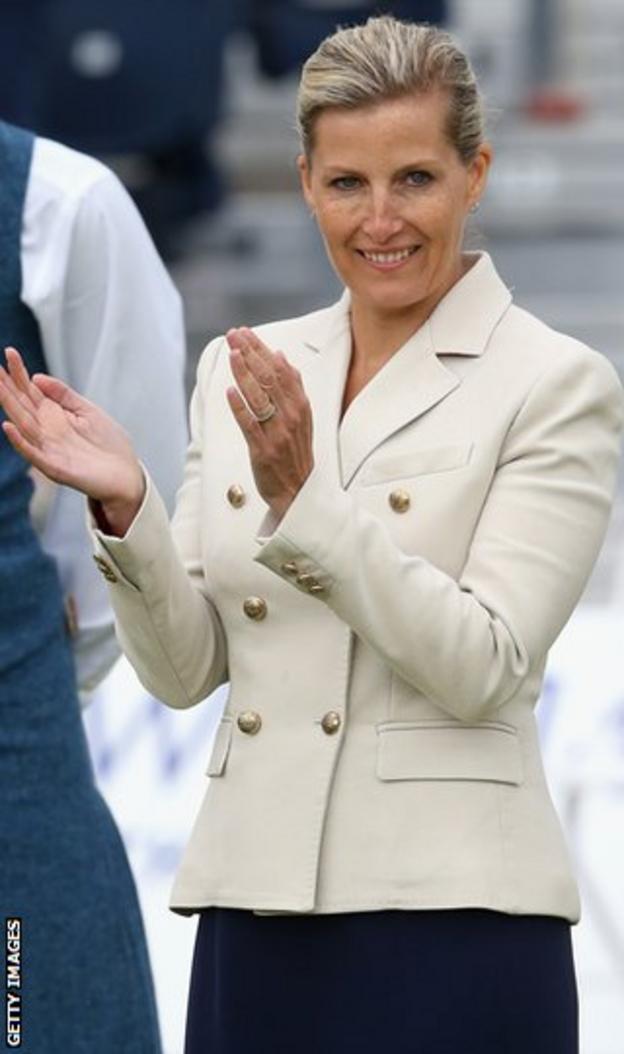 "In Australia, they've got the organisation of events down to a tee," says Bell. "They've got music and hype, it's vibrant and colourful, and that attracts youth. But there has to be a limit. And whatever you do to it, at the end of the day it's about getting your bowl as close to that little white thing as possible."
Among Bell's biggest challenges as president of World Bowls will be to maintain playing numbers, which have fallen by 30,000 in the UK in the past year. But there is no need for him to start panicking just yet.
There are about 115,000 players affiliated to Bowls England, while Sport England reckons there are 238,000 over-55s playing bowls at least once a week, which is more than the overall numbers for squash or cricket. Even without the under-55s, bowls is the UK's 11th most played sport, just ahead of rugby union.
Which is why those involved with bowls do not feel the need to make apologies for what it is. Contrary to popular belief, not everybody nowadays craves noise, speed and constant sensory overload, including those under the age of 30.
Who's the fool - the boy or girl sitting at home with the curtains drawn, fiddling on his or her phone and watching mind-numbing TV, or the boy or girl playing life slow, soothing and cerebral? Wherever that might be.
As the music faded and the bowls started up again on the pristine greens of Kelvingrove, overlooked on one side by the grand Baroque art gallery and on another by the proud spires of Glasgow University, the wise folk tuned in.
And when you find yourself rooting for an underdog from Norfolk Island, you know you've been hooked.
"I don't mind it if they change this and that, but there's nothing wrong with it as it is," said Piggott. "Not everything has to be fast and furious. And if the world was ruled by bowlers, it would be a far better place for it."