Glasgow 2014: New gold medal record for Scotland
Last updated on .From the section Commonwealth Games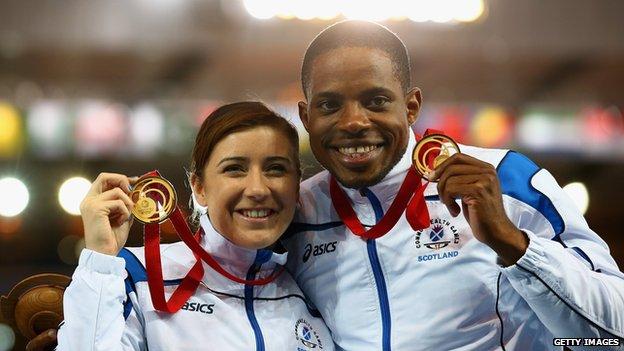 Scotland set a new national record for Commonwealth Games gold medals following lawn bowls success for Alex Marshall and Paul Foster.
Libby Clegg's gold in the T12 100m at Hampden on Monday evening matched their best total medal haul of 33.
Mike Whittingham, director of high performance at the sportscotland institute of sport, hailed the effort.
"Alex and Paul have dominated world bowls over the last few years and to add another Commonwealth title to their collection, especially one as historic as this, is extremely fitting," he said.
"I'm really looking forward to seeing the rest of the Team Scotland athletes competing, and I'm sure they will be going all out to try to add to the already impressive medal tally."
Day five's two golds and a bronze, for Jen McIntosh in the 50m rifle prone, mean that Scotland has now equalled its record of 33 medals at the Commonwealth Games in Edinburgh in 1986.
Alex Marshall's triumph in the lawn bowls is his third Commonwealth title after pairs victories in 2002 and 2006.
But he said winning in front of a home crowd was his biggest achievement to date.
He said: "This is just fantastic. I have won two golds before but this one tops the lot. Playing in your own back yard, in front of your own fans - you just can't beat it. Simply the best."
Foster, who won a Commonwealth pairs gold in Melbourne eight years ago, feared his chances of landing a second had been ruined just a fortnight before the game when his prize bowls were stolen.
However, they were soon returned to the Troon taxi driver and he lapped up his latest triumph, saying: "I didn't think anything would beat 2006 but this tops everything. To win a gold on home soil is a feeling that will live with me forever."
Later Libby Clegg secured Scotland's first athletics gold of these Commonwealth Games with a T11/12 100 metres victory at a raucous Hampden Park.
The visually-impaired 24-year-old and guide Mikail Huggins was roared over the line by the partisan crowd in a world-leading 12.20 seconds.
She said: "It feels incredible.
"It was an absolutely fantastic experience. I loved every second of it.
"The crowd were just phenomenal. The cheers they were giving us were just amazing and really uplifting. It definitely helped my performance."
| Year | Gold | Total |
| --- | --- | --- |
| 1970 - Edinburgh | 6 | 25 |
| 1986 - Edinburgh | 3 | 33 |
| 2002 - Manchester | 6 | 30 |
| 2006 - Melbourne | 11 | 29 |
| 2010 - Delhi | 9 | 26 |
Judo, back in the Games for the first time since 2002, has been Scotland's most successful sport, providing 11 medals, with team flag bearer Euan Burton and the Renicks sisters, Kimberley and Louise, among six gold medal winners.
Para-cyclist Neil Fachie and pilot Craig Maclean have picked up two golds, winning the 1,000m time trial B2 tandem and the sprint B2 tandem.
Dan Wallace is another multiple medal winner, collecting gold in the 400m individual medley and a silver from the 4x200m freestyle relay.
The youngest member of Team Scotland has also contributed to the medal haul, with 13-year-old Erraid Davies coming third in the Para-sport 100m breaststroke.
Scotland's best medal total was set at the 1986 Games in Edinburgh, a competition boycotted by 32 African, Asian and Caribbean nations.