Glasgow 2014: Sycerika McMahon stunned by her Glasgow failure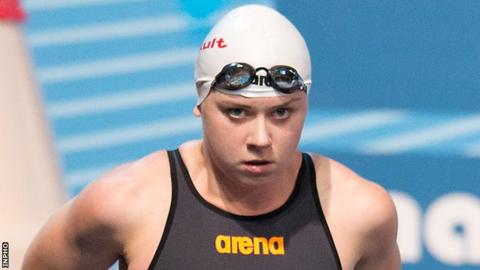 Glasgow 2014 Commonwealth Games
Competition dates: 24 July - 3 August. Coverage: Live on BBC TV, HD, BBC Radio 5 live, Red Button, Connected TVs, online, tablets and mobiles
Sycerika McMahon's bowed head says it all.
Northern Ireland's big Commonwealth Games swimming hope bravely presents herself for interview after another disappointing swim on Monday morning but she is unable to come up with any answers.
Going into Glasgow, the minimum return the 19-year-old would have countenanced would probably have been reaching two finals.
Two years ago, McMahon landed medals at both the European Long Course and Short Course Championships and her impressive qualification for the London 2012 Olympics suggested that she would be in her prime at this year's Commonwealth Games.
But there have been no top-eight finishes for McMahon in Glasgow as her ninth place in the semi-finals of her specialist event, the 50m breaststroke, on the opening day of the Games set the tone for five days of torment.
McMahon missed out on a place in the 100m breaststroke and 200m individual medley finals on Sunday.
On Monday she was marginally outside her personal best in the 200m butterfly heats as she finished 14th overall in 2:15.53.
"Not really. I think that's part of the problem," responds the Portaferry woman, when asked for reasons for her Commonwealth calamity.
"I've been training really hard. I'm in good shape. It's just the most frustrating...."
McMahon's voice tails off as she appears on the verge of tears.
"I didn't come here for a learning experience by any means but that's what it has turned into," admits McMahon, who will head back to the Texas A&M University in the United States in September for the second year of her sports scholarship.
Before that, the European Championships in a little over two weeks offers McMahon a chance at possible redemption and the Northern Irishwoman said on Monday that she will travel to Berlin.
"I plan to do a lot better there," she said.
"I know I'm capable of times which are so much better than what I'm doing right now.
"It's just the way things go sometimes but you've just got to push yourself back up and get on with it."
Admirable sentiments for an athlete who would have been forgiven for skipping this particular interview.