Jersey's Zane Duquemin unhappy with Glasgow 2014 shot put final
Last updated on .From the section Commonwealth Games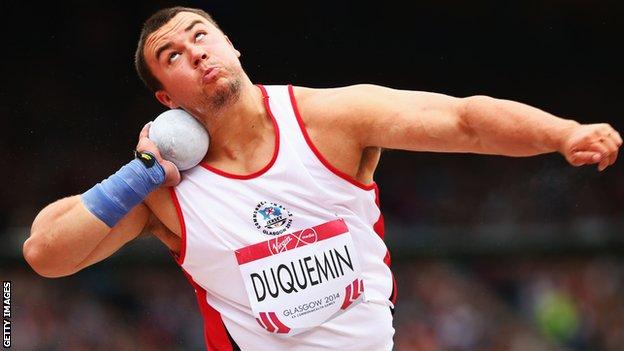 Jersey's Zane Duquemin says he was disappointed to finish ninth in the final of the shot put at the 2014 Commonwealth Games in Glasgow.
Duquemin was eliminated after three throws, after a best effort of 18.16m.
The 22-year-old's second throw would have put him into the top eight, but it was adjudged to have been a foul.
"I'm pretty sure it was good enough to get me in the top eight. I'm disappointed I couldn't hold it, but it was one of those things," he said.
Duquemin, who was has been troubled all year by a trapped nerve in his back that he suffered while sleeping.
"Considering my last couple of days I'll take it," he told BBC Radio Jersey.
"I'm just going to try and get myself ready now for discus and see what I can do there.
"I know yet again that I can perform under pressure. I threw a season's best yesterday under pressure.
"I know I can throw those sorts of distances when training hasn't been as good as it should have been."