Glasgow 2014: Welsh dragon fights fear with fire
By Aimee Lewis
BBC Sport in Glasgow
Last updated on .From the section Commonwealth Games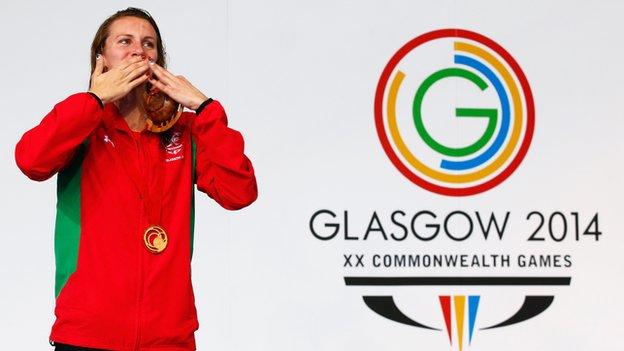 Some feared the team had been cursed. Many predicted the worst. After a miserable month of injuries, ineligibilities and doping scandals, expectations had not so much been lowered in Wales as flattened.
Would anyone wearing Welsh red be able to relight the Dragon's fire? Would Scotland perhaps postpone their two-week sporting festival, just as a favour for a doomed Celtic cousin?
A target of 27 medals had been set - but even before the Games had begun, sober Welsh officials conceded it might be difficult to achieve.
"We have had a rocky few weeks," admitted Wales team captain Aled Davies. "It's been tough."
The list of absentees read like a list of who's who of Welsh sport:
Non Stanford, reigning triathlon world champion;

Becky James, two-time track cycling world champion;

Helen Jenkins, two-time world triathlon champion;

Fred Evans, London 2012 boxing silver medallist;

Rhys Williams, European 400m hurdles champion.
Stanford, James and Jenkins are injured, Evans was denied accreditation, while, to add salt into deep wounds, Williams failed a drugs test.
There were others with sorry stories to tell. Boxer Ashley Brice was deemed ineligible, while 800m runner Gareth Warburton was, like Williams, charged with a doping violation.
Former swimmer David Davies, an Olympic bronze and silver medallist, described it as "one thing after another".
The 2006 Commonwealth gold medallist added: "It was really unfortunate. We were wondering when it was all going to stop."
As the opening two days of the Commonwealths were played out in a heavenly Glaswegian heatwave, England and Scotland celebrated in the pool, on the lawns, on the cycling track, and just about everywhere.
The wait continued to hear the Welsh national anthem Hen Wlad Fy Nhadau ring out in any arena, or any stadium.
But hidden behind the coal black clouds were bright skies, filled with glitter, sparkles and gold.
Frankie Jones had been performing like a woman determined to turn around her country's fortunes single-handedly, winning five medals of a silver and bronze hue in the first two days of rhythmic gymnastics.
On day three, she twirled her way to the jackpot, in the individual ribbon. "Gold for Wales," tweeted relieved BBC Wales presenter Jason Mohammad. "I was wondering if the anthem wasn't on the CD."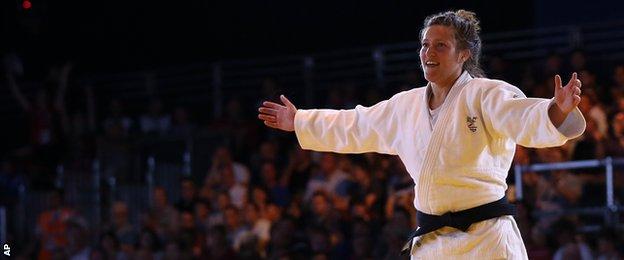 Jones had created history for Wales, becoming the country's most successful performer at a single Commonwealth Games. Within a few hours, they had a second gold, with Natalie Powell overcoming Olympic silver medallist Gemma Gibbons in the judo.
For Wales, it was their very own Super Saturday.
Eleven medals, a third of the camp's target, had been won on a thrilling third day, among them a bronze for weightlifter Michaela Breeze, who had come out of retirement to compete in Glasgow.
"Team Wales celebrate stunning success," read the headlines in the Wales on Sunday newspaper.
By the time Jazz Carlin collected the country's third gold of the Games, winning 800m freestyle in the pool on Monday, the nation's flag-wavers were becoming overworked.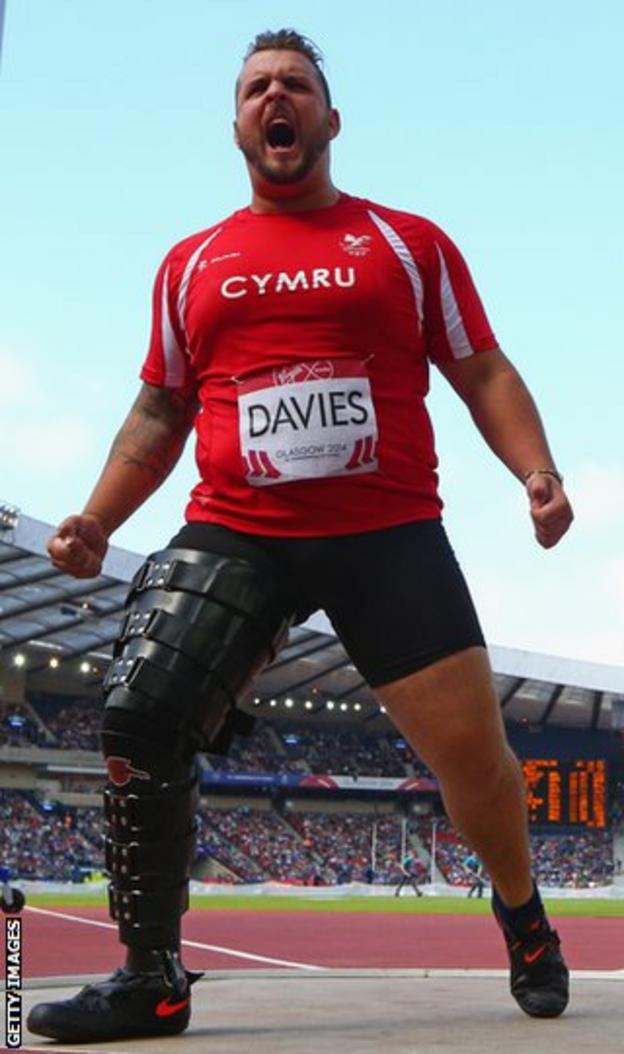 A silver for Aled Davies in the F42/F44 discus took his country's medal tally to 20. The boy from Bridgend, a Paralympic champion, was in tears, devastated at not winning gold. But for his compatriots scattered around Hampden Park, it was reason to celebrate.
One fan-turned-cheerleader shook her red and green pompoms wildly. After just five days of competition, the team had bettered the total of 19 medals won in Delhi in 2010.
"We've lost a few guys, but the team has been incredible," said an emotional Davies. "They're phenomenal. We sat down and remembered why we were here, to deliver the best performances possible.
"The mood in the camp was a bit dull at first, but it became exciting as soon as the medals started rolling. It just shows that the future of sport in Wales is strong."
The fifth day belonged to Carlin, a 23-year-old Swansea swimmer who missed out on London 2012 because of illness.
She had broken the Commonwealth Games record. She had become her country's first female swimming gold medallist since 1974. She had ensured the Welsh national anthem was finally heard at Tollcross swimming pool in the East End of Glasgow.
The crowd had given her strength, she said. Her team-mates had given her inspiration.
"Seeing the Welsh flag go up was amazing, it's such an incredible feeling," said Carlin, before revealing that she had painted the Welsh Dragon on to her fingernails.
By now, tears of victory had been replaced with a big celebratory smile. "We've still got a lot more to come," she added. "We've had a great few days and that really does spur you on."
In two medal-filled days, the negative stories that had plagued the camp less than a week ago had been forgotten.
More medals are likely to follow, too, possibly enough to help Wales eclipse their haul in 2002 in Manchester, where they won a total 31.
Five boxers are in the quarter-finals, bowler Robert Weale is making a decent job of defending his singles title, Darius Jokarzadeh is in contention in the weightlifting, while cyclists Geraint Thomas and Luke Rowe will lead the Welsh challenge in the men's road race on Sunday.
"We were confident we could do well and that's why we were happy to talk about the negative stuff because we knew we would turn things around," said Wales chef de mission Brian Davies.
"There's still a week to go and we're focused on getting even better. The guys always felt confident, it was the outside world that was filled with doom."
A country of three million has achieved such success because their crop of 2014 are better prepared and better funded than their predecessors. The presence of a sports psychologist, Cathy Shearer, in Glasgow is evidence of that.
Many governing bodies in Wales have increased their funding since Melbourne 2006, although Davies insists there is room for improvement.
"Other countries above us in the medal table still invest more than us," he said. "It's not a coincidence, high-performance success is liked with investment."
The days of relying on one individual are no more, too.
"It's not like in the past when we had one athlete, like Colin Jackson," said swimmer Davies. "Now people talk about a whole host of names."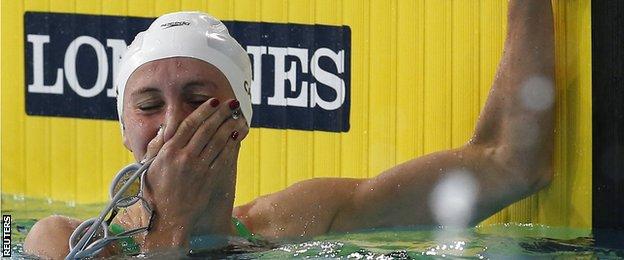 But what impact will Glasgow 2014 have on the country? What sort of reception will the medal winners get when they return to the homeland?
"It's a small country, so they will be celebrated well," predicted Davies. "It's a passionate country, a very close-knit one. The people back home will be really proud of them and so they should be.
"It's about improving on the past - and we've done that. It's about inspiring a future generation - and hopefully children have been watching in Narberth, Carmarthen and all over Wales. That's what it's all about."