Glasgow 2014: Calvert fourth in full bore shooting
Last updated on .From the section Commonwealth Games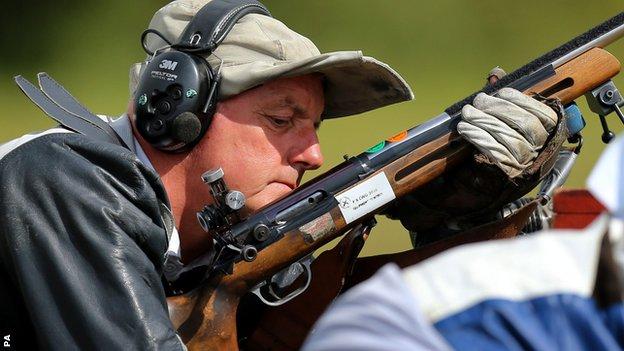 Northern Ireland's David Calvert finished fourth in Tuesday's full bore shooting competition at the Commonwealth Games in Glasgow.
The 63-year-old, who has won eight medals in 10 Games appearances, narrowly missed out on another medal.
Calvert was just one point outside the medal places while fellow NI shooter Jack Alexander was fifth.
Ben Reynolds failed to qualify for the 110m hurdles final following a disappointing run in Tuesday's heats.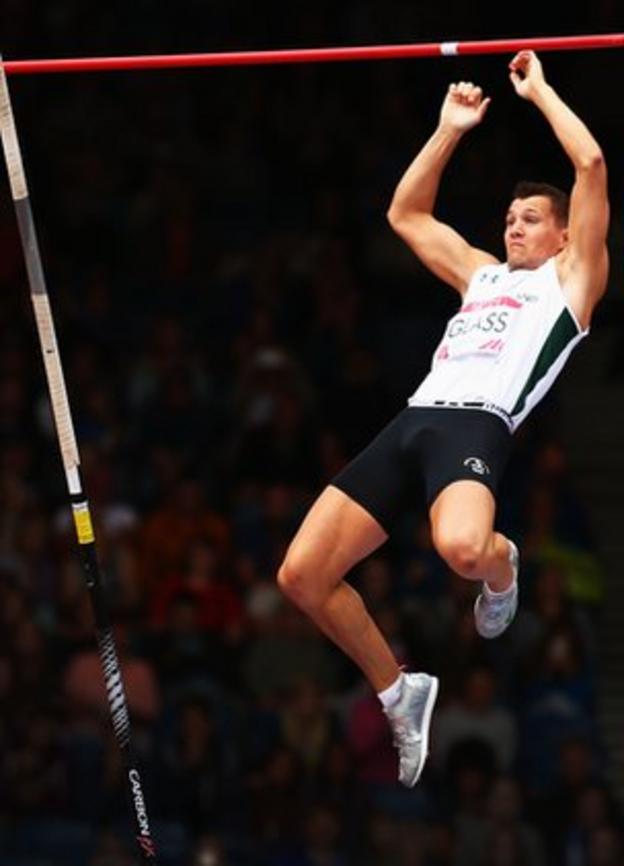 The Bangor man was sixth in his heat in 13.96 at Hampden Park, well below his best of 13.49, and finished 15th overall.
Christine McMahon exited from the 400m hurdles - her time of 58.67 was 1.70 down on her personal best.
Sycerika McMahon won her 400m freestyle heat at Tollcross but she was 14th quickest overall and failed to progress to the final.
Rachel Bethel swam in the same heat and finished fifth.
Both the men's and women's 4x100m medley relay teams progressed to their finals from their heats.
The women's quartet were fourth in their heat in 4:22.34, while the men were also fourth in 3:47.83. In the final, the women's quartet were disqualified while the men were eighth in 3:51.39.
Martin McHugh won his latest men's bowls singles pool match with a 21-13 victory over Samoan Petelo Gabriel, leaving him with two wins and one defeat.
Mandy Cunningham and Barbara Cameron defeated Malaysia 24-12 and drew 18-18 with Niue in their women's pairs pool games but there was a second defeat for the triples of Donna McCloy, Catherine McMillan and Jennifer Dowds, losing 19-11 to Scotland.
The men's fours team of Neil Booth, Paul Daly, Ian McClure and Neil Mulholland failed to make the quarter-finals after losing 14-12 to Jersey on Tuesday evening.
Madeline Perry and Matthew Craig secured a 3-0 win over Zambia in their opening mixed doubles pool encounter in squash.
In badminton, Nicole Mawhinney qualified for the women's individual all-round final after finishing 21st in qualifying, with the Northern Ireland women's team ending in ninth position in the team event.
Tony Murphy beat Kervin Ghislain of the Seychelles 2-0 in the men's singles.
Sinead Chambers is into the last 32 of the women's singles after a 2-0 win over Joanne Snell of the Norfolk Islands but Alannah Stephenson is out after losing 2-0 to Jersey's Elizabeth Cann.
Ciaran and Sinead Chambers and Tony Stephenson and Caroline Black are through into the last 32 of the mixed doubles.
Paul McCreery beat Lesotho's Khethang Mothibi 4-0 in men's singles table tennis while Amanda Mogey had a win and a defeat in the women's singles.
Both are into the last 32, along with Ashley Robinson and Ashley Givan, who reached the men's and women's knockout stages respectively by winning their final group games.
Gymnast Matthew Cosgrave finished 12th in the parallel bars while Luke Carson was 21st.
Peter Glass was second in his heat of the 110m hurdles, fourth in his discus heat, 10th in the pole vault and the javelin, then 13th in the 1500m to end in a creditable 12th place overall.
In shooting, David Henning was 20th overall and David Beattie 22nd in qualification for the Men's Trap event.
Claire Oakley finished 15th in the women's cross country mountain bike event despite suffering a puncture.