Glasgow 2014: Shooters miss out on first Jersey medals since 1990
Last updated on .From the section Commonwealth Games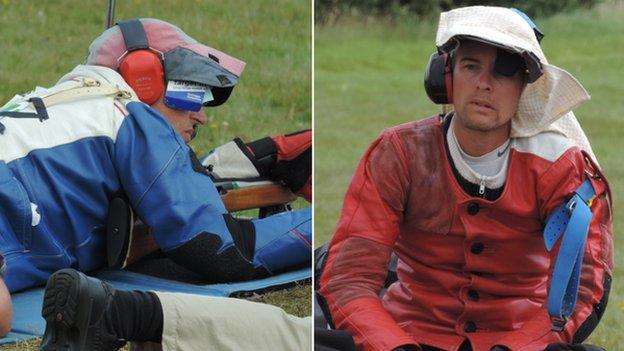 Jersey's 24-year wait for a Commonwealth Games medal continued after full bore shooters Barry Le Cheminant and Daniel Richardson missed out on top three places.
Le Cheminant led after the first two days, with Richardson in second, as they tried to emulate Colin Mallett's gold medal in the same event in 1990.
But strong winds meant they dropped shots over 900 and 1000 yards.
England's David Luckman won gold with a Games record of 401 points.
Glasgow 2014: Individual fullbore shooting results

1st: David Luckman (ENG)

401-42v

2nd: Jim Paton (CAN)

397-35v

3rd: Parag PATEL (ENG)

394-35v

4th: David Calvert (NIR)

393-38v

7th: Barry Le Cheminant (JEY)

390-40v

16th: Daniel Richardson (JEY)

384-39v
Le Cheminant finished seventh, four points off a bronze medal, and Richardson 16th.
"These are some of the most testing conditions I think I've ever fired in in my life," Richardson told BBC Radio Jersey.
"It's not something we've seen all season and at the end of the day it just didn't come off.
"I lost seven points in my first three shots just before getting a handle on it and there's almost no coming back from that."
It was a similar story to the pairs event where Richardson and Le Cheminant were in third place going into the longer distances.
"You looked at the flags, put your assessment onto the rifle sights and by the time you pulled the trigger it changed," Le Cheminant said.
"You can lose the competition at short ranges, but it's the long range you have to win it at.
"It was lovely to be leading the pack but it was such a narrow margin and there's such volatility in the scores."
And Le Cheminant, who returned to the Commonwealth games after a 28-year absence, said he would like to try for gold again at the Gold Coast, Australia, in 2018.
"I've come back in an effort to be competitive and this is the result of it," he added.
"It's been amazing. To go to the Games is awesome and I'm pleased to get another crack at it.
"Looking around there's people here who are older than me so I'd like another crack at it."