Lee Craigie & Grant Ferguson ride strongly in mountain biking

By Keir Murray
BBC Sport Scotland
Last updated on .From the section Commonwealth Games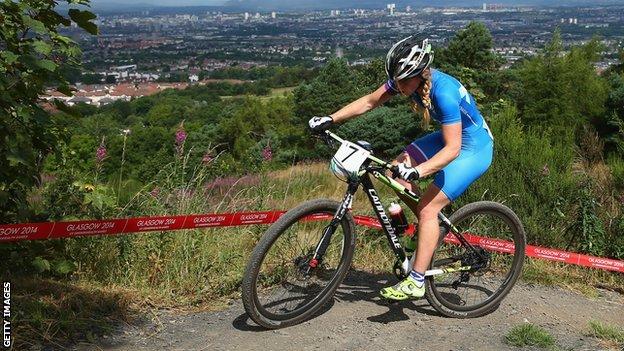 Glasgow's Lee Craigie and Peebles rider Grant Ferguson were the best-placed Scots in the women's and men's at Cathkin Braes.
Craigie, 35, finished seventh, four minutes and seven seconds behind the Canadian winner of the Commonwealth gold medal, Catharine Pendrel.
Her Scotland team-mate Ferguson, 20, was fifth in his race.
He told BBC Scotland: "It was awesome. To have that much support around the track was incredible."
| Men's mountain bike race | Women's mountain bike race |
| --- | --- |
| Gold - Anton Cooper (NZL) | Gold - Catharine Pendrel (CAN) |
| Silver - Samuel Gaze (NZL) | Silver - Emily Batty (CAN) |
| Bronze - Daniel McConnell (AUS) | Bronze - Rebecca Henderson (AUS) |
New Zealand won gold and silver in the men's race with Anton Cooper crossing the line ahead of Samuel Gaze. Australia's Daniel McConnell won bronze.
That trio and Canada's Max Plaxton established a quick lead that no rider could close across the 37.15km course.
"I was not in the right place and found myself a bit caught out," said Ferguson, who was 3 mins 9 secs behind the winner.
"I didn't bridge that gap. It came to 15 seconds and I was in no-man's land. I held it for a couple of laps but plugging away by myself I was struggling, to be honest."
Ferguson has won the British Cycling Mountain Bike Cross Country Championship title for the past two years.
He added: "It was such a big event for Scotland. To be a part of that was nuts.
"I want to acknowledge everyone's support. It was fantastic.
"That last lap, dropping into the sections, was just so loud. I've never experienced that before and it was awesome."
Kenta Gallagher from Inverness was 10th and Castle Douglas's Gareth Montgomerie 11th, 5 mins 19 secs and 8 mins 2 secs behind Cooper respectively.
Montgomerie, who raced in the 2006 Commonwealth Games in Melbourne, revealed that it was his last race.
"I retire today. I've been planning it for a while. I've been setting up a bike shop," he said.
"Unfortunately I punctured at the end of the fourth lap, so I lost a bit of time with that and it became a bit sketchy. I nursed it round to the pits and carried on.
"The descents were all quite tight but you were able to overtake on the climbs. It was quite tactical."
In the women's race covering almost 32km, Pendrel's fellow Canadian Emily Batty won silver and Australia's Rebecca Henderson won bronze.
Craigie said the backing of the home crowd had lifted her at least two places in the finishing order.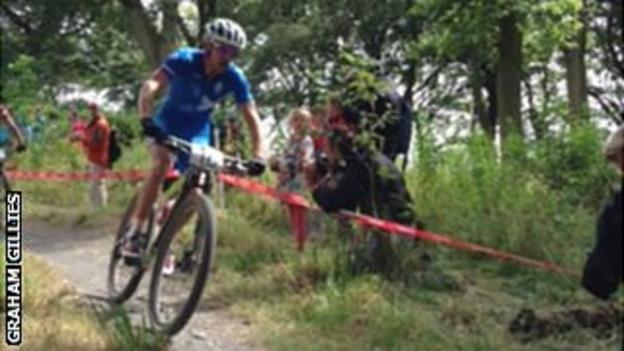 Scotland's Jessie Roberts finished in 11th place and the former triathlete from South Uist, Kerry MacPhee, came in 13th.
MacPhee said of the race: "It was brutal, really physical. By lap four my legs started to die and I started to find the climbs hard.
"After that it was a mental battle to just keep pushing and pushing.
"I came 13th and I'm absolutely delighted because I put it on the line and gave it all I could and you can't be disappointed when you do that.
"It's such a privilege to line up against girls of that standard. I want to be one of these girls and I'm moving in that direction. This is just a stepping stone for me towards that.
"Lining up against them is one way to improve.
"My goal was top 10 but I can't be disappointed because it was a high standard."