Glasgow 2014: England win silver, Wales claim first-ever bronze
Last updated on .From the section Commonwealth Games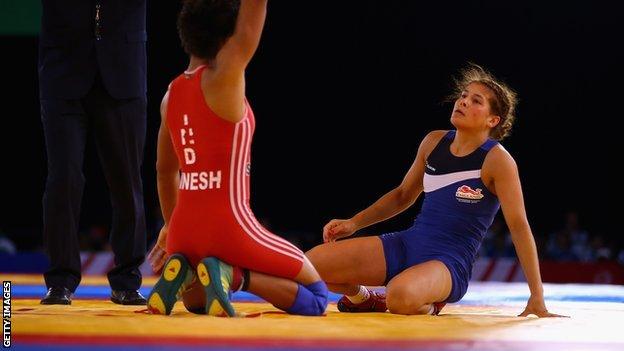 England's Yana Rattigan took silver in the women's freestyle 48kg at the Commonwealth Games, losing 11-8 to Vinesh of India in the final.
Craig Pilling, 27, won Wales' first Commonwealth wrestling medal, claiming bronze in the men's 57kg with victory over England's Omar Tafail, 19.
England's Mike Grundy, 27, took bronze at 74kg and compatriot Chinu Chinu bronze in the 125kg repechage.
Scotland's Fiona Robertson, 45, lost the freestyle 48kg bronze repechage.

Rattigan, 27, was born in Ukraine and missed out on fighting for Great Britain at the London Olympics when her international clearance did not come through in time.
The silver medallist at the 2013 European Championships raced through Tuesday's morning preliminaries with two rapid victories, but was edged out by Vinesh.
Gold in the men's 57kg went to Amit Kumar of India, who defeated Nigerian Ebikweminomo Welson.
The 74kg gold went to favourite Sushil Kumar, India's Olympic silver medallist and 2010 Commonwealth Games champion at 66kg, who defeated Qamar Abbas of Pakistan.
The women's 75kg gold was won by Canadian Erica Wiebe. England's Sophie Edwards, 18, lost all of her four bouts.
In the final bout of the night, Canada won another gold when Korey Jarvis defeated India's Rajeev Tomar in a bruising men's 125kg contest.