Boxers step into Bolt's world for a brief taste of the limelight

By Tom English
BBC Scotland
Last updated on .From the section Commonwealth Games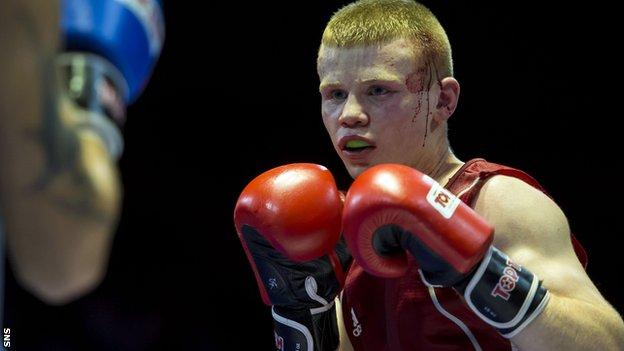 If the story is right and Usain Bolt donned the garb of a diva and declared the Commonwealth Games as a "bit s**t" it was just as well for the great man that no boxer was in his vicinity at the time.
Even with his lightning pace the chances are that a Reece McFadden or a Joe Cordina or a Joe Joyce would have caught him with some big shots before Bolt turned on his heels and fled.
It's important to say that Bolt has denied making the comment, so we're at an impasse on that front. Did he or didn't he?
Unless the episode was captured on tape, then we'll never know for sure.
The extraordinary feel-good factor of the Games in Glasgow is beyond dispute, but the actual sporting quality of what we are seeing is a legitimate talking point.
Anybody calling it "s**t" would be guilty of a sweeping generalisation and gross ignorance, but to ask questions is not a sin. To rain on the parade is not a crime that ought to be punishable by the opprobrium of the masses.

Here is a tale from the boxing ring that provides a snapshot of the importance of the Games.
Bolt and the Scottish lightweight boxer, Charlie Flynn, are competing in the same city but they exist in parallel universes. One is a global phenomenon, the other works for the Royal Mail - "If you can call it work; I'm a bit of a skiver, you know what I mean?" says Flynn.
On Tuesday evening, Flynn represented amateur boxing in microcosm - the essential hardness of it, the character, the guts.
He spoke of his feelings when he entered the SECC arena before his quarter-final bout with the Ghanaian, Jessie Lartey.
"Aw, you walk in, man, and you can feel it burning in you. It's like a fire in your chest. You're walking in and it's like a furnace and it's fuelling you and you're feeding off the atmosphere.
"You can hear all the Scottish accents and you know you're at home. You're in the ring and you're going 'I'm at home in here'."
Three rounds later he came out of the ring as the winner, thereby securing a bronze medal at worst.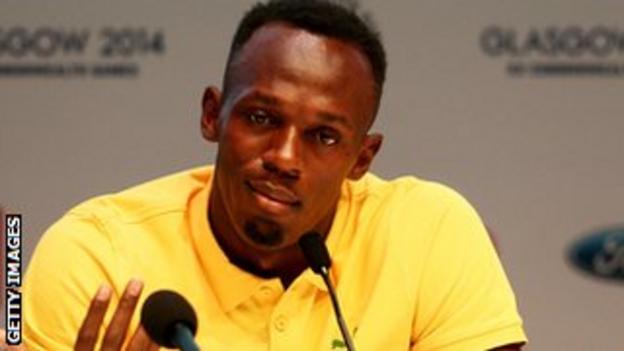 There was blood trickling from a cut over his right eye. In truth, there's been lots of blood. No Commonwealth Games in living memory has seen as many cuts to fighters and, of course, there's a reason for that.
Most of the blood that's been spilled has not been down to a haymaker landing flush on a face, but a clash of heads.
The bigwigs in amateur boxing have taken away the protective headgear and have made their boxers vulnerable to cuts. They say it is to do with safety without ever producing compelling evidence to back up their argument. It's a talking point, for sure.
Some trainers think it's best without the headgear, others think it's dangerous. The guys in the middle are the fighters and they just get on with it. They have no say. Boys like Charlie Flynn - they do what they do.
And there's an honesty to it. A vulnerability. It's real. Oh so real and oh so tough.
Sitting in the commentary position at the back of the hall on Tuesday night we sent a message down to Flynn after his fight. Could he come up for a chat on live radio?
"Aye, man. Nae bother."
Up he came. He walked, but he could have floated.
He spoke of his family and his friends and of the people of Glasgow and Scotland - his people, his crowd. He paid tribute to his bosses at work for giving him time off when he needed it, for helping him buy some kit, for allowing him to duck and dive in his day job almost as much as he does in the ring.
"They look after me," he said. "The whole building. Aye."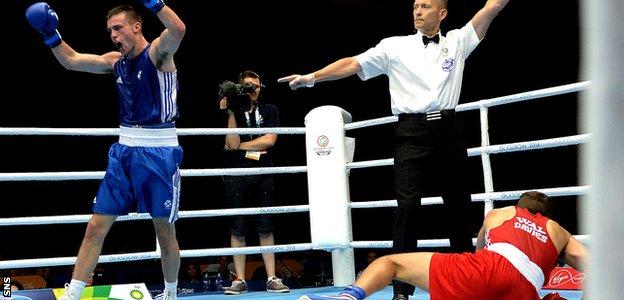 This is Flynn's tale but it's pretty much an everyman tale of fighters in the ring at these Games.
They're not doing this as a past-time and for many of them there's no safety net. If boxing doesn't work they don't have a degree to fall back on. They don't get to retreat to the comfort of life among the middle-classes. These boys are focused and heroic. They're so far from "s**t" it isn't true.
Flynn was asked about the bronze he had in the bag and his chances of turning it into gold later in the week. He said he didn't like to look too far down the track and then produced one of the great quotes of the week.
"I just look at the next guy in front of me, you know what I mean? As they say, you kill the crocodile that's closest to you. Kill that and move on to the next one."
Bolt is the marquee act at the Games and there is a thrill in watching what he does.
But the beauty of these 10 days in Glasgow is that for the briefest time, the Charlie Flynns get a tiny taste of life as a star before returning to a less glamorous world.