Glasgow 2014: David Luckman revels in shooting gold medals
Last updated on .From the section Commonwealth Games
David Luckman says it was "magical" to win his second Commonwealth Games gold in the individual full-bore rifle Queen's Prize event.
"We'd been shooting very well as a team, so we fancied getting gold in the pairs," Luckman told BBC Points West.
"The individuals was a very tricky day so to have such a special shoot to finish was magical."
Luckman finished Tuesday's event with a score of 401, ahead of Canada's Jim Paton in second and Patel in third.
"I was very pumped up and I had such a special shoot. It's the kind of thing that happens once every couple of years," he added.
"Even before the scores were out I knew no-one was going to catch it. I was very excited."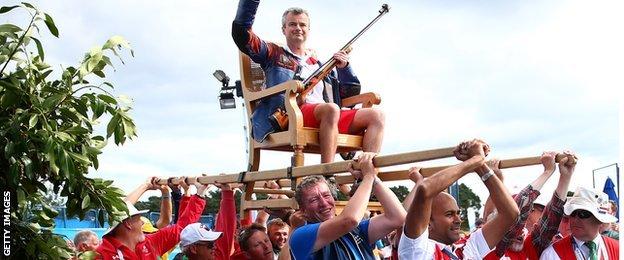 In accordance with the tradition of the annual Prize event which dates back to 1860, Luckman was carried from the range to the medal ceremony in a Sedan chair by his opponents.
"It wasn't entirely comfortable, I thought they were going to tip me out at the start, when we were on the rough grass," he remarked.
"As long as you hang on when they hoist you up and down it's alright. You're up there with that great view of everybody and it's a really fun experience.
"To be able to do that here, especially at a home Games with lots of friends and family here, was excellent."