BBC Sport - Glasgow 2014: Olivia Curran 'so lucky' to be at Commonwealths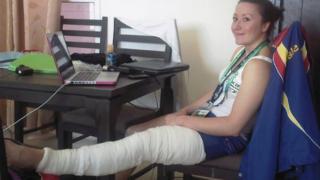 Curran 'lucky' to be at Commonwealths
Isle of Man pole vaulter Olivia Curran tells BBC Sport that she is "so lucky" to be at the Commonwealth Games.
Four years ago, former gymnast Curran was left unable to walk when, days before her event, a knee ligament injury sustained during a routine manoeuvre on the uneven bars in training ruled her out of the Delhi Games.
Now 23, Curran is set to represent the island in the pole vault at Glasgow 2014.
Top videos