Glasgow 2014: Jersey pair to play off for bronze
Last updated on .From the section Commonwealth Games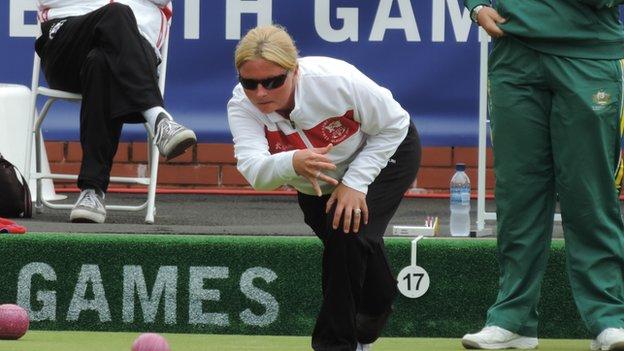 Jersey's Lindsey Greechan and Katie Nixon face Northern Ireland for a bronze medal in the Commonwealth Games women's pairs bowls on Friday.
The island pair lost 20-9 to South Africa in their semi-final after beating Australia 16-11 in their quarter-final earlier on Thursday.
A victory in the play-off would secure Jersey's first medal since 1990.
"Of course we're disappointed, we struggled there and they were outstanding," Nixon told BBC Jersey.
"But we've got to try and lift our heads for tomorrow.
"There is pressure and we've got try and relax on the green, we've just got to go for it," Nixon added.
Her partner Greechan conceded that they were beaten by a better side.
"They were absolutely outstanding, we'd have had to play unbelievable bowls to beat them. We're both capable of it, but it was their day," she said.
"Their first bowl was never more than six inches away, so Katie was always under pressure, very rarely did they have a loose bowl."
No-one from Jersey has stepped onto a Commonwealth Games podium since Colin Mallett won full-bore shooting gold, and pairs bronze with his father Cliff, in Auckland 24 years ago.
Jersey reached the same stage in the women's pairs eight years ago when Gaynor Thomas and Sue Dingle missed out on bronze with the final shot in their play-off against New Zealand.