Glasgow 2014: Mixed fortunes for NI bowlers at Commonwealths
Last updated on .From the section Commonwealth Games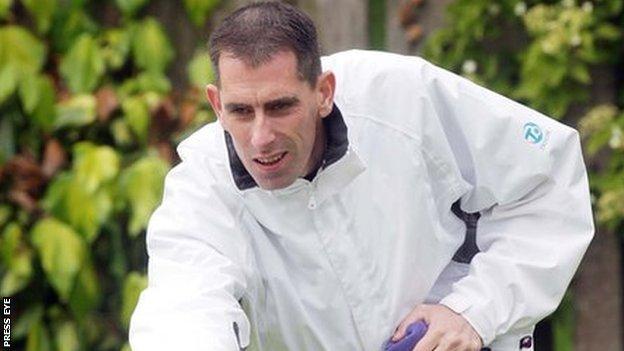 Northern Ireland's Martin McHugh has suffered a narrow 21-20 defeat to Scotland's Darren Burnett in the last eight of the men's singles bowls at the Commonwealth Games in Glasgow.
The women's pairs of Barbara Cameron and Mandy Cunningham won their quarter-final against New Zealand 14-10 after trailing 10-9 with three ends to go.
The Northern Ireland duo lost 19-14 to England in their semi-final however.
They will now go into a bronze-medal play-off contest with Jersey on Friday.
Cameron and Cunningham were tied at 5-5 after six ends of their match with English duo Jamie Lea-Winch and Natalie Melmore, but lost out by five shots in the end.
They will now play Jersey's Katie Nixon and Lindsey Greechan at 08:45 BST on Friday morning.
"We were slow to get out of the box with the game shortened to 18 ends. You must get out quickly," admitted Cameron who is seeking a first Commonwealth medal.
"This is my fifth (Commonwealth) Games now. On four previous occasions it's been like this, so hopefully we'll pick the medal up. The Commonwealth to me would be the medal to win. It would be a dream come true, but there's still 18 ends to fight for it so we'll be there."
This is the final chance for the bowlers to claim a second medal of the Games after the men's triples took silver.
"The boys won silver. They will have the bragging rights if we don't take home something," said Cunningham.
"We play against Jersey every year in the Home International series, so they'll be up for it as much as we will."
"You need your best game here against anyone, no matter who it is. You can't underestimate any opponent here," she added.
The men's fours lost 18-11 to England in their quarter-final.
The trio of Neil Booth, Paul Daly and Neil Mulholland, who won a silver in the men's triples, were joined by Ian McClure for the fours competition.
The NI quartet had come from 8-1 down to lead 11-9 after 12 of the 15 ends but it was the 13th end that proved unlucky as they contrived to give up seven shots and effectively the match.
"We may have played it differently. Lo and behold we lost a seven, we probably lost it in that end," lamented Booth.
McHugh, 41, started out strongly and was 13-6 ahead before Burnett stormed back and into the lead 16-13.
The Whitehead man composed himself and retook the lead 20-16 and was within one shot of victory, but it was a shot that never came. Burnett came back once again and won 21-20.
"I was still playing well but Darren is a good player. He dug in which is the sign of a quality player. He played some good bowls, particularly at the death."