Glasgow 2014: Siobhan-Marie O'Connor reacts to 'crazy' week
Last updated on .From the section Commonwealth Games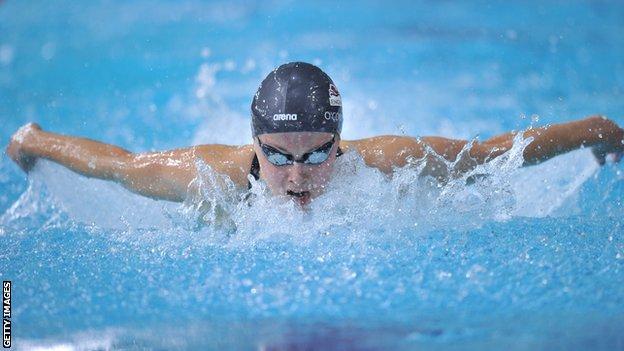 England swimmer Siobhan-Marie O'Connor has described her time at the Commonwealth Games as "crazy" after winning six medals in Glasgow.
On her return to her hometown of Bath, O'Connor told BBC Radio Bristol: "It has been a mad week - especially since I've finished.
"It hasn't really sunk in yet. It is all pretty crazy."
She added: "But the support I've had has been great and the response I've had has made it even better."
O'Connor came into the Games having won three races at the British International Meet in Manchester in June.
O'Connor's medals

Gold - Women's 200m individual medley

Silver - Women's 100m butterfly

Silver - Women's 200m freestyle

Silver - Women's 4x100m medley relay

Silver - Women's 4x100m freestyle relay

Bronze - Women's 4x200m freestyle relay
And she started her campaign with silvers in the 200m freestyle and 100m butterfly before taking bronze in the 4x200m relay and finally secured gold in the 200m individual medley - her preferred race.
"I felt nervous because I was swimming well and I'd had some good results. I knew this was an opportunity I was never going to get again," she recalled.
"I knew I'd done everything right but it was about putting it together. Anything can happen when things are that intense. When I got it, I was over the moon.
"I remember looking around on the last length and seeing clear water. I knew I had to hold on and not tighten up. I remember touching the wall and how I felt afterwards.
"It was great to be in the pool with other English girls as well."
She followed up her gold with a second-place finish in both the 4x100m medley and 4x100m freestyle relay.
At 16, O'Connor became the youngest swimmer selected for Team GB at the London 2012 Olympics, when she finished 21st in the 100m breaststroke.
And since then she has worked hard to improve her technique in preparation for Glasgow and Rio 2016.
"This year I've definitely changed a lot in my program and I've focused a lot more on my gym work," she said.
"I've always been able to train hard in the pool but I'm racing some of the best girls in the world who are big and strong. I needed to try to catch up with them.
"I managed to find some explosive power which I didn't really realise I had."