Glasgow 2014: Northern Ireland nine go for glory
Last updated on .From the section Commonwealth Games
If you are a fan of Irish music, then get yourself over to Glasgow's Scottish Exhibition and Conference Centre for Saturday's Commonwealth Games boxing finals. Although, I should warn you, it might get a bit repetitive.
Northern Ireland have won two medals at these Games so far, a silver and a bronze in lawn bowls and judo respectively. But over the last eight days of competition, there has not been one rendition of Danny Boy, discounting the odd garbled attempt in Molly Malones on Hope Street.
With nine medals already guaranteed in the ring, from a team of 11, that could be all about to change.
Northern Ireland's nine in Friday's semi-finals

Women's fly (48 - 51kg)Michaela Walsh v Pinki Rani (IND)

Men's bantam (56kg)Michael Conlan v Sean McGoldrick (WAL)

Men's light-welter (64kg)Sean Duffy v Junias Jonas (NAM)

Men's light-heavy (81kg)Sean McGlinchy v David Nyika (NZL)

Women's light (57 - 60kg)Alanna Audley-Murphy v Shelley Watts (AUS)

Men's light-fly (49kg)Paddy Barnes v Fazil Juma Kaggwa (UGA)

Men's light (60kg)Joe Fitzpatrick v Michael Alexander (TTO)

Men's welter (69kg)Steven Donnelly v Mandeep Jangra (IND)

Men's middle (75kg)Connor Coyle v Vijender Vijender (IND)
Asked how many golds he expected his team to win, Northern Ireland captain Paddy Barnes, who will be fighting in the semi-finals on Friday, shot back: "Nine." Given that level of confidence, start learning the words to Danny Boy immediately.
Barnes's speech is as fast and impenetrable as he is between the ropes. Even some of the Northern Irish journalists struggle to understand him. But the two-time Ireland Olympic bronze medallist, who is a product of the Holy Family boxing club in north Belfast, is the impish spirit at the heart of an irrepressible outfit.
"We believe that we're the best and we're showing that we're the best," said the 27-year-old light-flyweight, who threatened to wear a thong in his quarter-final on Wednesday if his suggestion got five million retweets.
"I only got 2,500," said Barnes, after his stoppage of Papua New Guinea's Charles Keama. The defending champion sounded genuinely disappointed.
"Other sports in Northern Ireland could learn from us," he added. "Other teams say: 'We're facing Australia or England and they are stronger'. But you have to have the self-belief to make that change. The boxers have that self-belief.
"Nowadays, it's harder to win an Irish title than it is to win some Commonwealth titles. Except for the other home nations and India, the rest aren't up to much. Not that I care, I'd like to knock them all out."
At the 2010 Games in Delhi, Northern Ireland's boxers won five of their country's 10 medals. But the oft-repeated suggestion that boxing is simply in the blood of the Northern Irish people does not stand up to scrutiny.
Their boxers won only two medals in 1998, then none in 2002 and 2006. But the high performance centre in Dublin, implemented by the Irish Sports Council in 2005 as a base for the best boxers from both sides of the border, has borne bountiful fruit over recent years.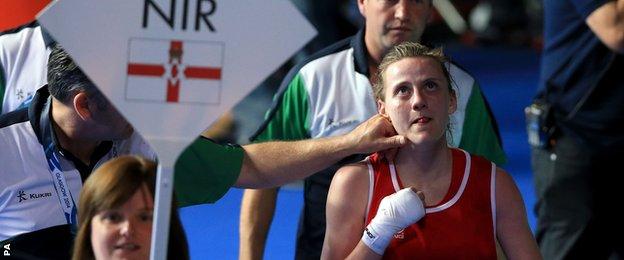 As with British amateur boxing's centre of excellence in Sheffield, which produced five medals at the London Olympics, Ireland's high performance programme involves a crack team of coaches, led by the legendary Billy Walsh, state-of-the-art equipment and the forensic monitoring of athletes. One wonders what their psychologist makes of Barnes.
Ireland won four medals at London 2012 and three at Beijing 2008, having won none at the previous three Olympics. More proof that success in modern sport is less about romance and more to do with organisation, hard graft and systems.
"If there is a secret, it's the high performance centre in Dublin," says Northern Ireland head coach Stephen Friel. "Kids from the age of 11 are in Dublin every weekend, from all the individual provinces' high performance centres.
"Every championships we go to, from schoolboy level upwards, we're coming back with golds, silvers and bronzes. So much of that is about the coaching. We went to a training camp in Germany recently. The Russian team were there and wouldn't spar with us. Ten years ago, they would have said: 'No problem'. Not now."
What the Irish system demonstrates is that a sport's strong grassroots tradition can count for little on the international stage unless a country has finishing schools for its very best athletes, at both regional and national levels.
Boxing has always had that strong tradition in Northern Ireland's working-class communities, both Catholic and Protestant, as well as the ability to bridge the country's traditional sectarian divide.
Barry McGuigan, who won gold for Northern Ireland in 1978, was a Catholic from across the Republic border in Monaghan who wore the Northern Ireland vest with pride during the height of the Troubles and went on to marry a Protestant and take on British citizenship.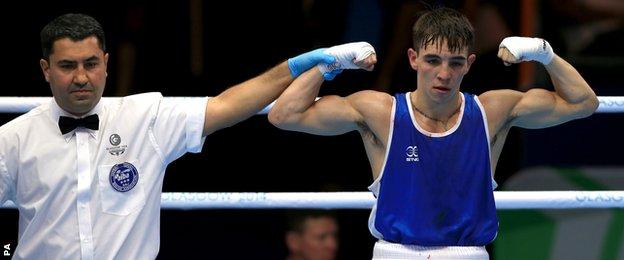 Wayne McCullough grew up on the staunchly loyalist Shankill Road in Belfast but carried the Irish tricolour at the opening ceremony for the 1988 Olympics in Seoul and won silver for Ireland in 1992 in Barcelona.
Boxing has accounted for 40 of Northern Ireland's 101 medals in the history of the Commonwealth Games. Add on the nine to come this week, including two from Michaela Walsh and Alanna-Audley Murphy and that's almost 50% of the total.
But despite their status as local and national folk heroes, only the very best of Northern Ireland's boxers are funded by the Irish Sports Council. Which is where some romance comes in.
"It's a really professional set-up, but not for most of the lads in our team," said Michael Conlan, who won bronze for Ireland at London 2012 and fights Welshman Sean McGoldrick in the semi-finals of the bantamweight category on Friday.
"Me and Paddy are the only ones on the highest funding. That is a big financial help, I wouldn't be here without it.
"The others who are getting medals have full-time jobs. It's not all down to money, it's also about hunger. They're seeing how well me and Paddy are doing and thinking, 'we can do the same and get where they got to'."
While Sport Northern Ireland invested in their team's pre-Games preparations, including training camps and competitions, the only way Northern Irish boxers can access enough cash to remain in the amateur ranks is by winning a place at the high performance centre in Dublin. Which is easier said than done.
John Conlan, father of Michael, is the high performance coach for Ulster and believes that the results in Glasgow would have been even more astounding had Northern Irish boxers been better funded in recent years.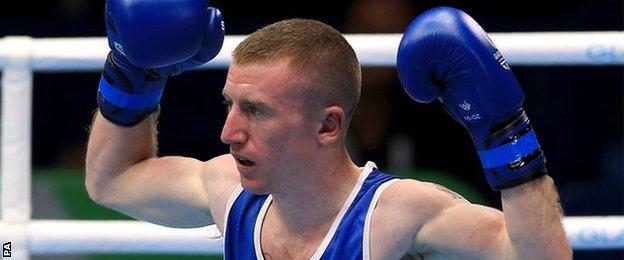 "There's top-quality competition at Ulster level," he said. "When I go to the County Antrim novices, I see the same dedication there as I've seen in Glasgow. There has to be in order to get Ulster boxers to the nationals, because the nationals is one of the toughest competitions in the world.
"But we need funding. When we get a really good senior athlete, they tend to go pro, because they've got families to feed. If we could have given all our best boxers funding, we'd have an even better team."
As it is, this nation of 1.84 million people has the best team in the Commonwealth. Perhaps the best team spirit, too.
"Someone cut my gumshield in half this morning," said Barnes, attempting to put his finger on what makes this Northern Irish outfit tick. "They're all torturing me, taking the mick.
"They were all slagging me off before my fight, saying I had to win a medal, too. I told them: 'Listen, I have a gold medal lying in my kitchen, I don't need to win. And pressure is for tyres.'"