Glasgow 2014: Louis Smith - from headline act to supporting role
Last updated on .From the section Commonwealth Games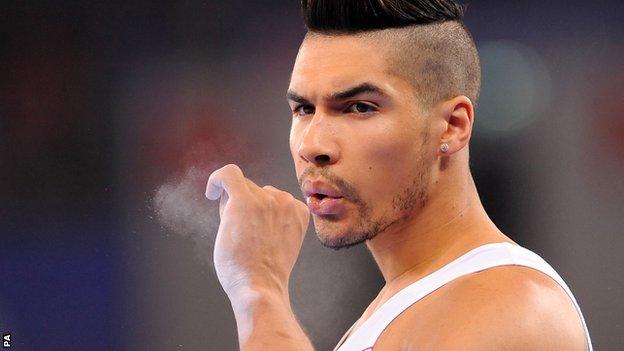 The showman wanted to prove he could still captivate an audience and compete with the best.
Not even a pioneer of his craft can stop progress and prevent younger, hungrier men from taking his crown. The King is dead, long live the King.
Louis Smith, a triple Olympic medallist and Britain's most recognisable gymnast, had abdicated voluntarily nearly two years ago.
It wasn't retirement, he insisted, just time out from the sport to chase fame and, perhaps, some fortune, too.
Glasgow was his comeback, his first competitive appearance since winning pommel silver and team bronze at London 2012.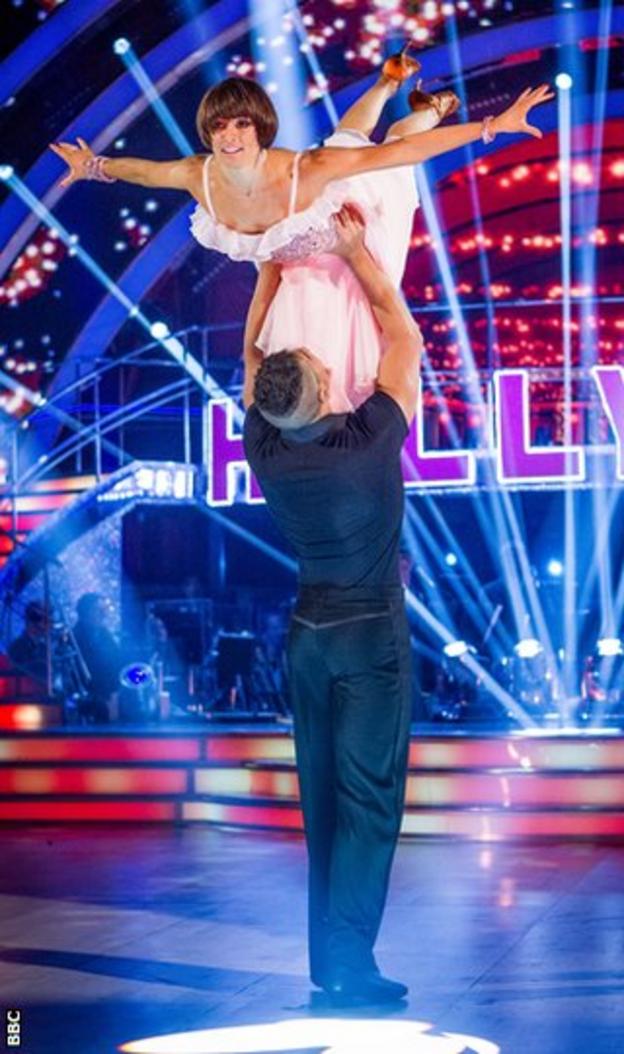 But while Smith was pursuing other interests, including lifting Flavia Cacace above his head to win Strictly Come Dancing, the gymnasts who were once inspired by him have become masters of the art of dizzy pirouettes and exuberant hand-swings.
This is not to say Smith did not please or impress in Glasgow. The crowd could not take their eyes off him.
But, unlike in his younger years, there were other gymnasts at the SCC Hydro with the ability to cause fans to collectively hold their breaths and erupt into earth-shaking roars.
After winning gold for England in the team event on Tuesday, the pommel final was to be a true test of Smith's mental and physical strength after just six months of training.
The event had the quality of an Olympic final, a three-horse race between British gymnasts attempting worldly difficult routines.
Smith was brave. He might have won gold had his composure not deserted him at the very end of his routine. He later admitted he was rusty.
But there were two other gymnasts, both European champions, who were better. It wasn't so much sharing the spotlight as ceding it.
The home fans gave their hearts and their cheers to eventual champion, Dan Keatings, Smith's old friend from Huntingdon Gym Club.
The 24-year-old Scot was the first of the trio to perform and dazzled with a 16.058 score. Max Whitlock, the favourite, was awarded silver while Smith settled for bronze.
As the cameraman focused his lens on the Olympic silver medallist, Smith pretended to wipe his brow, relieved that he would be leaving Glasgow with an individual medal.
"I've had a brilliant time," he said afterwards. "I'm glad I've come back and I am looking forward to carrying on training.
"After what I have done at the Commonwealth Games, I would be silly to give up, so I will carry on training."
But will a man who is said to love the attention his celebrity brings be content with playing a supporting role?
"There was a time when he was our only medal prospect, but we've got medal prospects in every piece of apparatus now," said Craig Heap, a Commonwealth gold medallist and former British team captain.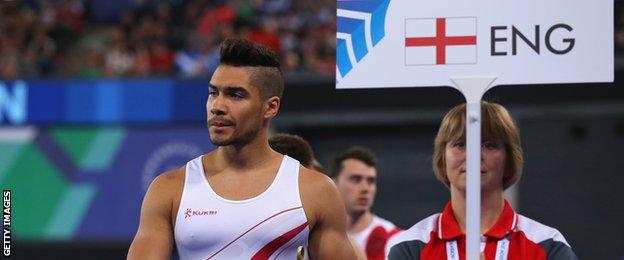 "The juniors have developed, and it's not just happened since Smith's been away, it's been a gradual process.
"But Louis has confidence and self-belief in abundance. When you get to his position there are people wanting to knock you down. For as many people who want him to win, there are twice as many wanting him to fail because it makes a great story.
"These young guys like Max are hungry. They want to be the next Louis. When you've got fire in your belly, that's the determination you need. When you've got the T-shirt, it's more difficult to motivate yourself."
For Smith, the immediate future will involve appearing on our TV screens every Saturday night as a judge on new BBC One show, Tumble, where celebrities test their gymnastic and acrobatic skills.
Heap believes Smith has become accustomed to juggling his sporting and celebrity commitments, sneaking to the gym before the Commonwealths in between rehearsals for the forthcoming programme.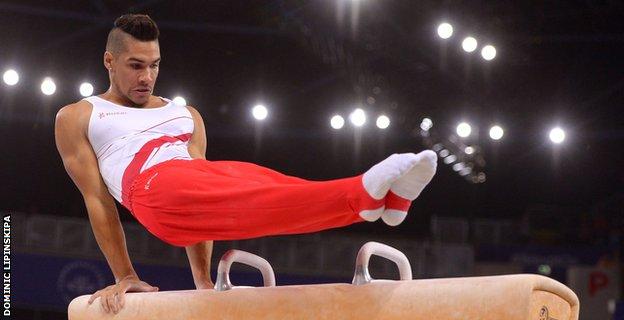 But if the Briton is to return to the pinnacle of his sport, Smith will have to dedicate his life to it.
"You've got to love it," said Beth Tweddle, Olympic bronze medallist and Britain's most successful gymnast.
"I made my decision to retire last August and I stuck by that decision. I know when I'm watching these competitions I made the right decision."
Even if Smith has the desire to spend 30 hours a week in the gym, endlessly practising gravity-defying acts, there may not be a place for him in the British squad.
At 25, he is not yet too old. Krisztian Berki was 27 when he beat Smith by the narrowest of margins in London two years ago. Smith has time on his side. He may not have the all-around talent.
Britain did not select him for the recent European Championships, a decision Smith criticised, but the squad went on to succeed without him. Whitlock won gold in the pommel, while the team secured silver.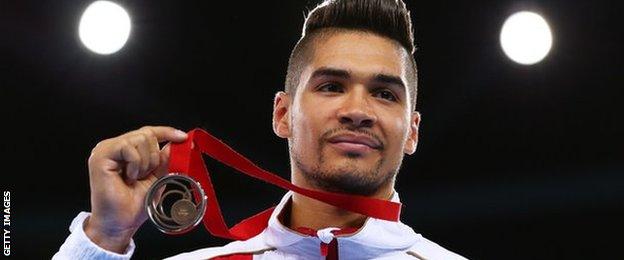 "There's a lot of strength and depth in the team and it's going to be difficult not just for Louis but for any gymnast because they're all hotly-contested spaces," added Tweddle.
Will Smith be representing Britain at the World Gymnastics Championships in October? That would be a "tall order" according to Heap, a fellow judge on Tumble.
"He will have to offer more than just the pommel horse," he said. "During the team event, it became apparent that he doesn't offer enough. He can't do the floor, he can't vault.
"Louis will have to step up his training if he wants to be part of the team, but we shouldn't write Louis off. If he puts his mind to something, he really does have that focus, but the other British guys competing in the all-around are world class.
"Britain has such a fantastic set-up - and that's been created because of Louis. In some way, he's the product of his own undoing. To be in the British team, you need an all-around ability."
On the penultimate day of the gymnastics, it was Keatings who was the most in demand after his pommel success.
For probably the first time after a major competition, Smith had to experience journalists and broadcasters turning to other gymnasts first.
As one of Britain's most recognisable sportsmen made his way back to the changing rooms, Keatings was still answering questions from a pack of huddled reporters.
Whitlock, the gymnast whose star has shined the brightest during these Games, had long since disappeared to prepare for his next routine.
The 21-year-old from Hertfordshire, a surprise bronze medallist in the pommel when Smith claimed silver at London 2012, is now his country's leading man, the all-around Commonwealth champion and a three-time Commonwealth gold medallist.
When Smith won bronze at the Beijing Olympics in 2008, giving Britain its first Olympic gymnastics medal in 80 years, a 14-year-old Whitlock was watching at home.
"He made it all possible," he said recently of his more famous compatriot.
Whitlock, described as "awesome" by Heap, is set to follow the road to success once travelled by Smith.
What the future holds for the one-time trailblazer is uncertain. But whatever path he follows, he is likely to do it his own way.