Nathan Robertson to consider carrying on as Jersey coach
Last updated on .From the section Commonwealth Games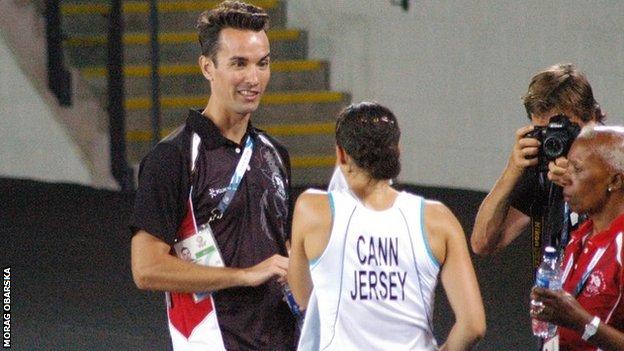 Nathan Robertson says he is considering continuing his role as the coach of Jersey's badminton team.
"We've been talking about it already," Robertson said when asked about staying on with the Jersey team.
"The Island Games has been talked about so that could be a possibility."
He is a close friend of Jersey player Mark Constable from their time together with the England team and regularly visits the island to see him.
Taking charge of the Jersey side was the first time Robertson, who won the World and Commonwealth Games mixed doubles title with Gail Emms in 2006, had coached at a major event.
"I always do sessions with Mark's academy and also with the club badminton in Jersey so you'll definitely see me in Jersey in future," he told BBC Radio Jersey.
"I enjoy coaching and I feel I can see things pretty easily off the court.
"But you're desperate to do those things on court, so there's an element of frustration, but an element of enjoyment as well."
Jersey had three former England players in their squad in Elizabeth Cann, Mariana Agathangelou and Constable, as well as Danish-based professional Solenn Pasturel.
But with those players coming towards the end of their careers, Robertson says there needs to be investment in the island's next generation of players, if they are to repeat their success of Glasgow.
Jersey finished second to England in their group in the team event, only missing out on the knock-out stages on count back.
"The only way to take Jersey badminton forward is to try and get a bit more money to the junior section so they can move forward in the next four years," Robertson said.
"Everyone's been impressed by the Jersey team.
"We actually came in as the lowest-ranked team and it was quite disappointing not to make the quarter-finals in the team event.
"We've got several of the Jersey team who are in their mid-30s, in the English they're 27 or 28 and they're all full-time athletes.
"Our guys are working full-time or part-time back in Jersey and that's why it's so hard to compete with the full-time athletes.
"They've worked incredibly hard, just to qualify it's tough as you have to be high up in the English rankings, so they did well in the year-and-a-half leading up to the Games."