Glasgow 2014: Katie Kirk betters personal best in 800m semi
Last updated on .From the section Commonwealth Games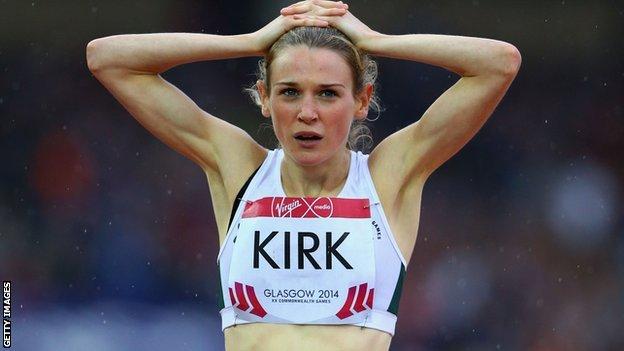 Northern Ireland 800m runner Katie Kirk improved her personal best by 0.15 seconds as she finished sixth in her semi-final in Glasgow on Thursday.
The Holywood athlete's time of 2:02.63 was not enough to secure a place in the final but a strong closing 100m saw her move up two places at Hampden Park.
Kirk, 22, a member of the Queen's University club, had recorded a time of 2:03.00 in her heat to qualify.
Leon Reid failed to make the final of the men's 200m after running 21.03.
The European Junior silver medallist, who was disqualified in the 100m, was eighth in Thursday night's third semi-final.
Reid had made the semi-finals as a fastest loser after ending third in his heat in 20.97, .35 seconds outside his personal best.
The first three in each heat and the two fastest losers made the women's 200m final.
In a heat which was won in 2:01.39 by the world champion Eunice Sum from Kenya, Kirk may have missed out on the final but there is no doubting her potential.
"I'm not going to lie, I'm a little bit disappointed. I'm just not quick enough to keep up on the first lap and obviously I picked off quite a few before the finish which was good but unfortunately the other heat was quite a bit slower and that would have suited me better," she said.
"I do feel pretty emotional about the whole thing. This is the biggest competition I've been to and I've competed well at and I think I've done myself proud.
"I didn't finish last and I beat a couple of athletes who have run under two minutes but I do wish I'd been in the other heat," she added.
The run was the second fastest ever by a Northern Ireland athlete, with only Amanda Crowe's 2:01.83 at the Commonwealth Games in Kuala Lumpur in 1998 ahead of her now and it can now only be a matter of time before Kirk claims that record.
"I'm still young and developing and hopefully that will come but I need races like that, I don't get to run in big races like that or in the Diamond League and my dad told me this was my Diamond League and it was and it's that sort of standard I need to compete against in order to get better."