Glasgow 2014: Michael Jamieson 'let people down' by missing gold

By Tom English
BBC Scotland
Last updated on .From the section Commonwealth Games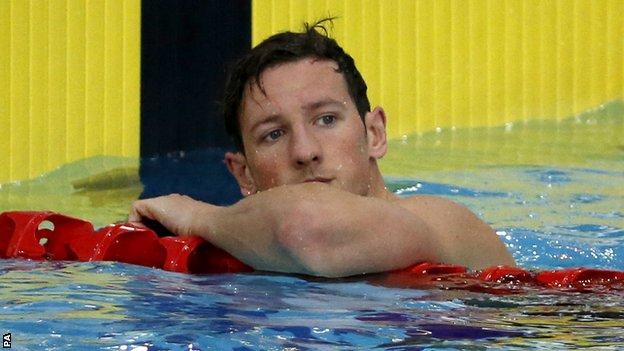 Scotland's Michael Jamieson says he let his supporters down with his surprise defeat in the 200m breaststroke final.
The Olympic silver medallist and poster boy of the Games was beaten to gold by fellow Scot, 20-year-old Ross Murdoch.
"I really wanted to repay that faith and support of the people," says Glaswegian Jamieson, 25. "It's only natural for your instant reaction to be like you felt you let people down."
He added: "I'll take some time off and come back stronger. I have to."
Jamieson, who turns 26 on Tuesday, insists he is still capable of winning gold at next year's World Championships in Russia.
He also believes that breaking the world record for the 200m breaststroke remains an achievable goal.
"I felt a sense of responsibility coming into the Games, but it wasn't something I was scared of," says Jamieson. "I relished the challenge and looked at it as an opportunity.
"I have to come back next season believing that I can win gold in the world champs because that's the target. Given the standard in this event, it's becoming harder and harder every year to get in the top three.
"The times have just moved on so much in the last few seasons. I need to come back next year as a better athlete and use this experience to spur me on."
Michael Jamieson on Ross Murdoch:
"I didn't think he was capable of swimming 2:07. But he has done and it was a brilliant performance."
Jamieson still believes he has "a few years left" in the sport and says the experiences he has gone through will stand him in good stead.
"I'm prepared for anything going into the next couple of years," he says. "With the younger guys who have performed so well, their biggest challenge will be dealing with their success.
"I'm sure that the picture will change again next year. I still think I can get back up there and maybe break the world record. Of course, Ross is capable of doing it, too. There's a queue."
Jamieson insists that the pressure of expectation did not get to him. Being in the spotlight was how he wanted it to be.
"I love being in those high-pressure situations," he says. "I don't think that can be used as an excuse, but I can understand why people think that.
"For people who might not have a great deal of knowledge of swimming, they read the papers and watch the television and one of the faces they see is mine. It's only natural for them to think that I was a dead cert for gold.
"I can safely say it wasn't the pressure. I was quite calm and comfortable in that environment. I was happy to try to use that support and the crowd to spur me on.
"You have to have a degree of self belief when you come to these events and it needs to be shown more than ever in the next 12 months.
"This is the first time I've been in a position where I haven't got the result I wanted."
Jamieson praised Murdoch as a world-class swimmer but admitted he was "a little bit shocked" at his rival's winning time of 2 minutes 07.30 seconds.
"I didn't think he was capable of swimming 2:07," says Jamieson. "But he has done and it was a brilliant performance.
"We all knew it was going to take a world-class performance to get on the podium and that's the way it went."