Glasgow 2014: Weightlifter Chika Amalaha stripped of gold medal
Last updated on .From the section Commonwealth Games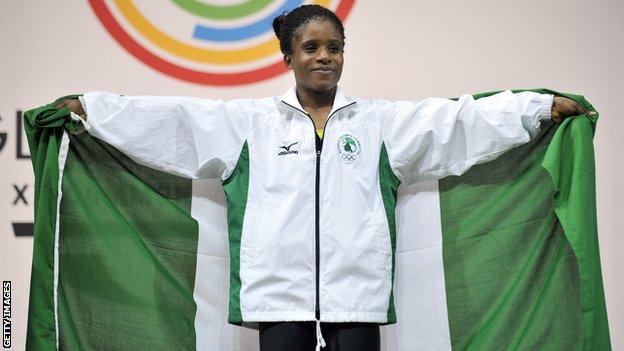 Teenage Commonwealth Games weightlifter Chika Amalaha has been stripped of her gold medal after failing a drugs test.
The Commonwealth Games Federation said Amalaha has been "disqualified" and her result "nullified" following her positive 'B' sample test.
Amalaha was provisionally suspended from the Games after an 'A' sample was found to contain banned substances.
The samples contained amiloride and hydrochlorothiazide, which are both prohibited as diuretics and masking agents.
The CGF said in a statement: "The Commonwealth Games Federation has determined that Nigerian weightlifter, Chika Amalaha, has committed an anti-doping rule violation and has fully suspended her from the Commonwealth Games in Glasgow."
Dika Toua from Papua New Guinea has been awarded the gold medal with Indian duo Santoshi Matsa and Swati Singh claiming silver and bronze.
Amalaha was Nigeria's first gold-medal winner in Glasgow, equalling the Games snatch record of 82kg with her first attempt before lifting 85kg on her third.
Her combined total of 196kg was also a Games record, and she would have been the youngest woman to win a weightlifting title in Games history - according to the International Weightlifting Federation.
Amalaha was the first athlete to fail a test at the Games, but Welsh 400m hurdler Rhys Williams and 800m runner Gareth Warburton both missed the competition after being charged with anti-doping rule violations.
Both athletes deny knowingly taking any banned substance.
The World Anti-Doping Agency recommends a standard two-year ban for a first doping offence.