Glasgow 2014: Claudia Fragapane's remarkable rise
By Aimee Lewis
BBC Sport in Glasgow
Last updated on .From the section Commonwealth Games
The agents have already started circling. Life may never be the same for Claudia Fragapane.
But that is what happens when you become the first Englishwoman for 84 years to win four gold medals at a single Commonwealth Games.
When you do so in the manner of a stylish avant-gardist, and all at the tender age of 16, it is little wonder steely agents are giddily making calls in the hope of adding you to their client list.
To understand why a schoolgirl - whose previous career-high was sixth in the vault and eighth on the floor at the recent European Championships team event - has become such an asset, it is important to rewind to Wednesday night and a never-to-be-forgotten evening at a soup bowl of a Glaswegian amphitheatre.
For those among the capacity crowd at the Hydro for the floor event in the all-around competition, or even watching on television, it was a performance that will live long in the memory: 90 seconds of vertigo-inducing somersaults, breakdancing, body popping and brilliant tumbles.
Even those inexpert in gymnastics raised their eyebrows and shuffled forward in their seats as they watched a 4ft 5in frame dazzle with flips and twists - or a double straight back somersault with a full twist, to use proper terminology.
No other British female gymnast had ever performed the move. Spectators watched open mouthed.
She spun on her back and flipped onto her knees, electrifying the arena with moves more often associated with street dancers than English gymnasts.
She launched herself to heights her rivals could not manage and, when the dancing was over, when the smiling, wide-eyed unknown gymnast lifted her arms skywards, the crowd rose to their feet in joyous approval.
The judges were admirers too, awarding Fragapane 14.733 points to propel her to the top of the leaderboard. Gold was hers.
Fragapane was now the Commonwealth all-around champion and her team-mates, the ones she had just pushed into silver and bronze, lifted their friend, all six stone of her, onto their shoulders.
"It wouldn't have looked out of place in the men's floor final because she is such a power tumbler," says Craig Heap, former British team captain. "It was funky, cool and everything about her performance was really refreshing. She had better get used to standing on top of a podium."
Two more golds followed, with victories in the vault and floor adding to a golden collection that had started in the team event.
But it was the first glimpse of her incomparable floor routine, in that all-around final, that prompted astonished onlookers to make their feelings known on social media and gave rise to the nickname 'Pocket Rocket'.
She had made it look simple, but then she was supposed to.
"It has to look easy," says Fragapane's coach, Helen Potter, the woman behind the scintillating choreography.
Inspiration for the elements of street dance in the routine had come from scouring YouTube clips, while the whole dance is a reflection of Fragapane's personality. "She's dynamic and bubbly and we wanted to show that off," explains Potter.
Such are the physical demands placed on the Bristolian by the complex routine that another coach, Rory Weavers, developed a specific programme to ensure she had the stamina and strength to cope.
The seeds of success were first sown years ago, at Bristol Hawks Gymnastics Club, where Potter began working with the six-year-old Fragapane and set about addressing the wannabe's weaknesses and enhancing her strengths.
"She has always had that power, has always been dynamic, but she was not naturally flexible," Potter remembers.
Commonwealth Games feats
Swimmer Joyce Cooper (1930) is the only other woman to win four golds at a single Commonwealth Games
Fencer Bill Hoskyns (1958) and shooter Mick Gault (1998) are the other English competitors to achieve the feat
The record of six golds at a single Games is held by four athletes, including Australian swimmer Ian Thorpe in Manchester in 2002
Eight competitors have won five golds
After a decade of gradual improvement, Fragapane's achievements on successive summer nights have not surprised her mentor, although Potter concedes there were nerves as she watched her pupil during a week full of firsts, the pressure increasing by the day.
"She's young and had never been in that situation before," says Potter. "She's worked so hard, and we were just hoping she did what she set out to do. She's only come through recently. She'd never competed in an all-around at a major competition before.
"And England had only allocated two coaches to the team, which meant she didn't have her personal coach on the floor with her, but that's another positive for the future. It proved she is self-sufficient."
Such was the standard of Fragapane's floor routine - a 14.733 score in Wednesday's all-around final and 14.541 in Friday's floor final - Potter believes gymnasts from around the world will be searching the internet for clips of them.
But if they hope to outwit the teenager at October's World Gymnastics Championships, they should take heed. There's more to come.
"Her floor routine is world class," says Potter. "But she has got a lot of elements that she didn't show because we want to add things gradually. She's doing very well, and she's got a lot of upgrades to come but it's about making the right choices."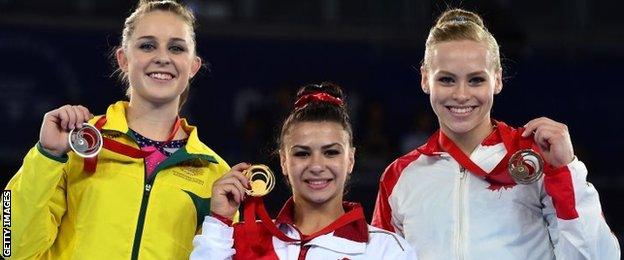 Prior to these Games, Fragapane has been eased into the world of elite sport. Sore feet meant she missed a chunk of last season. Her coaches prioritised rest and recuperation over competition because "a long, successful" career is what they envisage for their star performer.
But will Fragapane be able to make her way gradually in the world after her feats in Glasgow? Hours after victory, the television lights continued to shine on her. In between the various media interrogations the four-time Commonwealth champion behaved like any teenager would - posing for pictures, laughing with friends and team-mates, and checking her phone for messages.
"There's more to come from her," says Heap. "Her tumbling doesn't have to become more difficult because there aren't girls anywhere in the world who can do what she can do.
"All she needs now is the confidence to go with that and, surely, after the European Championships and these Games and the Worlds coming up, by the time we get to the Olympics in Rio she will have gained that confidence."