Glasgow 2014: Inspirational tales and identical twin long jumpers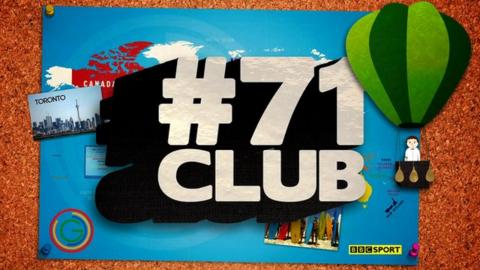 Of the 71 nations and territories that sent teams to Glasgow for 2014 Commonwealth Games, only 37 got themselves on the medals table.
But the presence of almost 5,000 athletes, from Anguilla through to Zambia, was always going to yield a rich and varied selection of stories.
To capture the best of these, we decided to form the '71 Club' and interview an athlete from each and every team.
The hardest to find
Brunei sent one athlete to Glasgow 2014 - Muhammad I'maadi Abd Aziz.
Tracking down the 21-year-old cyclist took eight hours, but it was worth it. During his appearance on the BBC One show Tonight at the Games, he revealed that Brunei has no velodrome and Glasgow 2014 had marked his first competitive track cycling appearance.
He missed the final of the men's points race by just one place.
Some were obvious targets from the start. Identical twins named Carl and Carlos Morgan are lining up in the same event? Impossible to resist.
The two long jumpers from the Cayman Islands look exactly alike - to the point where they could not tell each other apart when asked to identify themselves in a photo they had taken just seven seconds earlier.
In school, they routinely switched classes, tiptoeing behind teachers to trade places. At competitions, organisers triple-check their bib numbers.
Athletes from smaller teams echoed the sentiment expressed by Clemencia Sioneholo, a shooter from Niue, an island in the South Pacific Ocean with a population is just 1,600. "We're a small nation, but we have a big heart," she said.
Another shooter, Susan Nattrass from Canada, burst into tears before we had asked her a single question.
Her country's flagbearer at the opening ceremony, she arrived at the Carnoustie shooting range with seven world titles, six Olympic appearances and a raft of Commonwealth medals to her name. But she shot so poorly in her final outing that she could barely be consoled.
"You have to give yourself time to grieve," said the 63-year-old Nattrass, adding that she felt like an "idiot".
Others were similarly distraught. Triathlete Bob Gabourel was livid when he was stopped for being too far behind the leaders after the swim.
"I'm really disappointed with myself, but I wish they'd given us the opportunity to finish our race," said the Belizean. "It's the biggest race we'll ever come to in our careers."
Many athletes we interviewed were essentially shy teenagers from small communities, racing in heats alongside legends of their sports. Small wonder they sometimes felt overwhelmed.
Some had others reasons to be tearful. Ariel Weech, a swimmer from the Bahamas, broke down as she described how her uncle and cousin had been murdered back home.
"Dealing with the deaths of two members of my family was really hard," said the 22-year-old.
"Now, my family are back home watching me. Both of my grandparents are sick, but I step up to the blocks and I know I have a whole nation behind me, my whole family. I have nothing to fear."
Taoriba Biniati boxed like she had nothing to fear.
The first and only female boxer from Kiribati, Biniati had never fought another woman in her life, before somehow lasting four rounds against her victorious opponent from Mauritius.
She came off sobbing through puffy, red eyes but insisted, her comments interpreted by a team official, that she wanted to do better "next time".
Comedy was not difficult to find either. Ghanaian track cyclist Jedidiah Amoako-Ackah slipped effortlessly in and out of a Scottish accent, having lived in the country for 14 years, while Guyana sprinter Winston George took delight in bellowing at our camera: "The people make Glasgow!"
Then there was Kenya's Vincent Onyango, fished out of the triathlon on the opening day having tried to breaststroke his way through the open-water swim. "Swimming is something I need to work on," he admitted.
Table tennis players from Tuvalu and Vanuatu high-fived with laughter as they described having no television and terrible internet back home - to the point where family and friends may not even realise they had finished competing yet, days later.
The St Helena team had to laugh, faced with their journey to Glasgow: a five-day boat trip from a South Atlantic island with no airport, then two flights from Cape Town to Scotland. The return leg will take 19 days as the boat is now in dry dock.
Then there were the home nations. Welsh weightlifter Gareth Evans offered us a highlight with his exceptional performance, taking fifth overall in the 62kg class with a wild celebration after his final lift.
"People don't pay money to watch someone pick up a weight, put it down and walk back like it's not bothering them," he said.
"People want to be entertained by people lifting weights and I like entertaining people. I stand up, I look somewhere, I do my jerk, then it's party time."
The final spot in the '71 Club' went to the hosts, Scotland. Determined to pick an athlete not for their medals won or profile, we met up with Kerry MacPhee, a mountain biker with impeccable Scottish credentials.
MacPhee is the only Gaelic speaker on the Scottish team and the first woman from the Outer Hebrides ever to compete at the Commonwealth Games. Her boyfriend is the keyboard player in that most Scottish of bands, Runrig. She has played the bagpipes at events across the globe.
When we met, up on the Cathkin Braes mountain bike trails as rain swept in, the 28-year-old said she had no local sporting role models on TV as a child. Now, she feels - and wants - the responsibility of inspiring many more athletes from her home islands.
That's the motivation for many athletes who came to Glasgow.
"I feel like I'm a role model for the next generation, to encourage them that no matter how small the nation you come from, you can still compete at an international level," said Carlos Morgan. Or it may have been Carl.
"We may not have an army, but this can be your battleground right here."