Glasgow 2014: Scots showed they can 'deliver on world stage'
Last updated on .From the section Commonwealth Games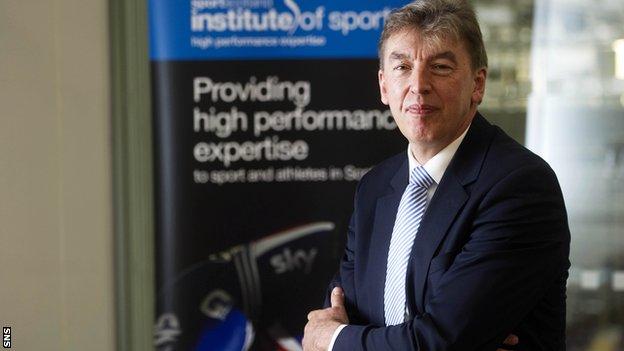 Scottish athletes proved at Glasgow 2014 that they can excel on the world stage, according to the high performance director of sportscotland.
The host nation won 53 medals, making Glasgow 2014 Scotland's most successful ever Commonwealth Games.
Their previous best tally was 33 medals from Edinburgh in 1986.
"It confirms we have a world class system and can deliver on the world stage," said Mike Whittingham of the sportscotland institute of sport.
Nineteen of Scotland's medals were gold, again breaking the previous record of 11 set in Melbourne in 2006.
The pre-Games medal target had been set at 34 by Team Scotland.
"On a day like today when Scotland is looking back and commemorating 1914, we can be very proud and celebrate a different kind of history, a sporting history that we've made, because we have made history," Whittingham told BBC Scotland.
"What we've seen over the last 11 days are some extraordinary performances, whether it be Alex Gladkov in the wrestling who gets injured but fights back because he's desperate to win a medal, or Eilidh Child in those last 80m lifted by the Hampden crowd - this is a nation that can deliver on the world stage and it bodes well for the future.
"The standout moments have not only been the performances, but the fact Scotland embraced the sport."
Focus now turns to the future and the legacy of Glasgow 2014, with decisions to be made over the funding.
"For the last seven years it's been a collaborative approach," added Whittingham.
"A lot of vision, a lot of planning has gone into this and the heart of this is that we all want a world class sporting system in Scotland which works at different levels, whether it be performance development, but above all on the world stage.
"We will continue to do what we started but we need to go through a review process. We shouldn't be complacent, we should look at areas where we can be better.
"We will be in a strong planning cycle for the next four years. Sports will deliver their new vision and we will make our informed decisions later in the year.
"There is always other things for athletes and some will go on to the European Championships, for example, in swimming and athletics. From our perspective, many of our athletes will be looking to do well in Rio in the Olympics and Paralympics there.
"After that there are the world athletics championships in 2017 and of course in 2018 we have the Gold Coast [Commonwealth Games], and many of our athletes will be inspired to perform even better there."