Alan Cross to quit as Jersey Commonwealth Games chief
By Brent Pilnick
BBC Sport
Last updated on .From the section Commonwealth Games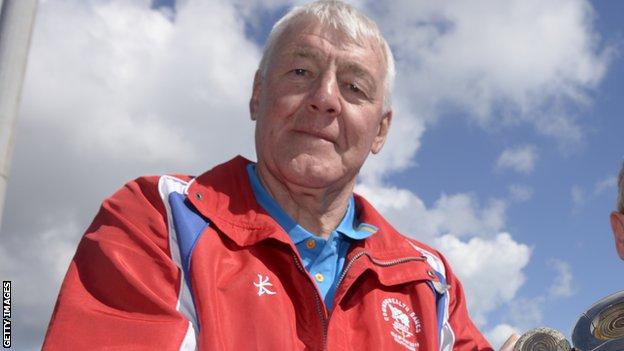 Alan Cross is to step down as the president of Jersey's Commonwealth Games Association.
Cross has been in charge for four years, having previously served eight years as general secretary.
He had previously spent 15 years at the top of Jersey's Island Games Association and led the International Island Games Association for six years.
"I'm not getting any younger and it's only right to move on and make way for new blood," he told BBC Sport.
"There's always the danger of staying too long in a post and I'm confident there are people who will be able to take a good lead and push on with the work we've done."
Cross has been to the last three Commonwealth Games with Jersey, having been part of a new set-up which took over the running of the island's association in 2002.
Alan Cross
Team manager for Jersey at the first Island Games in 1985
Chairman of the International island Games Association from 1995-2001
General Secretary of the Commonwealth Games Association of Jersey from 2003-2011
President of the Commonwealth Games Association of Jersey from 2011-2015
He will formally step down at the association's annual meeting next April, when his successor will be elected.
Alongside his predecessor Martin Hebden, he helped get more island sportspeople to compete at the Games, with Jersey sending representatives in archery, triathlon, table tennis, squash and gymnastics to the Commonwealth Games for the first time under their leadership.
"There were sports that were not even aware they were going to be in the programme of the Games in Melbourne when we took over," he said.
"One of our first targets was to give an opportunity to all sports to have the chance to qualify.
"By increasing the number we haven't lowered the standard in any way, the standard have gone up in every Games.
"We are taking people who have a right to be there and have justified their selection."
Jersey never won a medal under Cross' involvement, with the island losing three bronze-medal matches in bowls and one in badminton.
"I would have loved to have a medal, any colour would have done," he said.
"I think we've got to work more closely with our member sports and look at development programmes for our best athletes and see how we can help them.
"We have to work with the sports to improve the standard and set up good development plans.
"Equipment is key as well. For example, we know that our targets for full-bore shooting are not the same size as at the Commonwealth Games, so we look at trying to help shooting improve their facilities.
"These people who go to a Games need experience of the identical facilities.
"We need to work with the Education, Sport and Culture department, the sports foundations and the sports themselves to try and help them with their development plans and improve the quality of coaching in the island."