BBC Sport - Netball: Geva Mentor feels England closing on Australia and New Zealand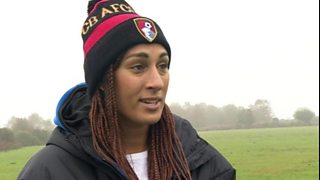 Mentor believes England closing gap
Geva Mentor raised a few eyebrows in 2008 when she decided to move from England to play in Australia's Super Netball competition.
Mentor, from Bournemouth, found herself caught in a club v country row at first, but has since gone on to make more than 100 international appearances, as well as winning two titles down under.
The 33-year-old tells BBC South Today she believes her pioneering move has raised the standard in England, with more players being picked up by Australian teams.
And she believes the national side narrowing the gap on Australia and New Zealand ahead of next year's Commonwealth Games.