Commonwealth Games 2018: Jersey select team for Gold Coast event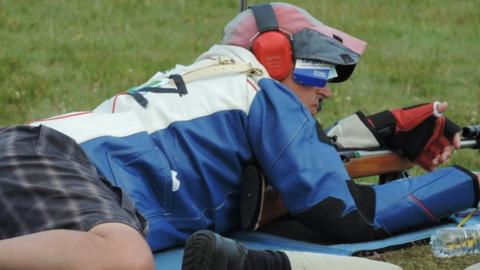 Jersey have named 29 of their permitted 33-strong team for the 2018 Commonwealth Games on the Gold Coast.
Daniel Lee is the island's first-ever male gymnast to be picked, while 400m runner Sam Dawkins is the first track athlete Jersey have had since 1994.
Kim Ashton and Helen Ralston are the island's first female cyclists since the Kuala Lumpur Games in 1998
Shooter Barry Le Cheminant, who in 2014 came close to Jersey's first medal since 1990, is named for a fourth time.
The 53-year-old will be shooting at the same range in Brisbane where he made his debut for Jersey back in 1982.
Dan Halksworth is picked for the island's cycling team, having previously competed in the triathlon at Glasgow four years ago and in swimming at Melbourne 2006.
Chrissie Grimes, who was part of the island's triples team that came fourth in 2006, heads up an eight-strong bowls team, while former British discus champion Zane Duquemin will represent the island at his third Games.
Jersey's Commonwealth Games Association will meet again in late December to announce any additional members to the team.
Jersey Commonwealth Games team:
Athletcs: Sam Dawkins, Zane Duquemin Discus 3rd games. Competed 2010/14. Also youth games 2008
Badminton: Alex Hutchings, Elise Dixon, Emily Temple-Redshaw, Matthew Bignall
Cycling: Kim Ashton, Dan Halksworth, Rhys Hidrio, Helen Ralston, Jack Rebours, Ollie Lowthorpe
Gymnastics: Daniel Lee, Bonita Shurmer, Rachelle Flambard.
Lawn Bowls: Chrissie Grimes, Joan Renouf, Rachel MacDonald, Doreen Moon, Eileen Vowden, Ross Davis, Malcolm de Sousa and Derek Boswell.
Shooting: Barry Le Cheminant, David le Quesne (both fullbore) Andrew Chapman, Cameron Pirouet, Sarah Campion (all smallbore), Nikki Holmes (pistol)