Commonwealth Games 2018: Jersey finalise team for Gold Coast event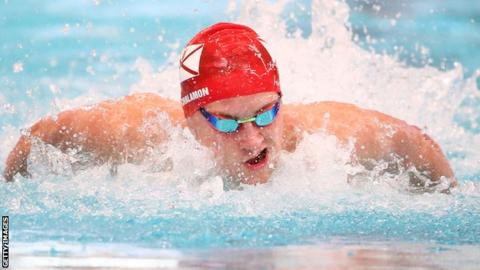 Jersey have added three more athletes to their team for the 2018 Gold Coast Commonwealth Games.
Ollie Turner will make his games debut in the triathlon and will be the sole islander competing in the sport.
Swimmers Harry Shalamon and Gemma Atherley will also be representing the island for the first time at Commonwealth Games level.
Both will swim in backstroke, with Atherley concentrating on 200m and Shalamon focusing on 50m and 100m.
The selections take Jersey's team up to 32 competitors, with one space left.
"The 33rd slot hasn't been filled though there may be members who decide to appeal," said Paul du Feu, the president of the Commonwealth Games Association of Jersey.
"We move forwards into 2018 hoping that everyone involved will meet their goals and find the whole experience rewarding."
Jersey Commonwealth Games team:
Athletcs: Sam Dawkins, Zane Duquemin (discus).
Badminton: Alex Hutchings, Elise Dixon, Emily Temple-Redshaw, Matthew Bignall.
Cycling: Kim Ashton, Dan Halksworth, Rhys Hidrio, Helen Ralston, Jack Rebours, Ollie Lowthorpe.
Gymnastics: Daniel Lee, Bonita Shurmer, Rachelle Flambard.
Lawn Bowls: Chrissie Grimes, Joan Renouf, Rachel MacDonald, Doreen Moon, Eileen Vowden, Ross Davis, Malcolm de Sousa and Derek Boswell.
Shooting: Barry Le Cheminant, David le Quesne (both fullbore) Andrew Chapman, Cameron Pirouet, Sarah Campion (all smallbore), Nikki Holmes (pistol).
Swimming: Harry Shalamon and Gemma Atherley.
Triathlon: Ollie Turner.