Gold Coast 2018: Badminton medal fight will be tough - Kirsty Gilmour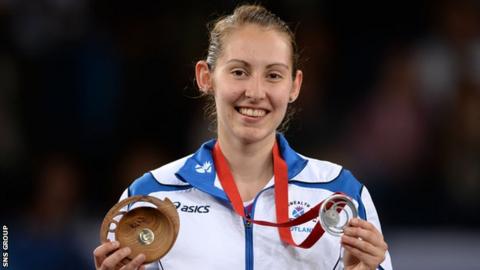 Kirsty Gilmour expects stiff competition as she bids for a second Commonwealth Games medal in April.
The 24-year-old Scot collected silver at Glasgow 2014 and is the leading prospect in an eight-strong badminton team heading to Australia's Gold Coast.
"I'm hoping to have a high seeding position but I think the standard is going to be really strong," she said.
"There is going to be a lot of us vying for the medals," added the two-time European Championships runner-up.
"India are putting forward two girls, there's myself, Michelle Li (Canada), there's Jin Wei Goh from Malaysia, there's Singapore.
"It's just going to come down to all those little things linking up and I'm going to be as best prepared as I can be.
"Physically I feel quite good. I had a long period in Asia over Christmas and New Year. I was in India then went directly to Malaysia and Indonesia so I had a good six weeks and I think that was what I really needed, to get some consistent matches against the top girls in the world."
Adam Hall, 22, Julie MacPherson, 20, Eleanor O'Donnell, 19 and Alex Dunn, 19, will all be experiencing the Commonwealth Games for the first time.
Hall and Dunn have only been playing together as a doubles partnership for a year but have hit form with three international titles in the past three months.
"We are close to being in the top four ranked pairs for the Gold Coast so we really want to get into the top four to give us a high seeding and the best chance to get a medal," said Hall.
"I feel that's well within our capabilities if we go out there and play the best we can."
Scotland badminton team for Gold Coast 2018: Martin Campbell, Alex Dunn, Adam Hall, Patrick MacHugh, Kieran Merrilees, Kirsty Gilmour, Julie MacPherson, Eleanor O'Donnell.