Commonwealth Games: Wales name Gold Coast Games hockey teams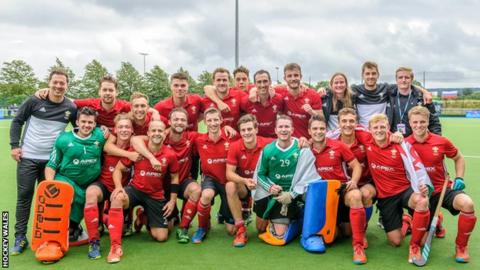 Team Wales have named the men's and women's hockey squads for next month's Gold Coast Commonwealth Games.
Qualification was confirmed in December after both teams reached the top 10 in the latest Commonwealth rankings.
The Gold Coast event is only the second time both teams have qualified for the Games since 1998.
Lewis Prosser and Luke Hawker will share the captaincy duties for the men's squad while new captain Leah Wilkinson will lead the women.
Matches take place between 5-15 April at the Gold Coast Hockey Centre.
The men won promotion to European hockey's top division in 2017 and climbed eight places in the latest world rankings, while the women finished fourth in the EuroHockey B Division Championships in Cardiff.
The men's team features a number of players with Commonwealth experience, including captain Prosser who has 116 caps.
Great Britain international Dan Kyriakides is joined by his brother James and there is also a spot for Hywel Jones on the back of his recent debut with the senior side.
Wilkinson will be leading the women into a major games for the first time, with this being her third international tournament.
Other inclusions are goalkeeper Rose Thomas fresh from her first Team GB caps against Argentina, and Sarah Jones.
The squad will also see a debutant in teenager Izzie Howell after graduating from the Wales Under-18s squad.
Both the men and women's teams have been drawn against England, India and Malaysia - the women also face South Africa in Pool A whilst the men will play Pakistan in Pool B.
Wales hockey squads
Men: Lewis Prosser (Surbiton), Luke Hawker (Cardiff & Met), David Kettle (Teddington) James Fortnam (Cardiff & Met), Jacob Draper Cardiff & Met), Dale Hutchinson (Reading), Rhys Gowan (Cardiff & Met), Dan Kyriakides (Reading), James Kyriakides (Southgate), Alf Dinnie (Cardiff & Met), Ben Francis (Reading), Gareth Furlong (Cardiff & Met), Hywel Jones (University of Birmingham), Rupert Shipperley (Hamstead & Westminster), Jonny Gooch (Hamstead & Westminster), Steve Kelly (Hamstead & Westminster), Owain Dolan Gray (Reading), James Carson (Reading).
Women: Leah Wilkinson (Holcombe), Sian French (Bowdon Hightown), Rose Thomas (Holcombe), Ella Jackson (Buckingham), Julie Whiting (Bowdon Hightown, Natasha Marke-Jones (Clifton Robinsons), Sophie Clayton (Clifton Robinsons), Sarah Jones (Holcombe), Lisa Daley (Clifton Robinsons), Phoebe Richards (Buckingham), Tina Evans (unattached), Dannielle Jordan (Buckingham), Eloise Laity (Buckingham), Beth Bingham (Holcombe), Izzie Howell (Neston), Delyth Thomas (University of Birmingham), Xenna Hughes (East Grinstead), Jo Westwood (Holcombe).