Commonwealth Games: Uganda captain Peace Proscovia aiming to inspire on Gold Coast
By Louise Gwilliam and Betty Glover
BBC Sport
Last updated on .From the section Commonwealth Games22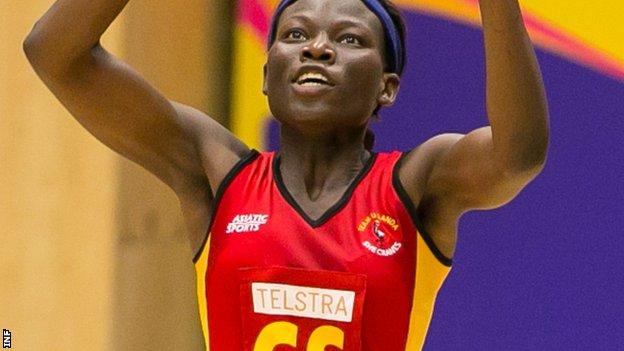 "If it wasn't for netball, I wouldn't have left my village. Netball has turned my story and my world around."
Peace Proscovia will captain Uganda in their first Commonwealth Games this week, and she heads there as one of the best shooters in the world.
The 28-year-old became the first African to play in the British Superleague when she joined Loughborough Lightning in 2015, and was crowned player of the year in 2017.
But had she not defied her father's instructions as a teenager, her life could have taken a very different path.
Proscovia grew up in the Arua District in north-west Uganda, where she says young girls were seen as "a source of wealth" to their families, and were often married while at primary school.
After Proscovia was identified as a talented athlete by a PE teacher, her father refused to allow her to move to Kampala - Uganda's capital city - to study at university and pursue a career in netball.
"At the age of 16 I stood my ground and I said: 'I know netball can take me somewhere,'" she told BBC Sport.
"My mother, having felt the pain that I went through, decided to sacrifice her life to get me to the city, but on arrival she was told to go back home. It was heartbreaking but I had to fight for my dream.
"I believed I was doing the right thing. I believed that it would pave the way for my family and for the girls in my community."
'Opening girls' eyes to what they can't see'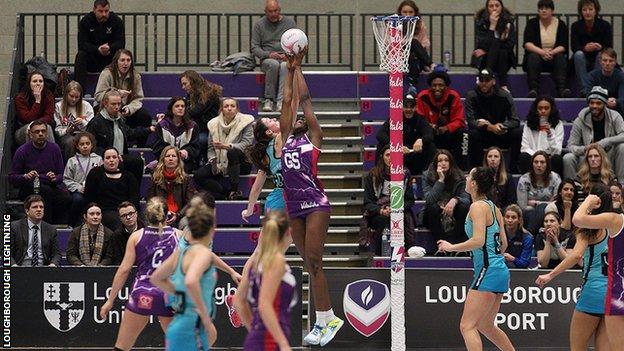 Proscovia admits to having a tough childhood in Uganda. Both of her parents were out of work, which made getting food a "daily hustle".
She hopes her path to professional netball will empower other girls from her community and "open their eyes to what they can't see".
Proscovia added: "I never thought this was possible because of where I came from. My childhood is something that is heartbreaking to me and I often don't feel like talking about it.
"So many girls that would have been very resourceful to my country today just disappeared. When you start looking for them, you find they're married, and some of them got married in primary school.
"But having seen what netball has done for me, the girls are all working hard to become the next Peace.
"I want to make them feel equal to me and give them a sense of direction. I want to create a chain and encourage them to keep pulling to change the whole community."
The 'best shooter in Africa'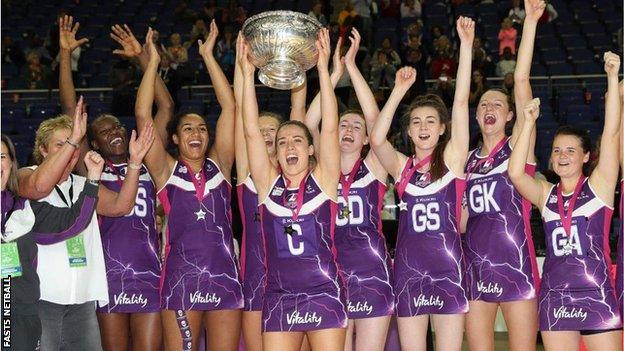 When Proscovia moved to university on a netball scholarship, she said she "started seeing the outside world", but still did not entertain hopes of making it overseas.
That was until former Loughborough Lightning head coach Karen Atkinson sent a scout to watch her in Botswana during Uganda's 2015 World Cup qualifiers.
"Loughborough picked me at a point when nobody was even thinking of me," she said.
"They sent a scout over to Botswana to look for the best shooter at that time in Africa to bring over to England.
"I was playing for the sake of making my country shine and get to the World Cup. But in the process of fighting hard for my country, I ended up also opening a way for myself."
Now in her fourth season with the Lightning franchise, the 6ft 4in shooter has enjoyed remarkable success, despite taking time to adapt to the English weather.
"Lightning welcomed me into their family and they made me feel at home. We love each other as a family, that's the culture here," she added.
"But the weather is something that has taken time for me adjust to. It's lovely. I used to put on so many jackets but now I've discovered it's actually nice weather that you can live in."
Proscovia helped Loughborough to the Superleague grand final last year. They were beaten by Wasps, but Proscovia won both the players' player and player of the season awards in the process.
Lightning then won the inaugural British Fast5 title in September with the help of the Ugandan's sharp-shooting.
"Sports creates opportunities where opportunities are not supposed to be," she said.
"I knew what had brought me here and I knew that I had to do something good and put a smile on the face of my people."
Uganda's rise up the rankings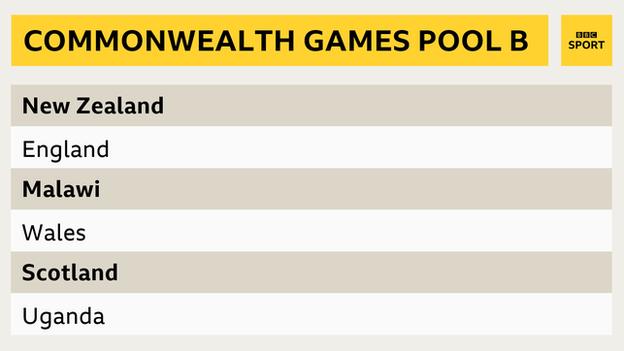 In the past four years, Uganda have climbed from 15th to seventh in the world rankings, a rise inspired by their world-class shooter.
The 'She Cranes' finished eighth at the 2015 World Cup in Australia and were crowned the champions of Africa in 2017.
And being ranked as one of the top 12 teams in the world, Uganda will take their place on the Gold Coast this month.
They open their campaign against world number two side New Zealand on 5 April, before facing third-ranked England, Scotland, Wales and Malawi in Pool B.
Uganda have to finish in the top two in their pool to have a chance of playing for the medals.
"I'm very excited for my country and for the rest of my team-mates to be able to show the world what they have," Proscovia said.
"The outcome matters but what matters more are the opportunities that come out of it.
"One of the greatest things Uganda can achieve at the Commonwealth Games is the exposure of our players to the world."
Proscovia believes her side will be competitive and do "everything within our means to win", despite the gap in wealth between the nations.
"The roads in England are smoother than the surface we use for training in Uganda. That's something I've grown up with, and it made me learn netball the hard way.
"The surfaces are rough, the facilities are not developed, but most countries started from this level. In this millennium we are still going through it, but it will get better. "