Commonwealth Games: Dina Asher-Smith wants to 'have fun and do England proud'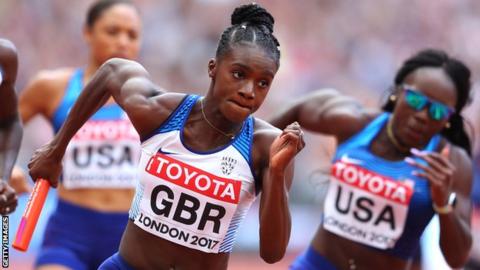 2018 Commonwealth Games
Venue: Gold Coast, Australia Dates: 4-15 April
Coverage: Watch live on BBC TV, Red Button, Connected TVs, BBC Sport website and app; listen on Radio 5 live and follow text updates online.
Sixty-one essays over three years. That would do for most students.
Combine it with the training, travel and track time of a top-class athlete, though, and sprinter Dina Asher-Smith's family could only keep up with her schedule via a groaning online calendar.
Having now left her history degree behind last summer - a 2:1, thanks very much - you might expect the 22-year-old Briton to be all earnest talk of full-time athletics focus.
But that's not really her style.
As she prepares in Australia for the Commonwealth Games, Asher-Smith, as ever, refuses to be po-faced about her career, excitedly switching conversation from her new-season hopes, to the absurdity of an athlete's everyday routine to the next stage of her life off the track.
"I've moved out of my family house so I am learning about council tax, all the expenses of living in London, where breathing is expensive," she told BBC Sport.
"At the moment, after my degree, I am doing more young adult stuff, trying to be more independent.
"Athletics is the main part of my life but I think to perform to my best I need something to relax me and give me an escape.
"I am not saying it is going to be as onerous or as stressful as a degree, but I will find something to do."
She heads to the Gold Coast, where she will compete in the 200m and 4x100m relay, with a similarly open mind about what she might achieve for England.
"I just want to perform well and put down a good time," she added.
"You have to remember that in a typical European season you peak in August - around the European Championships and the Diamond League finals this year.
"It will be interesting to see if we can all be at that point in April. Hopefully we can have some fun and do England proud."
Asher-Smith, the British record holder in the 100m and 200m, has posted some impressive numbers already this year.
At the Indoor Grand Prix in Glasgow in February, she clocked two sub-7.10 seconds 60m times for the first time in a one-day meeting, finishing ahead of Olympic 100m and 200m champion Elaine Thompson and world 200m champion Dafne Schippers. In the final, Asher-Smith was a narrow second behind Marie Josee Ta Lou.
The Sydney Grand Prix in March did not feature any of those big guns, but Asher-Smith's 100m winning time of 11.24secs - a quarter of a second outside her personal best - was encouragingly swift so early in the season.
Considering her recent luck though, Asher-Smith is not getting ahead of herself.
Last season ended with a silver medal at the World Championships in London as part of Great Britain's 4x100m relay team and a fourth-place finish in the 200m, but was badly interrupted by a broken foot, only fixed with the insertion of several screws.
Her 2016 campaign included a relay bronze at Rio 2016 and a European gold over 200m, but was hindered by a hamstring injury.
In 2015 - her last injury-free season - she became the fastest teenager in history, and the first British woman to run under 11 seconds for the 100m.
"I have had a couple of really badly timed injuries over the last couple of seasons which has changed my course," she said.
"They have still been good - I'm not complaining - but they still changed my course. I'm not grateful, but out of every unexpected circumstance there are lessons to be learned.
"I'm happy that I learned those valuable lessons early in my career and I have had myself tested, especially last season as a 22-year-old, so that I can show what I can do under pressure."
In a nominally 'quiet' year for athletics - the only one in each four-year cycle without a World Championships or Olympic Games - there will be plenty of chances for Asher-Smith to prove herself.
Jamaica's team for the Commonwealths, which includes Thompson, has been challenged to bring in a "harvest of medals" after a disappointing World Championships in London last year.
The European Championships in Berlin in August are likely to see Asher-Smith trying to retain her title against the Netherlands' Schippers.
In between, Asher-Smith will return to London Stadium - where she set her British 100m record three years ago - to face a high-class international field at July's Anniversary Games.
It's a globe-trotting career but it can be a claustrophobic world, fighting for tiny advantages against the same few faces.
Some of the cabin fever appeared to leak out last year with Schippers describing her relationship with Thompson as "very bad".
But Asher-Smith genuinely seems to confine the personal rivalries to the handful of seconds she spends competing.
"I can only talk for me. I am in a happy place. I don't really watch people's relationship with other people in that way," she said.
"We are all in a unique situation together; we are all competing against each other and when we get on the line we all want to win, but at the same time you can't always be too ridiculously competitive.
"We train all year for 11 or 22 seconds in front of 80,000 people and millions on TV.
"It might go well, which is fantastic, but only one person wins and seven go home disappointed.
"You can't take it too seriously because one day you will retire, look back and they are the only people who went through the same and can relate to it.
"So you don't really need to be at each other's throats."
There won't be many friendlier faces at this edition of the 'Friendly Games'.
Dina Asher-Smith's events at Commonwealth Games
200m
Heats: Tuesday, 10 April, 03:20 BSTSemi-finals: Wednesday, 11 April, 11:10 BSTFinal: Thursday, 12 April, 12:38 BST
4x100m relay
Heats: Friday, 13 April 01:35 BSTFinal: Saturday, 14 April, 05:57 BST