Commonwealth Games: James Gall prepares for Gold Coast after surviving fall
Last updated on .From the section Commonwealth Games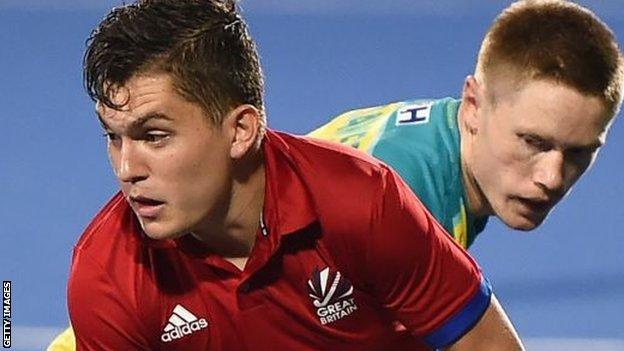 2018 Commonwealth Games
Venue:
Gold Coast, Australia
Dates:
4-15 April
Coverage:
Watch live on BBC TV, Red Button, Connected TVs, BBC Sport website and app; listen on Radio 5 live and follow text updates online.
Just three years on from being "lucky to be alive" after fracturing his skull and spine in a freak accident, England hockey player James Gall is preparing to compete at this month's Commonwealth Games in Australia.
The 22-year-old was with friends and team-mates at Surbiton Hockey Club in May 2015 when he slipped and fell 15 feet through a skylight as he walked across a flat roof.
His father later referred to it as a "bit of a bump" but Gall's hockey career, and more importantly his life, were hanging in the balance for a while.
"I was rushed to hospital where I was put in an induced coma for two days and then I spent about a week in intensive care," Gall, who also badly bruised his brain, told BBC Sport.
A student at the University of Nottingham at the time, as well as showing promise as a utility player in the England Under-21 squad, the accident turned his world upside down and set him back significantly.
"It took me a long time to get back to normal," the midfielder said.
"The first three or four months I was allowed to walk short distances at a slow pace but I was tired all the time and I was really wondering if I could finish my studies and if I'd ever be able to play hockey again. It was so demoralising.
"We tried to progress my recovery but what I was used to in terms of training load, compared with what I was able to do at this point, was worlds apart. I managed to finish my degree but didn't train or play hockey at all until about 10 months after."
Gall's return to full hockey training was met with excitement, as it was something he had craved while he was on the treatment table.
However, it quickly turned to trepidation and frustration - the player he was before the injury seemed to have vanished.

"I was so unfit and so far off what everyone else could do but the thing I struggled with the most was completely re-learning the game," he said.
"Before the injury I used to just go out and play. When you're at your best you don't need to think about much. Suddenly I was missing balls I wouldn't normally miss; I was out of position a lot and I needed to re-train my basic skills and my game intelligence.
"I'm not sure if it was because I'd been out so long, or if it was connected to the damage to my brain, but that was really difficult."
Despite his obvious frustration, Gall was spurred on by a huge support network, not least his friends and club team-mates Chris Grassick and Alan Forsyth.
"'Aldo' (Forsyth) and 'Grass' were incredible to me. Everything from encouraging me to spending time on the pitch working on my skills with me, they were there in my corner every step of the way," he said.
Grassick and Forsyth will be representing Scotland on the Gold Coast, meaning a potential clash with Gall.
The Scots are in Pool A and England in Pool B, with England's first match against Malaysia on 6 April. The top two in each pool will progress to the semi-finals.
Gall says there were times he was not sure he would get back on the pitch at club level, never mind have a chance at the international career of which he had dreamed.
In his absence, England's Under-21 side enjoyed success in a number of tournaments and he was not sure how he was going to regain his place.
After hours of practice and a series of frustrating matches in which he played in three or five-minute bursts, one day it all "kind of clicked".
That led to Jon Bleby, the U21 head coach, naming him captain for the Junior World Cup in December 2016.
Although Gall confesses he was not "anywhere near it" beforehand, the faith shown in him by the England coaching staff gave him the boost in confidence to have a good tournament and he started to show flashes of the player he was pre-injury.
Gall had to watch a number of his peers make their way into the central training squad after the Rio 2016 Olympics. Despite feeling left behind, he never lost hope his chance would come and after much adversity and so many setbacks, he was finally blessed with some good fortune.
"There were some injuries before a senior trip to South Africa. [England and GB head coach] Bobby Crutchley rang me and asked if I wanted to come," he said.
"It was short notice but I obviously said 'yes' and it proved to be the best decision I've ever made. I did OK and that got me into the next squad and then I got a central contract. I was really lucky and couldn't quite believe it."
With a big opportunity presented, Gall threw himself into training, expecting to bide his time and wait for the chance to come somewhere further down the line.
The Commonwealth Games were "not on his radar" so he was shocked when he saw his name in the squad.
"I'm so excited but I don't think till I get there I'll really understand it all," said Gall, who has 18 England caps and nine for Great Britain.
"I need to go in confident and give it all I've got. I'm in a great position because no-one knows who I am. Hopefully I can fly under the radar and do my job without any fuss.
"It's been hard work starting from nothing to where I am now but it's really shown me anything is possible."