Commonwealth Games: Chad le Clos on his bid to revitalise his career
By Nick Hope
BBC Sport on the Gold Coast
Last updated on .From the section Commonwealth Games26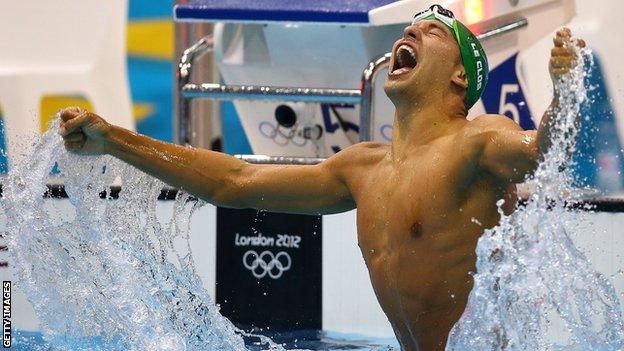 2018 Commonwealth Games
Venue:
Gold Coast, Australia
Dates:
4-15 April
Coverage:
Watch live on BBC TV, Red Button, Connected TVs, BBC Sport website and app; listen on Radio 5 live and follow text updates online
Chad le Clos arrived on the world scene in a blaze of stunning swimming success at London 2012, becoming known as 'the Phelps slayer' after ending the great American's domination of the 200m butterfly event.
Adding to that iconic moment was his father Bert who memorably - and repeatedly - described the victory by his "beautiful boy" as "unbelievable" in a live and occasionally tearful BBC interview.
The sport had not one, but two new stars, and Chad was seen as Michael Phelps' natural successor in the butterfly events.
"I was very fortunate to win an Olympic gold when I was very young and it was an amazing time for me, but also it was difficult," he tells BBC Sport.
"I had to deal with a lot of other external pressures that I wasn't used to and finding a balance was hard."
That pressure only increased after three world titles in the next few years, which were split by a stunning return from pneumonia to claim a record-equalling seven medals at a solitary Commonwealths in 2014.
Rio 2016 was supposed to be his crowning moment, but instead the returning Phelps reigned supreme.
Le Clos - whose parents were both diagnosed with cancer before the Olympics - left the Games with "just" two silver medals.
"I was devastated, but it got me more hungry," he says. "I've never been more motivated to be successful."
In a wide-ranging interview with BBC Sport, the South African reveals the effect his parents' cancer struggles had on him, and explains why a move to Turkey can revitalise his bid to deliver record-breaking performances at Gold Coast 2018.
Life after London 2012
As many high achievers will state - and not only in sport - getting to the top is hard, but staying there is harder.
Le Clos would expand his impressive major event medal haul after London 2012 but the swimmer himself fully admits he did not go on to become the dominant force many expected.
"I was very fortunate to win an Olympic gold when I was very young and it was an amazing time for me, but also it was difficult," he tells BBC Sport
"I had to deal with a lot of other external pressures that I wasn't used to.
"I would just be going to the supermarket, the same one I'd been going to all of my life in Durban, and I'd be stopped for photos every time.
"I love my fans and the interest is an honour, but it was hard finding a balance.
"I wouldn't say that I was going into competitions underprepared, but perhaps my preparations weren't perfect."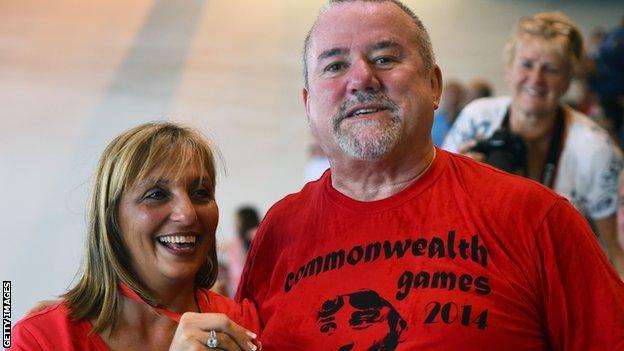 What went wrong in Rio?
Le Clos looked set for an impressive Olympics after claiming what many experts saw as a shock silver in the 200m freestyle final in Brazil, but that form would not transfer to his favoured butterfly events.
He would finish fourth and surrender the 200m butterfly crown to the returning Phelps, before joining the American and rival Laszlo Cseh in a historic three-way tie for silver in the 100m behind rising star Joseph Schooling of Singapore.
Although he refused to use his parents' separate cancer diagnoses as an excuse at the time - and is still reluctant to - the situation clearly had an impact.
"I went there thinking I could win at least one gold, if not several," Le Clos tells BBC Sport.
"I shouldn't say no-one cares, but when you stand on the block no-one does care that your parents are dying of cancer.
"My dad had his prostate out just before the Olympics and, as everyone knows, we are so close and have done everything together my whole life.
"With my mum, we were so worried because she had a really fast-spreading cancer and in June/July, just before (Rio 2016), we really didn't know what was going to happen - it all felt like a mess as I was overseas at the time too and couldn't get back.
"So yes, it was difficult at the time, but when the history books are written, Michael won that 200m fly and I was fourth.
"But you could take all the gold medals away from me, I'd choose my family every time and fortunately they are both OK now. It just makes me even prouder to go out there to swim for them and my country."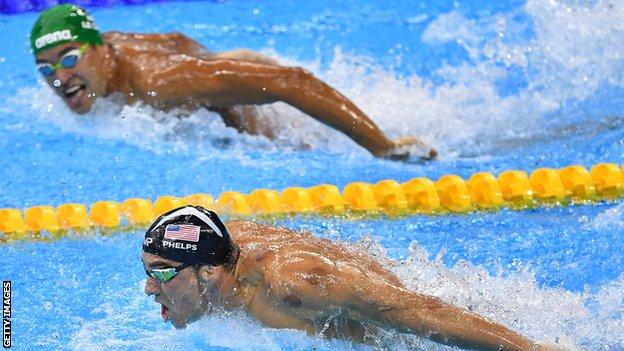 Rebuilding a champion - in Turkey
Turkey does not have an illustrious swimming history - with no Turkish athlete having ever won an Olympic medal in the sport.
However, they do now possess arguably the strongest 'club' in the world in the form of 'Energy Standard', which are financed by Ukrainian businessman-turned-swimming fan Konstantin Grigorishin.
The set-up, which has been devised primarily to develop youngsters from his homeland and Russia, allows athletes to live on-site at the Gloria Sports Arena with state-of-the-art facilities and in fully-catered accommodation.
To inspire the youngsters and raise the team's profile they also fund a number of high-profile world champions such as Sarah Sjostrom of Sweden and England's Ben Proud, who train with Le Clos at the venue for much of the year.
"It's like being in a professional football team environment and it's unbelievable here," states Manchester United fan Le Clos, with a beaming smile.
"It's crazy. I've always kind of winged it before and never really believed in sports psychology, nutrition or even did any strength work before.
"I was aware of all of these things before, but then I was always winning and didn't want to change.
"I know it sounds bad but my idea of swimming was always just 'whoever is the toughest guy will win' and I don't think you can beat me because of the way I've trained, but now it's all changed and I train smart.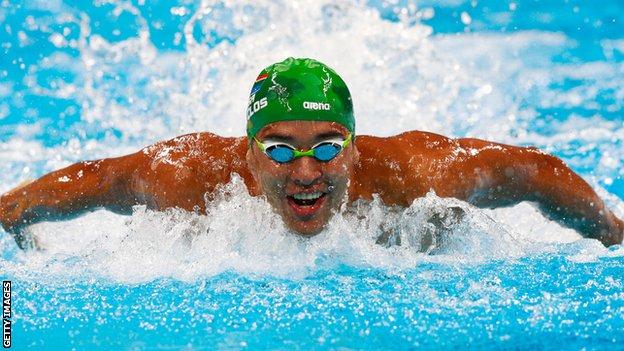 "Now I see the importance all of these little differences can make, it's really opened my eyes and I feel like a different type of animal who'll only improve."
Despite admitting being away from his family is at times a "real struggle", he is in Turkey with their blessing and insists he is the "happiest" he has ever been.
"I'm a proud South African but in Durban you couldn't always find great places to train and also being here around similar enthusiastic and ambitious people makes a huge change," he says.
"It's all come at the perfect time and one of the biggest things my friends and family say is that they see a happier Chad now which is nice."
But will the move have the desired effect and allow Le Clos to truly fulfil the potential he showed back in 2012? Well the early signs are promising.
Just months after making the move last year he reclaimed an "emotional" 200m butterfly world crown he had last won in 2013.
"I'm sure you guys saw on the podium as I was crying like a baby," Le Clos tells BBC Sport.
"It's a huge moment because of everything that had happened. It was such an emotional rollercoaster and it felt like redemption for what happened in Rio."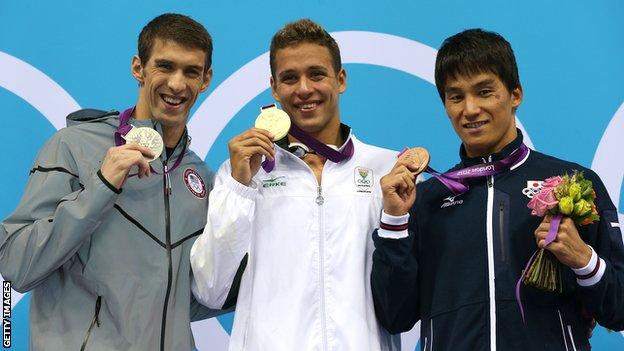 Commonwealth dreams
Le Clos is already South Africa's most decorated Olympic athlete and while furthering that haul will be his target come Tokyo 2020, he has big ambitions for the Gold Coast Commonwealth Games.
"They're a special event for me because in 2010 (Delhi Commonwealth Games) that was where I won my first two major international titles and it really gave me that hunger to win," he says.
Le Clos went on to secure seven medals at Glasgow 2014 despite spending several weeks in hospital after experiencing breathing difficulties on a high-altitude training camp ahead of the Games.
That took him level with Ian Thorpe on 12 medals - the current record for a swimmer at the Commonwealth Games - but Le Clos wants to go much further than that and has the overall mark of 18 in his sights.
"It is all about my legacy now," says Le Clos, who will race in seven events at Gold Coast 2018 and be a major rival of England's James Guy.
"I think at the beginning it was all about getting up there and trying to be the best, but now I'm thinking about hopefully surpassing not only Ian Thorpe but to take the overall record, either here or in 2022.
"I'm only 25 and I won't be stopping any time soon.
"My dream is to one day have my name as one of the greats, not just in swimming but in all sports, and make Commonwealth as well as Olympic history."