Commonwealth Games: Hannah Miley - It took year to come to terms with fourth in Rio

By Tom English
BBC Scotland on the Gold Coast
Last updated on .From the section Commonwealth Games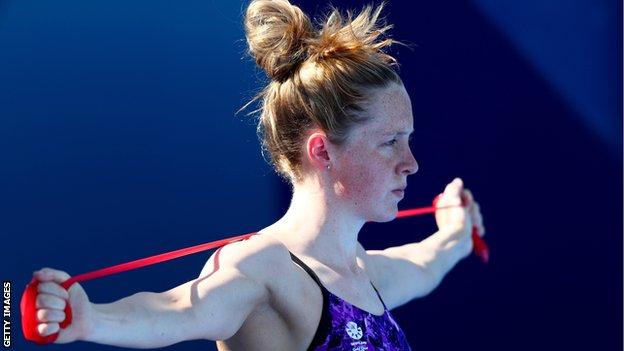 2018 Commonwealth Games
Venue:
Gold Coast, Australia
Date:
4-15 April
Coverage:
Watch live on BBC TV, Red Button, Connected TVs, BBC Sport website and mobile app.
Hannah Miley is sitting by the pool in central Brisbane, but in her mind's eye she's back in Barra da Tijuca in the western suburbs of Rio, back in the starting blocks in lane six on the first week of August 2016.
It's the final of the 400m individual medley. Thirty-three swimmers have been whittled down to eight. Twenty-three nations were represented when the heats began, but only six remain.
Ye Shiwen, the Olympic champion and world record holder, has been knocked out. It's just the new elite who remain. Whatever about flying the flag for Scotland, Miley has put Inverurie on the global swimming map.
Four-and-a-half minutes later, Katinka Hosszu has won gold for Hungary, smashing the world record into the bargain. It'll be one of four Olympic medals she will win in Rio and will sit alongside the 22 World Championship medals she has already won.
In second, Mayo DiRado of United States. She too will win four medals at the Games. Third, Mireia Belmonte of Spain, a double Olympic medallist in London 2012 and soon to be a double medallist again in Rio 2016.
Miley comes in fourth, 15-hundredths of a second behind Belmonte. Time 00:00.15 on a stopwatch, if you can. It's nothing and yet it's everything. It's her best-ever swim on the biggest stage on the planet, but it's not enough. And this is when it gets really interesting.
What's an athlete supposed to do with fourth? How are they supposed to feel?
It wasn't just one emotion that hit Miley in that moment, it was many emotions. And they lasted.
For months this thing played out in her head, this dilemma about fourth. Pride at having performed brilliantly and dejection at not having anything to show for it.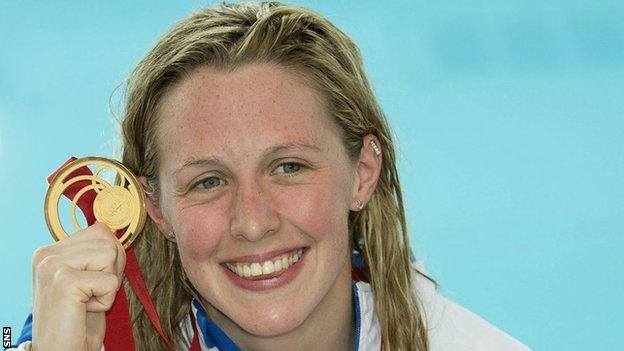 "I feel a lot more accepting of it now," she says. "At the time, I was battling with it. It was like Jekyll and Hyde.
"One part of me was elated because it was my best performance at an Olympic Games and, yeah, I missed a medal, but I was buzzing. And the other side was frustration at having gone so close.
"I felt disappointment and people felt disappointment for me and that was probably even worse. I didn't know if people were happy for me or were people sad. Did I fail them? You have all these emotions that sit with you.
"People didn't know what to say to me. Or they'd give you that 'I feel sorry for you' look. The sad face.
"Part of me was going, 'Actually, fourth was pretty good, I was quite happy with that - it was only 15-hundredths of a second away from a bronze, so give me some positivity from it'.
"It's been a battle, a huge mental challenge. I could either let it eat away at me or I could do something about it.
"I had to accept that there was no other way to move forward. I had to ask myself, 'why do I swim?'
"It could have been easy to step away from the sport, but that would have been my lasting memory of swimming and I didn't want that. I've worked too long and too hard to have it all end that way.
"It took me a year and a bit to come to terms with it, to be okay and say, 'You know what, I'm genuinely happy with my performance and that's all that matters'. What other people feel about it, I can't control that. I can't waste energy on things I can't control.
"I feel a lot happier about it now. I can talk about it and joke about it and be at ease with it, whereas, if you asked me that question a couple of months after Rio, you'd have probably got me crying because I didn't know what to do with my emotions."
So to ask the question she ended up asking herself - why does she swim? Again, you get a deep and thoughtful answer, delivered with a smile.
"I swim for myself, I swim because it makes me happy," she explains. "I don't swim for medals.
"If you asked me four years ago, I would have said I want to win medals and that's an acceptable answer. But I kind of realise now that there's more to sport than winning medals.
"There's a personal gain that I get from it and seeing the impact it has on other people. Seeing young people coming into the sport is great.
"I love it more now than I ever did before. That was one thing I realised after Rio.
"I got back in there as soon as I could and I banned myself from looking at a stopwatch for a couple of months and just enjoyed playing in the water and the sensation of floating. That's a little bit arty, I know."
'Rio was a positive heartbreak'
That's why, at 28, she's basking in these Gold Coast 2018 Games as much, if not more, than any other event she's ever competed in. That's why Alan Lynn, the national coach of Scottish Swimming, says he wouldn't be in the slightest bit surprised if she challenged for medals at the Tokyo Olympics in 2020.
"Swimming is who she is," he says. "It defines her as a person. She's a fantastic role model and everything she does smacks of class and professionalism in and out of the pool.
"Rio was a positive and it was a heartbreak; a positive heartbreak. It was incredibly difficult for her to get over it, but on the other hand, she was at the Olympic Games and she was very, very close to winning a medal. It's still a fantastic achievement.
"The best athletes, although they might be disappointed with something, are able to flip that around and turn into a positive and make it fuel their desire. She's just a very impressive person."
On Thursday evening in Australia, down at the Aquatics Centre on Marine Parade, Miley will get on the blocks in front of 12,500 people in defence of the 400m IM Commonwealth title she first won eight years ago in Delhi and then backed up four years later in Glasgow.
It's the first night of competition and the place will be electric. If she wins, she becomes the first Scottish woman in history to win a gold medal at three successive Games.
Nothing comes easy. England have three contenders in Aimee Willmott, who was second behind Miley four years ago, Rosie Rubin and Abbie Wood. From Canada, there's the emerging 17-year-old, Mary-Sophie Harvey. From the host nation, from a 70-strong team, there's the exciting 16-year-old Kaylee McKeown.
"I've chosen not to think about the three-in-a row," adds Miley. "I'm aware of it, but I don't want to put any unnecessary pressure on myself.
"I don't want to get hyped up. I need to protect myself. I'm trying to put up a block to keep it at bay."
For now. Come Thursday, if there's a gold medal around her neck, the barrier will come down and the emotion, you fancy, will come at her like the waves of the Pacific Ocean nearby.