Commonwealth Games: Sir Chris Hoy returns with fond memories
By Sharyn Fleming
BBC Scotland
Last updated on .From the section Commonwealth Games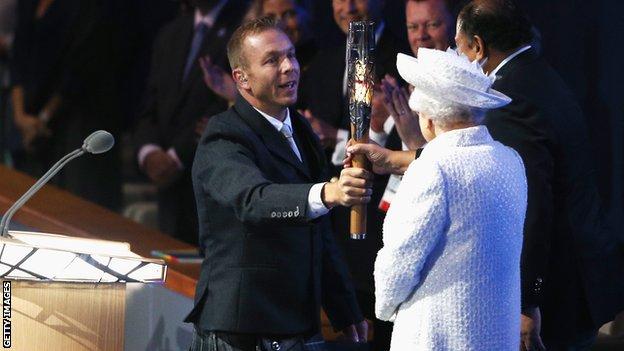 2018 Commonwealth Games
Venue:
Gold Coast, Australia
Date:
4-15 April
Coverage:
Watch live on BBC TV, Red Button, Connected TVs, BBC Sport website and mobile app.
When David Hoy called his 10-year-old son into the front room to watch Eddie Alexander win bronze in the 1000m sprint, he could not possibly have known that boy would become a sporting legend.
The 1986 Commonwealth Games in Edinburgh was Sir Chris Hoy's first exposure to a live sporting event. He watched Alexander race that day in awe.
"I was thinking this looks pretty exciting," he told BBC Scotland.
Intrigued by the tactics of track cycling, Hoy joined the City of Edinburgh Racing Club in 1994. He recalls coach Ray Harris encouraging the team to write down their lifetime goals.
"Although I did write down that I wanted to become an Olympic champion, I never thought it would happen," Hoy said.
"Olympics champions are different to you and I. They were born that way, I was just some normal kid."
History would prove otherwise as Hoy went on to become Scotland's most decorated athlete, winning 11 world titles, six Olympic gold medals and two Commonwealth golds.
He had joined the Great Britain national squad in 1996, moving to train at the national facility in Manchester.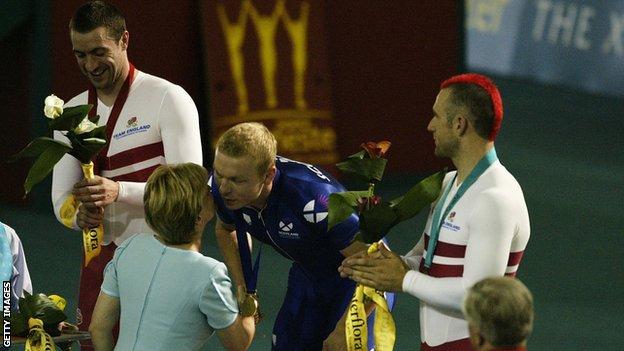 Having failed to medal in Kuala Lumpur in 1998, the 2002 Commonwealth Games in Manchester proved to be a landmark event for the Scot.
Hoy recalls the night his status in world cycling changed. "I remember turning up and warming up. Everything was indicating that I was in the best form of my whole life at that point.
"I knew I'd put the work in, but I had no idea how fast I was going to go, whether I was going to be quick enough to win a gold medal."
Having previously focused on the team sprint, Hoy had been inspired by GB team-mate Jason Queally's gold medal in the 1km time trial at the Sydney Olympics and had set out to learn from - and chase down - the fastest man in the world.
Second last to go, with only Queally still to race, Hoy crossed the line in a new personal best, yet he still believed the stage was set for the reigning Olympic champion, the star of the show, to take gold.
"I'd won a silver medal and was delighted," Hoy said. "It was one of the most significant moments of my career, because it gave me the belief and the confidence.
"That was the first time I actually felt I could step out from the shadow of Jason and Craig [McLean] as a team player, from being the third person in a trio, to be on my own, standing up on my own two feet. It was amazing."
Returning to his Scotland team-mates in the centre of the velodrome, they watched Queally take his place on the track. The Englishman crossed the line two tenths of a second behind Hoy and the Scot simply could not believe "I was the Commonwealth champion".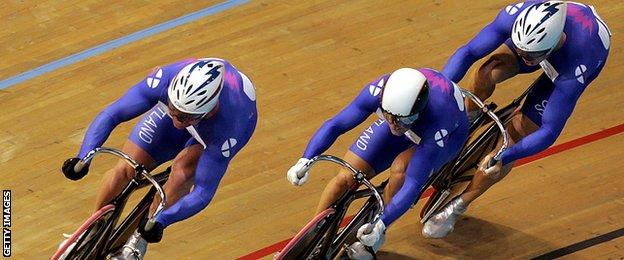 That night in Manchester was the only time in a decorated career when Hoy stood on a podium and heard Scotland the Brave, thereafter replaced with Flower of Scotland. Bursting with emotion, he did it in a stadium full of Scots waving the Saltire.
It was Scotland's first gold medal of the games. It was Scotland's first-ever gold medal in cycling and it was Hoy's first-ever individual gold medal.
"People want to talk about Olympic Games and world titles, but for me that was without doubt one of the greatest moments of my whole career," he said.
Melbourne 2006 was completely different. Disappointment in the kilo meant Hoy lost his title to Australian Ben Kersten and came home that night with a bronze medal.
It was a tough start to the competition. "I under-performed and I felt I'd let the team down," he said. "It was really tough.
"When I got a bronze medal, people didn't know what to say. People were avoiding me.
"When it goes badly, you don't know what to say to somebody. Do you say never mind, hard luck, or do you say well done on your bronze medal?
"Craig, who was fourth and I was third, were walking around the village and it was this sort of ghost town.
"People were separating in front of us. No-one would speak to us. It was awful."
The team sprint would provide a second chance. Alongside Ross Edgar, Hoy and McLean returned to the velodrome focused on the race ahead.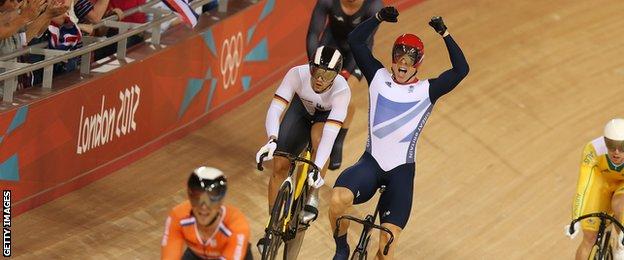 They knew they had a chance of a medal, but it would be a big ask, competing against world standard teams in a combination they hadn't tried before.
The trio went out in the first round and qualified quickest by a fraction to set up a final against England. Any jovial rivalry with their old GB team-mates was put to one side.
"This isn't about having a bit of a laugh and a bit of banter in the track centre," he said. "This is the Commonwealth Games. The pride of your nation is at stake here. It's everything."
As Hoy threw his bike for the line on the final lap, he recalls hearing the two gun shots: "The gun fires when you cross the line for each team and it was literally almost one bang as the two teams crossed the line. I didn't know who'd got it."
Victory went to the Scots.
As Delhi 2010 approached, cycling's world body made changes to its Olympic qualifying criteria. The European Championships being held in November of that year would be the first chance to qualify for the London 2012 Olympic Games.
The dates were so close together that Hoy simply could not take the risk. He could not turn up in Delhi and give 95% as he believed it would have been disrespectful to the event and to the Scottish team.
In July of that year, Hoy announced his decision to withdraw from the Commonwealth Games.
"It was incredibly frustrating," he said. "It was weird watching it from the kitchen at home. I felt that horrible feeling that there was a party happening and you weren't invited."
While athletes from around the Commonwealth concentrated their efforts on competing in Delhi, construction was beginning in the East End of Glasgow.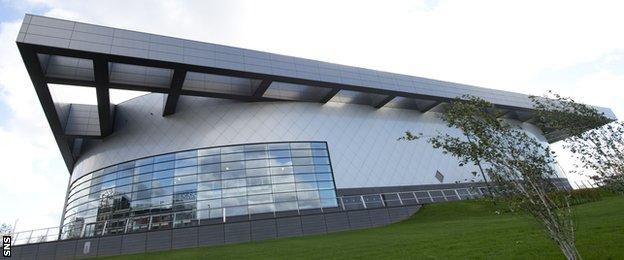 Scotland was getting an indoor cycling facility after years of campaigning. It was to be named the Sir Chris Hoy Velodrome - and it would host the track cycling events at the Glasgow 2014 Commonwealth Games.
"I'm very proud of that and it does put a smile on my face every time I turn up there," he said. "Even when I'm driving up from Manchester and I put the postcode into the sat nav and it pops up with my name, The Sir Chris Hoy Velodrome, it's weird."
Despite Hoy being incredibly honoured and proud to have won two golds at the London Olympics, it left him drained and in April 2013 he announced his retirement from cycling. He would not compete at the 2014 games.
He would be part of Team Scotland, as an ambassador, not an athlete.
"You see the guys warming up on the rollers and you have this weird feeling of where's my kit bag, I better get down there," he added "My brain was still switched into competing mode.
"It was strange, but to be that close to the team, to be an ambassador for the team, to be involved with the TV and the commentary was an amazing experience."
For Gold Coast 2018, Hoy makes a return to the commentary box as part of the BBC Sport television team. He believes that, despite the uncertainty over its future post-2020, the event is not in doubt.
"When you see it close up and you see the passion of the athletes competing for their country, you go to the opening ceremony, the closing ceremony, the vibe in the cities when the games are on, that gives you your answer," he added. "Definitely plenty of future in there yet."