Commonwealth Games: Para-athlete Nikki Emerson 'told to wait to go to toilet'
Last updated on .From the section Commonwealth Games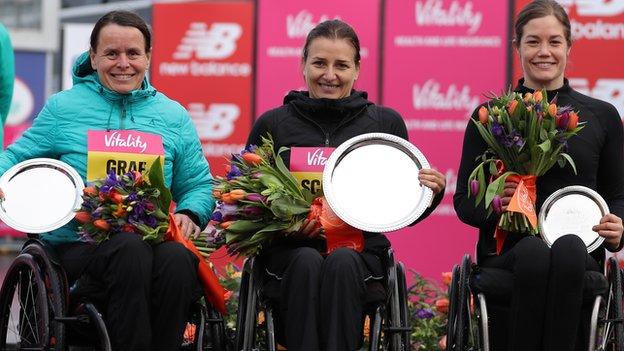 British Para-athlete Nikki Emerson says airline staff told her she would "upset other passengers" by "climbing on the floor" to get to her seat from the toilet rather than wait an hour for assistance.
Wheelchair racer Emerson, 29, was travelling to Australia's Gold Coast to compete for England in the T54 1500m and marathon events at the Commonwealth Games.
"I don't think it's acceptable that I should have to go to the bathroom on someone else's schedule," Emerson said.
"That seems like quite a basic right."
She said a senior member of Emirates staff had apologised to her after the incident and the airline was looking into the matter.
Emerson was flying with Emirates when she says she was told that she would have to wait until the food and drink service was completed before someone could help her go to the bathroom on an aisle seat.
And she said when she attempted to do the toilet trip without assistance by climbing on the floor, she was told her behaviour was "unacceptable".
"There was an air stewardess waiting outside for me when I came out to tell me this wasn't OK," Emerson told BBC Radio 5 live.
'"She said, 'you can't be on the floor, it'll upset people, let me help you to walk' and I said, 'well I can't walk at all' and that obviously caused an issue. I think the stewardesses felt it would make people uncomfortable to see someone climbing on the floor.
"In my mind, the only reason that should make the other passengers uncomfortable is because it would show them that the airline that they are travelling with doesn't have adequate provisions for disabled people, but I don't know if that was what the air stewardess was concerned about.
"As a disabled person that travels a lot I'm relaxed about doing it. It looks quite shocking when people see it but for me it's a way I can independently get myself somewhere when I don't have my wheelchair."
Emerson who has seven days to prepare for the 1500m, scheduled for 10 April, before tackling the 26.2 mile distance four days later, said this sort of situation is not uncommon in her experience.
"This isn't a one airline specific thing," she added.
"Sometimes it is specific airports, so at Gatwick I've been told I need to hand over my passport to a complete stranger because some of the gates aren't accessible.
"They get an assistant to take your passport and go and do some of the security protocol for you which sort of takes your independence away.
"I'm very independent - then when I travel someone takes my passport and I'm told I can't get myself around the plane. All of a sudden it becomes quite different to the rest of my life - I don't look forward to flying."
BBC Sport has contacted both Gatwick and Emirates and is awaiting a response.