Commonwealth Games: Hurdler David Omoregie 'the real deal' - Colin Jackson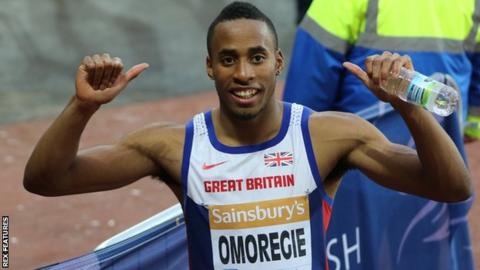 Two-time world champion Colin Jackson says a successful Commonwealth Games would give Welsh hurdler David Omoregie the belief he needs to launch his senior career.
The 22-year-old from Haverfordwest set world records in the 110m hurdles at a junior level, but has yet to transfer that success on to the senior stage.
He failed to make the semi-finals in last year's World Indoor Championships.
But Jackson believes Omoregie is "the real deal".
"He's had a few setbacks which have been massively disappointing, but this is a huge opportunity for him to really prove that he can fly the flag for Wales strongly," Jackson said.
"Somewhere he can say to himself, I'm a great senior athlete. Until he believes that, the magic will not happen.
"I've seen technically what he can do, he's got the stature, he's got the physicality.
"There's no reason he wont be in the final, but it's about what he can do when he gets there."
Omoregie has inevitably been compared to Jackson who won his first major medal, a silver, at the Commonwealth Games in 1986 aged 19, before going on to win two golds in 1990 and 1994.
"If I didn't do a Commonwealth Games I would have missed out hugely," said Jackson.
"It reminded me what pure competition is all about.
"Forget the glamour of the Olympics and the World Championships and the intense pressure to deliver, the Commonwealths are all about enjoyment.
"It was the same for Merlene Ottey and Linford Christie. It's the perfect platform."
Alongside the likes of Iwan Thomas, Kay Morley-Brown and Christian Malcolm - Jackson was part of a Welsh generation that won a total of 11 Commonwealth athletics medals during the 1990s, including five golds.
Recent years have not been so successful for Wales, though the medal tally in Glasgow was boosted by the inclusion of para-athletes, who won three medals - to add to the one silver won by pole vaulter Sally Peake.
A team of 26 athletes, including former world champion Dai Greene and marathon runner Josh Griffiths will compete in the Gold Coast.
'It's been difficult because the world has moved on hugely," said Jackson.
"We need someone who's on the fringe of doing something and has that breakthrough to inspire others.
"We don't have expectations and that's the best thing.
"But I'm hoping for at least three medals from our athletics squad, - what colour, who cares. I'd be happy with that."