Commonwealth Games: Team Scotland bid to match lofty targets - Tom English

By Tom English
BBC Scotland at the Gold Coast Games
Last updated on .From the section Commonwealth Games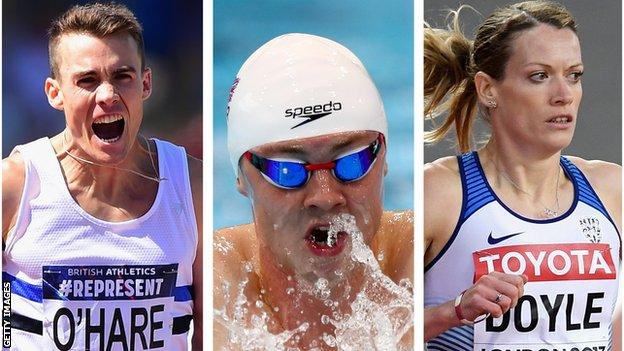 2018 Commonwealth Games
Venue:
Gold Coast, Australia
Dates:
4-15 April
Coverage:
Watch live on BBC TV and Red Button with extra streams on Connected TVs, BBC Sport website and app; listen on Radio 5 live; follow text updates online.
Times and channels
Walking along the ocean front at Surfers Paradise, with Mermaid Beach to the south and Runaway Bay to the north, we encounter three mysterious characters inching their way up the sand, oblivious to the sun-worshippers in their midst.
In the Commonwealth Games city, on the eve of the opening ceremony, nobody could mistake these men for athletes in their prime.
In a sense, though, they're here for the same reason as the hundreds and thousands of medal hopefuls from the 70 different nations and territories. With their detectors and their headphones and their dedication to their craft, they too are looking for gold.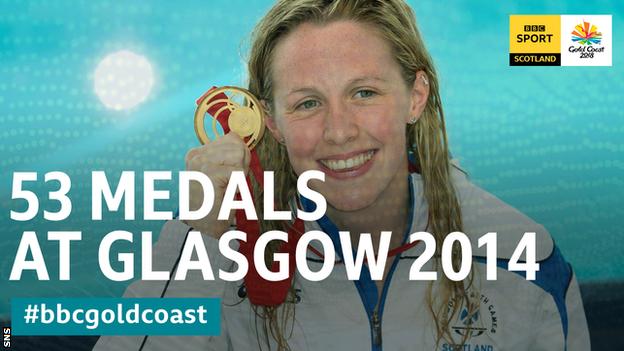 They don't tell us their names, their backgrounds, or what nuggets they may have found, but they have an unshakeable belief that their hard work will pay off.
"There's a fella by the name of Cookie who found 24-carat stones a few days ago," says one. "Reckons he made four grand. Word is that he found them down in Currumbin or Coolangatta or some other place. All you need is one good day mate."
The bigwigs of Team Scotland are looking for a whole lot more than one good day in the next fortnight. They're demanding more nuggets than Cookie could dream about in his sleep.
For the financial outlay and the size of the travelling party - 223 athletes and all manner of support staff - the target is no secret.
Paul Bush, the chairman of Commonwealth Games Scotland, Jon Doig, the chef de mission, and Mike Whittingham, Sportscotland's director of high performance, have laid it on the line.
The goal here is to make these the nation's most successful foreign Games. That means topping the 29 medals - 11 gold, seven silver and 11 bronze - from Melbourne a dozen years ago.
We can't talk about hardware without also addressing the hoary old subject of what the Commonwealth Games means in the modern world.
Let's not bother ourselves unduly with the cliche of legacy. That can be put to bed quickly by acknowledging the tourism and infrastructure benefits to a host city, but that, more or less, is where it ends.
Participation? The whole idea of inspiring those with a sedentary lifestyle to take up sport? It happens, but only in tiny pockets.
Mostly, the Commonwealth Games is a party. And it endures. The joyous circus that was Glasgow, compared to the trouble-filled drama of Delhi, didn't so much save the Games as remind people that they're worth fighting for.
Scotland won 53 medals four years ago and the chances are that most of us would struggle to name half of the athletes who won them.
What stays in the memory, though, is the vibe in the city. The heat of the sun matched the warmth of the people. The actual sport was very far from world-class from start to finish, but the whole package was unforgettable.
Sometimes it's not what you see but what you feel that matters. Glasgow made everybody feel pretty good about their city and their country. Ahead of Wednesday's opening ceremony, the Gold Coast is striving to do the same.
The athlete, Chris O'Hare, said something interesting on Monday. He spoke about the seriousness of the Scotland team compared to the attitude of some other competing nations.
"Nobody on Team Scotland is messing about - that's more than can be said for a lot of countries," the 1500m runner said. "A lot of people are just here for the trip and to take selfies with kangaroos."
That's undoubtedly true. There's wheat and there's chaff in all major games.
There's also heavily monied nations, like Scotland, and, in comparison, nations who don't have two brass farthings to rub together to back their sporting programme. The Scots are privileged and you sense that they know it. The boat has been pushed out to give them their best chance.
Only small patches of the Commonwealth Games are truly world-class. What is beyond dispute, what shines through in most of the athletes you meet - the wide-eyed kangaroo snappers apart - is the commitment and sacrifice and hunger to succeed. The passion to perform? It's powerful.
People have slogged their guts out for years to get to this stage. They've done it clean and knowing that there is no money and no lasting fame at the end of it. They do it out of love.
All the hours of training, all the stuff we don't see. It's to be saluted.
It all starts on Thursday with Hannah Miley and her defence of the 400m individual medley title she has won at the last two Commonwealth Games. Onwards, then, to Ross Murdoch, who will also defend his crown on the first night of competition at the magnificent Aquatics Centre on Marine Parade in Southport.
It will carry on through what we see as the Scottish medal bankers: Paul Foster, Alex Marshall and Darren Burnett in the bowls, Katie Archibald and Callum Skinner on the bike, Jen McIntosh on the shooting range, Dan Purvis in the gymnastics hall, Reece McFadden in the boxing ring.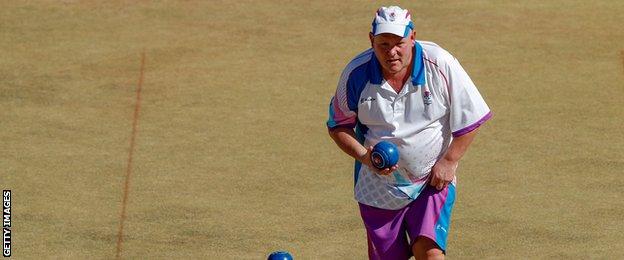 There are others - you would hope many others - but not all of them will come through. Some we expect to shine will fade. Others to whom we have paid little attention will emerge.
These Games will be different to any others that have come before because of the nation hosting them. Australia is a great sporting country, but it's a country whose sporting reputation has come under heavy fire thanks to the cheating of some of its cricketers.
Team Australia have now been assigned the role of not just athletes but diplomats, men and women charged with changing the narrative.
Their team is vast and talented and motivated to the high heavens. Their support will be huge, as Scotland's was in Glasgow, and what a difference that can make. These Australians, in practically every sport, will be a sight to see.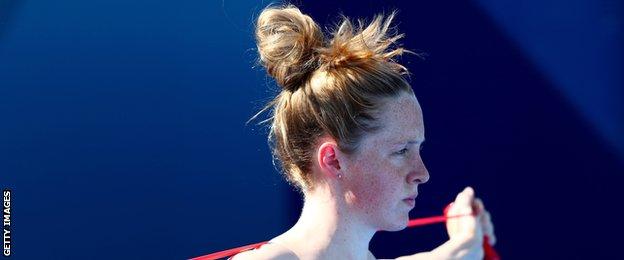 "After Delhi, we had a brand that's relevance was being questioned," said David Grevemberg, the chief executive of the Commonwealth Games Federation.
The Games four years ago delivered on all fronts. Scotland have shown they can do it at home.
The massive challenge that awaits them now, as an expectant management take out their calculators to count the medals, is to show that they're good enough to do it overseas.