Commonwealth Games: Scotland 'dig deep' for gymnastics team bronze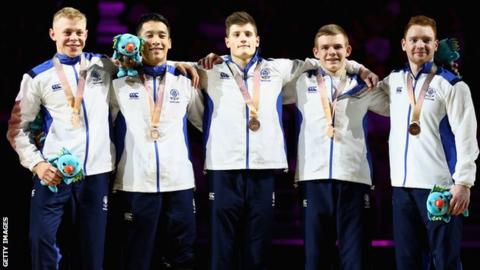 Scotland's gymnasts "dug deep right at the end" to collect Commonwealth Games bronze, says team captain Dan Purvis.
A strong finish secured a podium finish behind England and Canada.
"We started off with one or two hiccups but I'm just fantastically proud of everyone, how we fought and how much we had to come back," said Purvis.
"It was hard to come back on that podium from Glasgow with a different team but we've done it and it's fantastic."
Frank Baines, who helped Scotland to a team silver medal at Glasgow 2014, was last to take to the floor as the Scots secured a points tally of 240.975.
England finished with 258 points, 10 marks clear of Canada.
"I think floor is probably one of our better pieces so we knew it was a higher scoring piece, but anything can happen under competition," said Baines.
And the 22-year-old was also full of praise for all three of Team Scotland's Commonwealth Games debutants - Hamish Carter, David Weir and Kelvin Cham.
Baines and Carter, 19, will compete in the all-around final but Purvis, 27, missed out after failing to land his vault.
"Credit to Kelvin for being out here in the first place with his ankle injury from the British, it was just a real hard graft for him," said Baines.
"And then for David filling in when Kelvin got injured, I think he's the real MVP [most valuable player] today."
Weir's family had travelled from Dreghorn, North Ayrshire, to Australia's Gold Coast to support the 19-year-old.
"My mum, dad and sister came over from so they were pretty excited because it was their first time in Australia," Weir told BBC Scotland.
It was also a "huge" moment for team-mate Carter.
"I missed out on my first major (championships) a few years ago due to injury, and to come back and do the performances I know I can do, it's everything I've been thinking of since I first missed out on it," he said. "Honestly, I'm speechless."