Commonwealth Games: Hannah Miley & Ross Murdoch settle for silver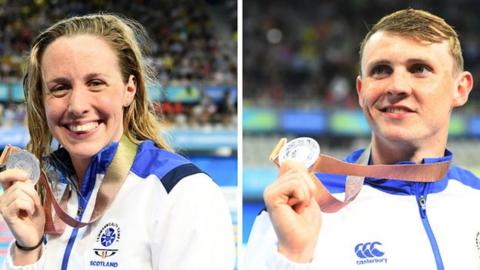 2018 Commonwealth Games
Venue: Gold Coast, Australia Date: 4-15 April
Coverage: Watch live on BBC TV, Red Button, Connected TVs, BBC Sport website and mobile app.
Four years ago, on the opening night at Glasgow 2014, there was Ross and Hannah, Hannah and Ross. One was queen of the chlorine, the other king of the Commonwealth.
Miley was the feelgood story and Murdoch the sensation. The noise, the colour, the joy on that night in Tollcross was unforgettable.
In the darkness of the Gold Coast, the faces were the same, the desire was the same, the lung-busting effort was the same. Even the closing seconds of the races were similarly dramatic, edge-of-your-seat finales. Only the outcome was different.
Murdoch was beaten into second by Scottish-born Englishman, James Wilby. Miley was beaten into second by the Scottish-based Englishwoman, Aimee Willmott.
Wilby and Willmott were tremendous; just that little bit better on the night.
"That's sport," said Miley, with a smile, later on. And she was right. If it always turned out the way we think it will, then we wouldn't be entranced by it.
Many of us felt that Miley and Murdoch were going to bring home gold for Scotland, but isn't it the little twists in the tale that makes life at this level so engrossing?
The night began with Miley and a bid for a historic 'threepeat' in the 400m individual medley. At 19:36 local time, the defending champion emerged at the blocks and if the roar that greeted her arrival didn't quite pack the punch of the ovation reserved for the Australian swimmers, then it wasn't far off. Miley had huge backing out there.
'I'll keep coming back for more'
There was an expectation in the stands that was her gold, but in the lane next to her, Willmott had altogether different ideas.
Willmott had few supporters in the stadium, but what she had was one of the best swims of her life. It was a compelling final, taken up in the early stages by Sarah Darcel, the young Australian, before the big two got down to work and renewed what has been a terrific rivalry.
After 250m, Miley led and Willmott was second. After 300m, Willmott had edged in front and it was Miley who trailed. That flipped again after 350m when Miley turned in the lead.
That final 50m was pulsating, Willmott learning the lesson of precious defeats and leaving enough in the tank for a powerful last length. Her smile in the aftermath was glorious. She spoke of what it meant to her after so many days and nights finishing behind Miley. This was a long time coming.
When Miley won her first Commonwealth crown in Delhi eight years ago, Willmott was fifth. When the Scot defended her title in Glasgow four years ago, Willmott was second.
She was favourite to finish second again, but this was different. "I just thought this could be my time," she said.
Driven by struggles with her ribs, disrupted by knee surgery and frustrated by the shutting-down of her swim programme that led to the "life-changing" decision to move to a new regime hundreds of miles from home at the University of Stirling, she was a a driven woman.
Miley will have been upset at losing her title, but she wasn't letting it show. "I'll keep coming back for more," she said.
"You're going to have nights when you beat your rival and you're going to have nights when your rival beats you. That's what keeps sport exciting. I'm not afraid to put myself in a vulnerable position and if I get beat, I get beat, but I'll always get back up. It's only day one. There are five more days to go."
Murdoch laments 'dire' finish
The penultimate final of the night came down to Murdoch and the fast-finishing Wilby, who came through powerfully in the last 50m to win the 200m breaststroke.
"His finish was really good and mine was dire," said Murdoch.
"I was dying in the last 25. I can't say I'm really happy with that swim because I really wanted the win, I wanted the gold, but congrats to James. He's been the man on form this whole season.
"I'm a little bit disappointed, but also delighted to come away with another medal for Scotland. I was faster than I have ever been at this time of year."
With so many races still to come and so much that they need to remain upbeat for, they were looking at the positives, they were mining the result for every ounce of strength they could find and not allowing other people's disappointment to penetrate their happy place.
Silver is not what they were looking for, but it's done. "Tomorrow is another day," said Murdoch. In search of the precious G, the show moves on.