Commonwealth Games: Meet the oldest athlete in event's history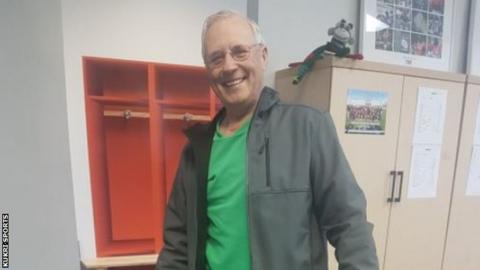 You've probably heard all about 11-year-old Anna Hursey, the youngest competitor at this year's Commonwealth Games.
Now, meet 79-year-old full bore shooter Robert Pitcairn... who's about to become your favourite story of the event.
Born in 1938 – somewhat fittingly, in the same month the first Superman comic was released – Canadian Robert is not only this year's oldest competitor but he's also the proud owner of the "Oldest athlete in the history of the Games" title. So, he's a pretty big deal.
"I feel honoured to set the new age record and grateful my health and athleticism made it possible for me to be competitive in the Gold Coast Games," Pitcairn said after a training session at the Belmont Shooting Centre.
At 79 years and nine months old, his debut at the Games on Monday will break the record previously held by England's Doreen Flanders, who took part in lawn bowls at Glasgow 2014 a few weeks after her 79th birthday.
Robert's quest to compete started in 1960 after he was introduced to shooting as an Air Force cadet. However, he was not able to be a serious contender for the Commonwealth Games until his retirement in 1998.
After narrowly missing out on a spot for Manchester 2002, Robert was determined to invest more time in training for the trials for this year's Games.
During the last national trial, he shot flawlessly and grabbed one of two places for the Gold Coast – an achievement he describes as "the pinnacle of [my] long shooting career".
Now, you're probably wondering how he celebrated. Well, he replaced his 22-year-old shooting jacket with a brand new one in his beloved Canadian red and white colours.
And if the fact he's almost 80 and competing in a Commonwealth Games isn't enough of a reason to get behind him, Robert used to be a commercial pilot and is well known for his heroic past.
In 1974, he foiled a hijacker on a 737 he was flying with 120 passengers aboard. As you do...
He's even shared his expertise with his son Donald, who is also an accomplished rifle shooter. In fact, the pair both competed at the 2011 and 2015 World Long Range Rifle Championships.
But Robert, who turns 80 on 26 June, is not satisfied with merely being the oldest athlete in the Games' history. He wants more.
"My goal is to stand on the podium with my partner Nicole Rossignol in the pairs event, and then again for the individual event. I trained hard, I'm aiming for that, and I am going to get them," he said.
His quest begins on Monday with the Queen's Prize Pairs Finals, before the medal event the following day. He will also have another chance at securing a medal when he competes in the Queen's Prize Individual on Wednesday and Thursday, which culminates in a medal event on Saturday. Good luck, Robert!